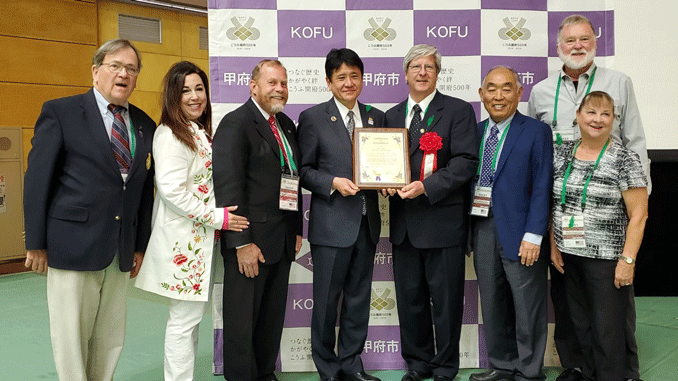 For 60 years the cities of Lodi and Kofu, Japan have fostered a relationship across cultures and more than 5000 miles, sharing their histories, traditions, and love of vineyards with each other.
Sister Cities were born of President Dwight D. Eisenhower's vision to create a global network of cities with strong bonds, an eagerness to share their culture, and a desire to foster peace and prosperity. Since its inception in 1956, this lofty goal has lived on through more than 500 cities in more than 140 countries around the world.
"An active relationship with Kofu, Japan, began in 1961," says Bill Hinkle, president of Lodi's Sister City Committee, which was founded the same year and still spearheads the exchange between the two cities. He explains that Kofu was chosen because it, like Lodi, is at the heart of a grape growing region. The Yamanashi Prefecture, where grapes have been cultivated for the past 1300 years, is known as the "Kingdom of Fruit."
Nestled in a valley and surrounded by the Japanese Alps and the iconic and imposing Mt. Fuji, Kofu is at the heart of a region rich in hot springs, grapevines, temples and historic sites. Recognized as the birthplace of Japanese wine, vineyards still play an important role in the region.  
Since 1961, Lodi's Sister City Committee has arranged for the exchange of gifts, including sending Tokay grapevines to Kofu. In return, Lodi was gifted a miniature shrine and cherry trees for the Kofu Park. The Sister City Committee also facilitates an exchange of cultures by organizing community trips to and welcoming visitors from Kofu.
If you know where to look, you can find evidence of this Sister City relationship and the committee's ongoing efforts all around Lodi, especially at Lodi's Kofu Park. "We were instrumental in getting the Sister City Logo included on the Mauch Yamashita scoreboard at Kofu Park [and] have cleaned and stained the Torii gate at Kofu Park," Bill says. "We are [also] currently working with the City Parks Department to restore the Japanese Garden located at Lodi Lake Park."
A trip to Kofu had initially been planned to celebrate the 60th anniversary, but with travel tabled for the time being, the festivities are going to look a little different. Instead, Bill is working to coordinate a video call between the two cities' mayors and arranging to send a gift. He is hopeful that a trip can be planned for next year.
City of Lodi
(209) 333-6702