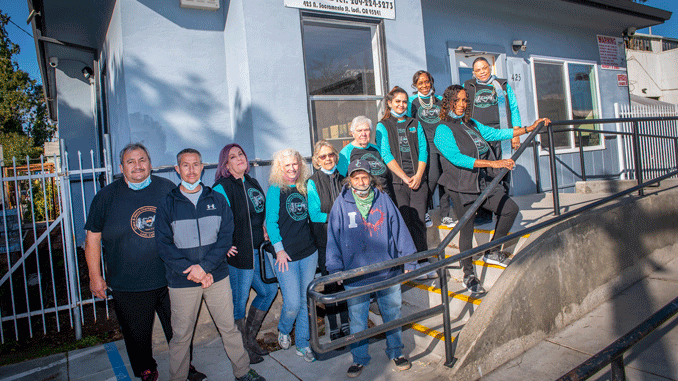 On a late Thursday morning, Grace & Mercy Charitable Foundation in Lodi is bustling with energy. Upbeat worship music plays from the speakers. Some volunteers are busy in the kitchen, packing meal boxes with barbecued hamburgers, potato chips, and warm soup. Others work in the back, putting together raffle prizes for fundraisers and stocking food in a warehouse. Guests gather in chairs outside to allow for social distancing. A large tent is set up to combat the bitter wind.
Since COVID-19 first disrupted lives worldwide in the spring of 2020, Cheryl Francis, president and founder of Grace & Mercy, and her volunteers have been working tirelessly to serve those most severely affected by the crisis in our local community. According to 2020 projections from the Feeding America Research team, approximately 17.5 percent of the San Joaquin County population is burdened with food insecurity—a 5.1 percent increase since the pandemic started. "This is our immediate goal," says Cheryl. "To see our people transition out of this pandemic. Whatever it takes."
In addition to setting up an outdoor dining space to continue supplying hot meals, Grace & Mercy is helping guests do everything they can to stay healthy. Cheryl ensures everyone is staying hydrated and strengthening immune systems by passing out water bottles and vitamin C packets. Volunteers distribute PPE items, including gloves, masks, hand sanitizer, and wipes, daily. "We have to find creative ways to keep people clean, like the portable hand washing station that's out front," Cheryl explains.
Through her service, Cheryl has seen the devastating effects of COVID-19 first-hand. "Some folks who were donating to us last year, what little they could, are now our clients that are receiving food out the back door. We had some folks that lost their homes and their jobs," she shares.
The situation worsened in early January, when guests at the Salvation Army's Hope Harbor Shelter were displaced due to several staff members testing positive for the virus. With the Salvation Army shut down for two weeks, Grace & Mercy, alongside other local charities and church groups, stepped in to fill needs.
Cheryl saw the opportunity to assist the Salvation Army in its time of need as a no-brainer. "One, we're right down the street. Secondly, my heart is to serve. And so, it's just another day I get to see my people and spend time with them," she says.
Cheryl's passion for service is fueled by her faith, which initially inspired her to start Grace & Mercy in 2010. "God woke me up at 10:30 one night and told me to start my own non-profit," she shares.
While she had experience volunteering at several different agencies and serving on five different charitable boards, Cheryl was unsure where to start in forming her own organization. However, through generous community support and a tenacious network of volunteers, Grace & Mercy has become a powerful source for good in San Joaquin County.
In addition to supplying meals on Mondays and Wednesdays from 9 AM-1 PM, the organization also provides clothing for everyday and professional use, facilitates COVID testing and flu vaccine administration, and helps fund stays at drug and alcohol rehabilitation centers for some. "This is basically a resource center," Cheryl explains. "If we don't have it, we can get you to the person who does."
While Grace & Mercy is always grateful for food donations, Cheryl says their biggest need is always prayer, followed by financial support. "Because we do have a lot of food, and we turn over the food, we can always take donations, but our second biggest hurdle is financial stability," she shares. "So, a financial blessing in some way would always help us out."
Through every challenge she and her team face, Cheryl remains optimistic about the future and energized to carry out Grace & Mercy's simple mission: To serve and leave the community better than we found it. "The folks that we're serving out there could be me or you at any time," Cheryl says. "And if you happen to get there, guess what? Come to Grace & Mercy. Because we're going to make sure you get to where you need to be."
Learn More:
Grace & Mercy Charitable Foundation
425 N. Sacramento St., Lodi
(925) 864-0183