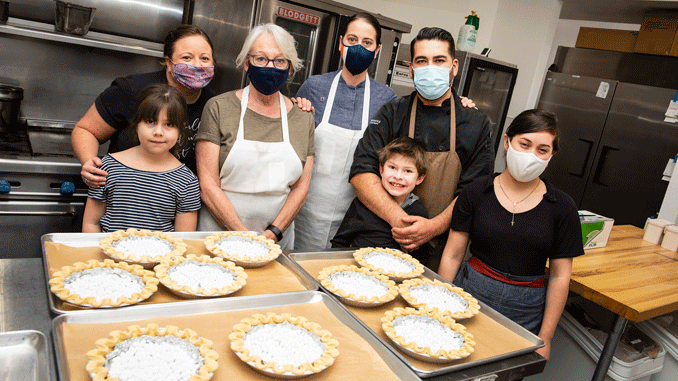 For Lynn and Fausto Echeverria, creating delicious food has been a life long passion. "My parents owned a restaurant in Livermore for 23 years. I grew up there, always thinking I would one day run it," says Lynn, co-owner of Lodi's new business, Ruby's Bakery and Café. "I was 18 years old when my parents closed the restaurant, and I decided to attend the savory culinary program in San Francisco."
Following the program, Lynn did an externship at a famous bakery in San Francisco where she met the love her life, Fausto, and they worked together for 14 years.  "Fausto started out washing dishes, and ended as the head of the croissant department for six different Bay Area locations," says Lynn.
In 2019, the hardworking couple decided it was time to shorten their commute and pursue their dream of settling down closer to family. So, they found a vacant building on Lodi's Church Street and transformed it.
Ruby's customers can expect to walk into a calming, and organic space with natural light flooding in. Little vases of flowers and minimal décor create a space that is clean and fresh. But there's a good chance one may forget all about their surroundings as soon as they see the mouthwatering case of fresh pastries on display. "All of our pastries are served just one day," Lynn says. "My husband is here at 3:30 every morning prepping all of our bread."
For the savory lover, Lynn recommends the classic Ham and Cheese Croissant, featuring Framani Spanish Ham, and Gruyere Swiss cheese. "The cheese is melty, the ham is slightly salty, and the croissant is flaky and tender," says Lynn. For the sweet tooth, she recommends the Sugar Bun, featuring cinnamon, organic cane sugar, orange zest, and laminated dough, baked in a caramelized butter and sugar coated muffin tin. Regardless of what they're baking, they follow a few simple rules. "Our focus is to make basic pastries with well thought out ingredients, technique, patience, and care," Lynn says.
Ruby's Bakery and Café
11 S. Church St., Lodi
(209) 400-7972
@rubysbakery_lodi