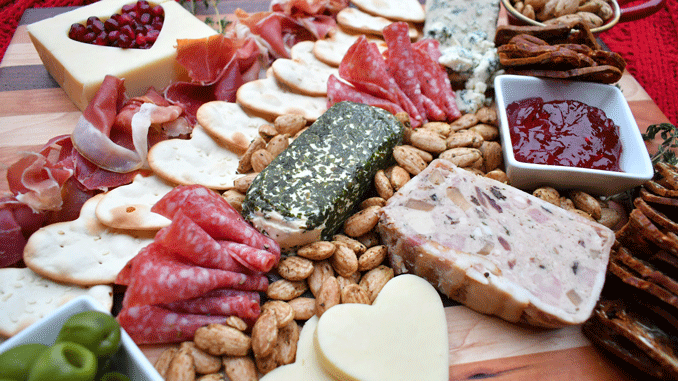 What could be better than a custom-made cutting board for your loved one this Valentine's Day? Cupid enlisted a family of four boys, ages 2-11, to spread some love this year with hand-made wooden boards. Nor your average kindergarten craft, the quality is truly blowing us away, and makes them perfectly suitable for a gift that supports young entrepreneurship.
When COVID hit our county last year, parents everywhere were struggling to keep their children occupied while quarantined at home. But for one entrepreneurial family, the Coronavirus spawned a new hobby, a new business, and life lessons rarely experienced by young children.  
The Whirlow family is no stranger to owning a small business. In the family are Whirlow's Tossed and Grilled and Taps Barrel House on the Miracle Mile. But their four young boys found themselves in need of a creative outlet while stuck at home. So, when their neighbor, George Denton of Denton's Custom Woodworks suggested making cutting boards to the Whirlow's eldest son Mason, he jumped at the chance to learn a new trade. Denton brought Mason a box of wood pieces to get him started and he and his father created their first board—as a gift to his mother.  
What they didn't expect was how much fun they would have creating that board. Mason, along with his brothers Chase (9), Logan (6), and Brody (2), decided to embark on a journey to make custom cutting boards for locals and earn a little pocket money while doing so.
It's a true family affair, with Dad Ryan in charge of operating the heavy equipment, Mason assisting with cutting and design, and Chase plaining, sanding, and sales. At six years old, Logan helps wherever he is needed, and Brody 2, uses his charming smile and curiosity to act as salesman for the crew. Carrie, their mother, takes charge of the finances, social media, and oversight of the business.
As a result, the boys are learning the ins and outs of owning a business. Terms like profit, expenses, sales, and workload, have taught them more than they could have ever imagined. "Working together and learning about business has been such a great accomplishment for our boys," says Carrie. "We are SO thankful for the support we have received!"
Get Your Own
Grab your own custom cutting board from Whirlow Woodworks by messaging them on Facebook at Whirlow Woodworks or on Instagram at whirlow_woodworks.
Caption for cheeseboard (if needed)
Grab a Whirlow Woodworks custom board and take your Cupid Charcuterie game to the next level.