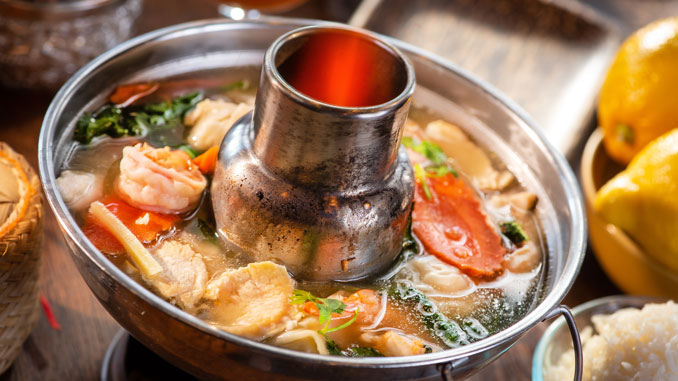 Tracy Thai has long been a family affair. "I grew up in the restaurant business, it's just in my blood," says Gesaranee, who goes by Gesa, the friendly face and co-owner of Tracy Thai. "After graduating with my business degree, I realized that I really enjoyed what I grew up doing and decided to help run the family business.
At the center of Tracy Thai's magic formula—the one that has kept the Asian eatery in business for ?? years—is the cuisine. "Thai food is very fresh, nothing is preserved," Gesa says. "We cook with a lot of vegetables and use healthy ingredients like garlic, ginger, lemongrass, and fresh herbs to flavor our food."
Those ingredients lend themselves to a healthful menu, one that can boost the immune system and promote overall well-being. It's all in the ingredients. Lemongrass is an herb that gives off a citrus like scent and is thought to have antioxidant properties, as well as work as a natural fever reducer. Tamarind comes from a pod and is made into a paste. When used in cooking, it imparts a sweet and sour flavor. Its many health benefits include digestion assistance. Ginger is a spicy root that adds a warming element to food. It is thought to soothe the stomach and possess anti-inflammatory properties. All three of these ingredients are found often in Tracy Thai's cuisine—helping customers feel good while they eat well.
When it comes to lunch, Gesa recommends starting with the Grilled Prawns, her personal favorite, featuring jumbo prawns marinated in coconut sauce and grilled to perfection, followed by the Tracy Thai Salad, a refreshing salad made with lettuce, tomatoes, red onion, and a house made basil dressing, before finishing with the Wonton Soup, cooked with homemade chicken dumplings, bok choy, spinach, carrots, chicken, and shrimp, sizzled in a warm chicken broth.  
For dinner, there are many good options to only choose one. If you are in the mood for something comforting, the Pad Thai is delicious—classic rice noodles sautéed with bean sprouts, green onion, tamarind sauce, and your choice of beef, chicken, or prawns. Yellow Curry is another customer favorite made from scratch with potato, carrot, onion, chicken, yellow curry powder, and coconut milk, and served with the customer's choice of jasmine, white, or brown rice. But if you're in the mood for poultry, Gesa recommends ordering the Basil Chicken. This flavorful meal is served with sautéed chicken, bell pepper, yellow onion, basil, and house made garlic chili sauce. And you can't go wrong if you order the Garlic Pork, marinated pork sautéed with garlic pepper sauce and served with a dried chili.
All of the sauces at Tracy Thai are made in house and really take the flavors of the food to the next level. Sweet and sour sauce comes with most of the appetizers, ginger sauce is served with crispy duck, and Tracy Thai's famous sweet chili sauce is served with chicken, calamari, and grilled shrimp dishes.
For customers who don't eat meat, the garlic tofu, crispy tofu sautéed with garlic pepper sauce, is a very popular option. Or, if you're an eggplant lover, that's on the menu, too!
If you're looking to accompany your meal with a fun, fresh cocktail, Gesa recommends her own concoction—the Phoenix. The pretty purple sipper is made using Lychee puree, vodka, pineapple juice, and fresh lime, served in a martini glass.
Regardless of what you order, your experience at Tracy Thai is sure to make you feel right at home. "I love seeing my regulars come in; knowing people by name," Gesa says. "This is like their kitchen at home. It's beautiful to me."
Eat Up:
Tracy Thai
1035 S. Central Ave., Tracy
(209) 833-9703