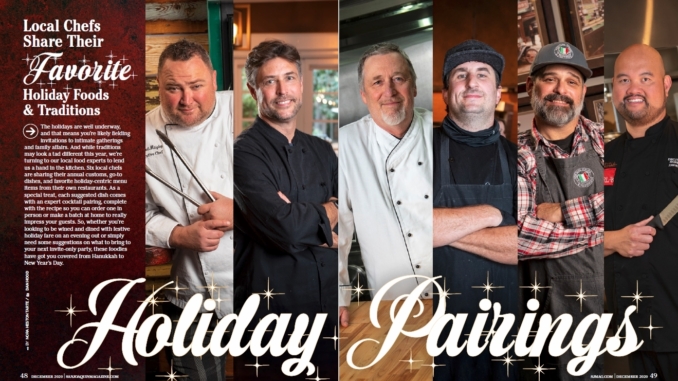 The holidays are well underway, and that means you're likely fielding invitations to intimate gatherings and family affairs. And while traditions may look a tad different this year, we're turning to our local food experts to lend us a hand in the kitchen. Six local chefs are sharing their annual customs, go-to dishes, and favorite holiday-centric menu items from their own restaurants. As a special treat, each suggested dish comes with an expert cocktail pairing, complete with the recipe so you can order one in person or make a batch at home to really impress your guests. So, whether you're looking to be wined and dined with festive holiday fare on an evening out or simply need some suggestions on what to bring to your next invite-only party, these foodies have got you covered from Hanukkah to New Year's Day.
---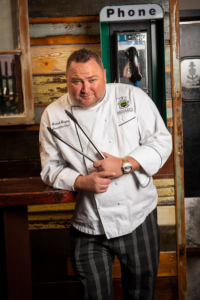 Michael Midgley
Midgley's Public House
Holiday Menu Suggestion: 50 oz. Tomahawk Steak
If you invite Michael Midgley over for a holiday party, you're likely to end up with one of the celebrity chef's puff pastry specialties served with brie, a plate of crab Rangoons made from a family recipe, or his ultra-famous Asparagus Cigars (served at Midgley's Public House). "Holiday parties people love to snack and pass food around," Michael says. As a kid, his family used to make appetizers ahead of times to freeze and then pull them out whenever guests came over. The asparagus cigars and crab Rangoon recipes come from those early parties. It was also the custom at his grandma's annual Christmas Eve party, an affair he still attends with his family each year, sharing a large spread of hors d'oeuvres while opening stockings and gifts with the kids.
His favorite holiday foods, however, are the big showstoppers like turkey, ham, and beef wellington. According to Michael, these items feel Christmassy and elegant. His other weakness is dessert. Michael's sweet tooth inspires some of the more saccharine dishes on his menu, including the banana pudding Michael has become known for—a decadent dish that tastes like bananas foster had a baby with a banana crème pie. He also makes a bread pudding out of Krispy Kreme donuts and bacon, a blend of sweet and savory to satisfy any appetite. During the holidays, guests may see a coconut crème pie on the menu, as well. But it's a specialty item, not a menu mainstay.
If you're looking to indulge this holiday season, step into Midgley's for his Tomahawk Steak, a 50 oz. ribeye served bone-in. It's not every day you'll be throwing back a steak this size, but Michael does it up right, serving each hunk of delicious meat to order, oozing with flavors and served alongside your favorite accompaniments.
Perfect Pairing:
Michael knows exactly what to pair with this hunk of tasty meat. The Santa's Little Helper is a seasonal sipper that can stand up to this hearty meal. When you stop in for a steak, order this bad boy to go with it. And when you're craving one at home, take a stab at Michael's recipe.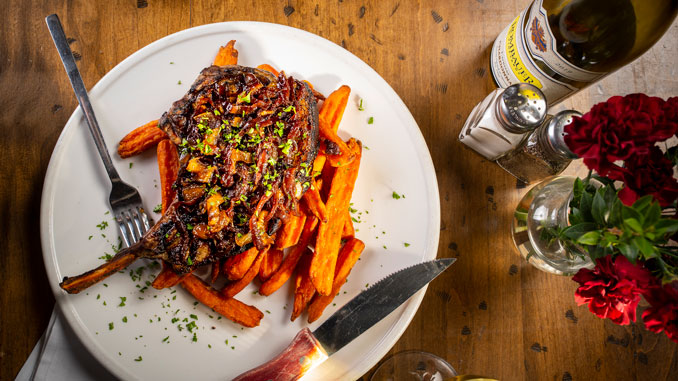 Santa's Little Helper
2 oz. spiced rum
1 oz. chestnut syrup
Your favorite eggnog
Nutmeg
Crumbled chestnuts
Fill a glass almost to the top with eggnog. Add spiced rum and chestnut syrup and mix well. Sprinkle nutmeg generously on top and finish with a small handful of crumbled chestnuts. Serve in a glass mug.
Midgley's Public House
296 Lincoln Ctr., Stockton
(209) 474-7700
MidgleysPublicHouse.com
---
Ian Bens, Chef
Towne House Restaurant
Holiday Menu Suggestion: Pork belly appetizer
For Ian Bens, Christmases in Canada are the basis for much of his holiday traditions and food inspiration. "Growing up, our Christmas dinner was almost always roasted chicken with potatoes, celery, and root vegetables," he says. "My Mom placed the potatoes and vegetables underneath the chicken in a little broth with herbs so they would absorb all the flavors of the chicken as it roasted." Rutabaga puree and oven-roasted parsnips made festive accompaniments and dessert always included homemade sweets like shortbread, chocolate haystacks, and galaxy bars.
Eggnog is another big part of Ian's Christmas traditions, which inspired Ian's own eggnog recipe—a homemade concoction boasting multiple spirits (bourbon, brandy, and sherry) topped with a grating of fresh nutmeg. "It is simple, but everyone really appreciates the quality of something handcrafted with love," he says.
When it comes to shaping Towne House's seasonal menu, Ian is motivated by local ingredients. "We still get a lot of local fruit including pomegranates, persimmons and squashes," he says. The nearby bounty leads to visions of butternut squash soup with roasted apples, a salad of Warren pears with gem lettuce and toasted walnuts, and Fuji Apple Salad with Point Reyes blue cheese and candied pecans. This season, Ian suggests indulging in the restaurant's pork belly appetizer, brined overnight and roasted to perfection. "We will be serving it with caramelized pears, spiced heirloom cauliflower, and onion jam," Ian says.
Perfect Pairing
You're going to want something acidic to cut through the richness of the pork belly, and the oak in this cocktail helps to balance the complex flavors of the dish's seasonal fruit.
Pomegranate Maple Smash
2 oz. Maker's Mark Bourbon
1 oz. Homemade Pomegranate Maple Syrup
1 oz. lemon juice
1 dash angostura bitters
Orange twist
Directions: Pour the bourbon, pomegranate syrup, and lemon juice into shaker filled with ice. Stir until thoroughly chilled, about 20-25 seconds. Strain into double old-fashioned glass with large ice cube, garnish with orange twist.
Homemade Pomegranate Grenadine 
1 ¾ c. pomegranate juice
¼ c. lemon juice
1 c. organic sugar
½ c. maple sugar
100g pomegranate molasses
Zest of 1 orange
Directions: Combine sugars and juices over low heat until sugar dissolves. Remove from heat, add molasses, and let cool. Micro zest orange over syrup to finish.
Townehouse Restaurant
2505 W. Turner Rd., Lodi
(209) 371-6160
WineRose.com
---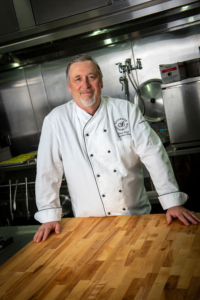 Chris Isert, Executive Chef
Brookside Country Club
Holiday Menu Suggestion: Rack of lamb with sauce Cumberland
For Chris Isert, the holidays are far from routine. The executive chef at Brookside Country Club admits he doesn't have set celebrations during Thanksgiving and Christmas. Instead, he plays the holidays by ear, including going out to Discovery Bay with friends and barbecuing a turkey instead of the more traditional oven-roasted variety. "We do fantastic sides," he says. "Dressing would be my choice to do, it is a specialty of mine."
At the restaurant, the holiday menu includes a lot of meaty centerpieces such as prime rib, lamb, duck, crispy-skin salmon, and boneless balsamic short ribs. "I am waiting to see how things pan out this year, but I do remain very optimistic for members and businesses to be able to book holiday parties here at Brookside Country Club and am excited at the prospect of another busy December," says Chris.       
When invited to a holiday celebration, Chris is likely to show up holding a charcuterie board where his two must haves are a semi-stinky cheese and a crusty loaf of bread.
At home, Chris isn't doing as much cooking as he sold his home recently and turned in his gourmet kitchen for a rental property with an electric stove. He is currently searching for his dream home up in the mountains. The holidays this year will include a little extra eating out, but Chris does not mind as it gives him time to enjoy the bounty of others; his favorites include Pietro's in Lodi and Dave Wong's for the Szechuan Chicken.
If you find yourself dining at Brookside this holiday season, order up a rack of lamb finished with sauce Cumberland. Chris says members and guests can't go wrong with this festive dish, served with wild rice that features dry cranberries and fried Brussel sprouts tossed in pecorino Romano.
A Perfect Pairing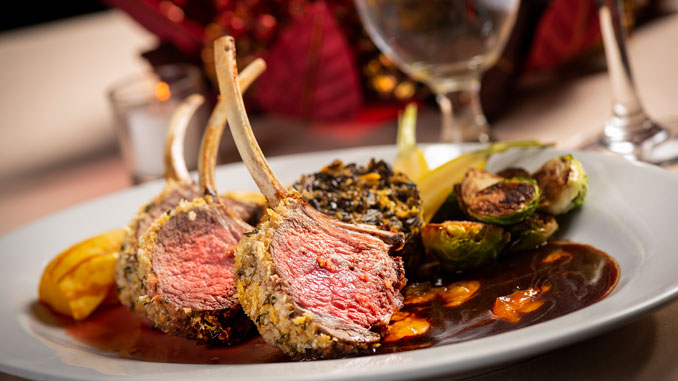 If you ask Chris, the best way to bring out the flavors of this holiday meal is to pair it with a Petite-petite cocktail.
3 oz Michael David petite-petite sirah
1.5 oz pepper vodka
.75 oz fresh lemon juice
2 dashes orange bitters
1.5 oz cherry syrup
Shake all the ingredients for ten seconds, pour over ice in a large wine glass, and garnish with a flamed orange coin.
Recipe courtesy of Rick Martin
Brookside Country Club
3603 St. Andrews Dr., Stockton
(209) 956-6200
BrooksideGolf.net
---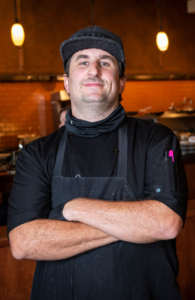 Adam Richards, Executive Chef
Papapavlo's Bistro & Bar
Holiday Menu Suggestion: Roasted Butternut Squash and Gorgonzola Bruschetta
We bet you've never seen a Christmas Day spread like the one Adam Richard's family puts out. Tradition says they forgo the stuffed turkey and honey-baked ham, and instead cook up a spread of finger foods worthy of replacing a meal. Cooking these creative dishes was one of Adam's first forays into cooking, helping his grandma prep days in advance. The goal was to keep everyone out of the kitchen on holidays so they could focus instead on family time and opening gifts—which Adam says is a five hour extravaganza with his famliy. The foods include stuffed mushrooms, trays overflowing with cold cuts and cheeses, and chicken wings topped with a cranberry whipped cream sauce.
"Usually I'm the whole spread guy," Adam laughs of his home catering duties. Instead of bringing one dish, his family expects him to bring several foods to holiday dinners. One of his go-tos is a cauliflower gratin made with baked Cheeze-Its or goldfish for the crust. "Whatever I have on hand," he says.
When Adam can get away from the kitchen, he treats his brood—which includes two daughters, ages 8 and 5—to takeout. Chop Chop in Lodi has been a favorite for 30 years and his daughter can't get enough of the Philly cheesesteak at Dante's Pizza & Café.
At Papapavlo's, Adam's customary meal is the Chopped Chicken Salad topped with grilled vegetables. In winter, the menu has a special winter salad, made with Brussel sprouts, butternut squash, root vegetables, carrots, cauliflower, beets, and sweet potatoes. His recommendation is to add a serving of grilled fish or prawns. Other favorites include the ribeye or lambchops—a dish Adam didn't favor until working at Papapavlo's where he says the lamb isn't gamey.
This year he's serving up a Roasted Butternut Squash and Gorgonzola Bruschetta finished with butter poached lobster, microgreens, and a pomegranate balsamic reduction.
The Perfect Pairing
Order your bruschetta with this killer cocktail, concocted by Papapavlo's Bar Manager Jenna Solimine.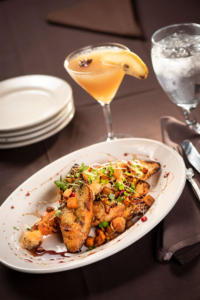 Spiced Pair Martini
2 oz. Grey Goose La Poire
1/2 oz. Grey Goose La Vanilla
1/2 oz. Pear purée
1/4 oz Allspice dram
1/4 oz. Cinnamon-infused simple syrup
Pour all of the ingredients in a cocktail shaker with ice, shake for 10 seconds, and strain into martini glass. Garnish with a fresh pear.
Papapavlo's Bistro and Bar
501 Lincoln Cntr., Stockton
(209) 477-6133
Papapavlos.com
---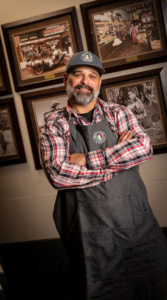 Paul Ratto, Owner
Heritage Dining Provisions at the Waterloo Gun and Bocce Club
Holiday Menu Suggestion: Foccacia bread with cioppino
During the holidays, Paul Ratto, owner and head chef at Heritage Dining Provisions at the Waterloo Gun and Bocce Club, is cooking up a storm. Between 12 hour workdays seven days a week, family gatherings, and catering orders, he pretty much lives in one kitchen or another through most of December.
Ultimately, for Paul, the holidays are about family and friends—yours and his own. His favorite traditions include cooking up a Christmas feast with his brother and throwing back a few beers or glasses of wine while they do. "Mangiare (to eat) is out motto, and the more the better!" Paul says.
Every Christmas Eve, Paul serves his fresh focaccia break with cioppino and lasagna. "If I am invited to a holiday party, everyone will expect focaccia bread," he says. In addition to baking it for personal gatherings, it's also one of those menu items he's constantly filling orders for, especially on Christmas Eve.
His other big go-to holiday dishes are chicken cacciatore or short ribs and polenta. If you're looking for a good comfort item, order the squash soup. And never skimp on the sides—"My roasted vegetables and potatoes are a fall favorite," Paul says. "My menu selections are mainly based on what is in season from the local farmers or vendors and the requests from my clients."
When you're cooking around the clock to feed hungry patrons, it doesn't always leave a lot of time to put together your own feasts at home. After a long day, Paul isn't jumping back in the kitchen when he gets home, but he also admits that with three kids, eating out is a bit of a luxury. "I do like to support the local restaurants especially with COVID-19 and the many hardships," he says. But Paul and his brood also make a habit of eating with extended family, including Sunday dinners at his Mama Mia's house.
Perfect pairing
Order this cocktail to enjoy with your bread and fish feast.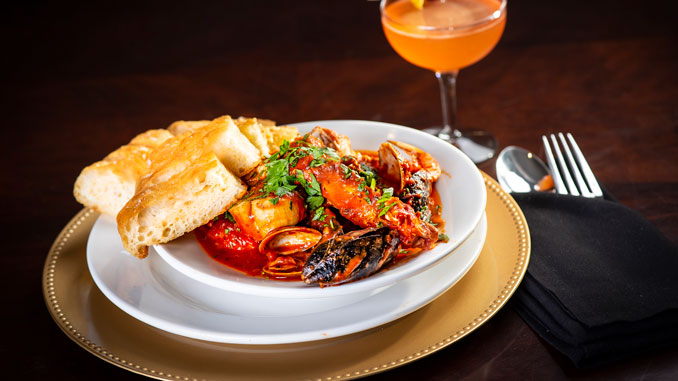 Heritage Spritz
1 oz. Hendrick's Gin
¾ oz. Aperol
½ oz simple syrup
Splash of pinot grigio
½ of a lemon
Directions: Pour Aperol, gin, and simple syrup into shaker with ice, squeeze in lemon, and shake well. Pour into a coupe or martini glass and float a splash of pinot grigio on top. Garnish with a lemon peel.
Heritage Dining and Provisions
Waterloo Gun and Bocce Club
4343 N. Ashley Ln., Stockton
(209) 732-6223
---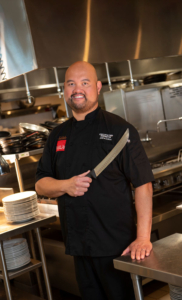 John Surla, Owner & Chef
FINA
Holiday Menu Suggestion: Grilled Chicken Fettucine with Traina Farms Sun Dried Tomato Cream Sauce.
Home cooking built Fina and owner John Surla's culinary career, so it's no surprise that when it comes to the holidays, he's embracing that same family mentality in both his traditions and his cooking. Even his culinary inspirations hail from his family's roots, which include Filipino and Italian ancestry, and both are well-represented in his favorite holiday dishes.
When it comes to eating, you won't find John's favorite holiday dish on a menu. Every year it's his mother-in-law's lasagna that he looks forward to devouring most. "It's a tradition, served as a pasta course [on Christmas] for my family," he says. However, when you invite John to a holiday party, he's sure to show up with a treat from his Filipino family's home recipes—lumpia. This dish is special because John learned to make it alongside his mother and aunts in a Filipino restaurant they owned together when John was growing up. That lumpia, of course, won't come on its own. John always brings a bottle of wine to accompany his contributions—and a good one at that! Wine, to John, is one of the most important parts of the holidays.
John and his friends host a 90 point wine celebration every year to celebrate their love of vino as well as to take a break from cooking! To participate, every guest brings a bottle of wine to share that's rated 90 points or higher by Wine Spectator. To make it festive, they also show up in ugly sweaters.
Every holiday season, John looks forward to cooking up seasonal specialties. On the FINA menu, guests can order up the House Smoked Applewood Kurobuta Pork Chops, a juicy meat dish that pairs expertly with many of the wines of the menu. Or, devour a Veal Osso Bucco with Soft Polenta. John's favorite, however, is the Grilled Chicken Fettucine with Traina Farms Sun Dried Tomato Cream Sauce. The fettucine is made in house with flour, eggs, and salt, doused in special sauce, and served with a helping of grilled chicken. Finish that with the crème brulee of the day for an all-around scrumptious holiday meal.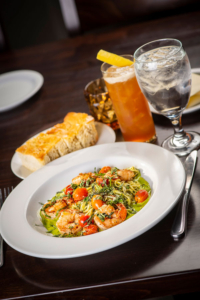 A Perfect Pairing
Fina
200 W River Rd, Ripon
(209) 452-3600
FinaRestaurant.com