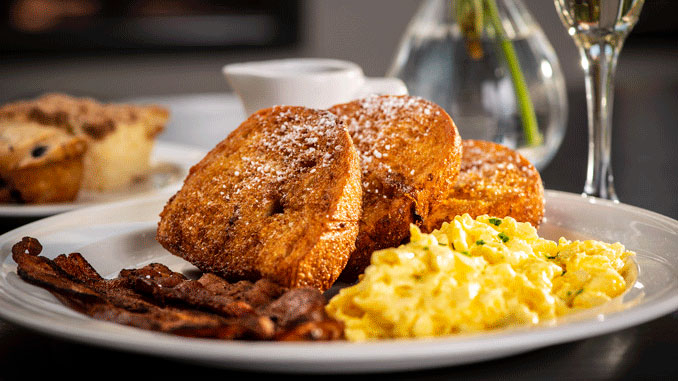 Every Sunday, Bud, Matt, and Jeanne Millsaps serve up their customary brunch, a weekly service the Bud's Seafood Grille owners has been doling out for nearly 27 years. "It is a special treat on a special day," Jeanne says of the restaurant's brunch. "People are relaxed and want to enjoy each other and are  often celebrating."
Once a week from 10 AM-2 PM, morning meals are served with breakfast staples including muffins, coffee cake, fresh seasonal fruit, bagels with cream cheese, herbed potatoes, coffee, and champagne. But those extras aren't the stars of the show. In true Bud's fashion, it's the bountiful seafood that keeps guests coming back for more. "We try to make brunch special, different than any other meal, a day to relax and enjoy. Seafood is special like brunch so they go perfectly together," Jeanne says.
Any of the eggs Benedicts on the menu tend to be favorites, in particular the Crab Cake Benedict—two house-made crab cakes, tomato, and two poached eggs perched on a toasted English muffin and served with house made Hollandaise—and Bud's Benedict—a more traditional take with tomato, spinach, two poached eggs, and bacon served over a toasted English muffin and the same hollandaise sauce. Other best sellers include the Crab & Shrimp Omelette, a traditional omelette filled with crab and bay shrimp, Monterey jack and cheddar cheese, sour cream, and fresh scallions, and the fluffy, decadent San Francisco Sourdough French Toast, served with scrambled eggs and Canadian bacon. "We always have a delicious and house made quiche of the day and other special omelettes and scrambles, which sell quite well," Jeanne says. Since seafood is the spotlight, we also recommend the Poached Salmon, a salmon filet served with hollandaise, just to round out those fresh catches. And for those who want to skip the seafood, a Greek, Garden, or Mexicali scramble won't do you wrong.
Pairing your breakfast with a buzzy adult beverage at Bud's comes highly recommended at brunch. You can't go wrong with any combo, but Jeanne has a few suggestions for bringing out the best tastes with an alcoholic accompaniment. Champagne or a mimosa come with the entrees and pair well with everything. But stepping up your game a notch with a strawberry mimosa or chamborg and champagne is definitely recommended. "Bloody Marys are a favorite brunch cocktail and go really well when we offer our Meat Lover's Scramble," Jeanne says of the spicy, savory combination.
During brunch hours, Bud's still offers several lunch plates, too, to give patrons more options to choose from. If you'd rather dive into one of Bud's classics like the New England Clam Chowder, you can do so as early as the place opens with no judgement from us! Pair that soup, or the pasta of the day, with some sourdough bread for the ultimate experience. "The most popular of course is our Louies—shrimp, crab, or combo—as well as prawn, crab, and shrimp cocktails," Jeanne says. And if you're not sure what a Louie is, brunch is certainly a time to try one. These salads are light, fresh, and packed with your choice of shrimp or crab. "We also have our very popular sourdough melts—tuna, shrimp or crab—and several tasty sandwiches, all served with French fries."
If you've chosen a lunch special for Sunday Brunch, Jeanne recommends pairing your meal with one of their new, boozy refreshers. The cocktails are served with fresh muddled fruit, Meyer lemon vodka, and mojito mix, and come in two flavors—strawberry kiwi or cucumber watermelon.
Enjoy your brunch on the patio. Bud's has always offered outdoor seating in picturesque Lincoln Square but the eatery has updated its outdoor space with an extended deck to serve more customers during COVID. "Brunch is lovely outside, especially in the fall," Jeanne says. And, when it starts to cool off, there are plenty of heaters to warm the space up.
Say Cheers!
Bud's Seafood Grille
314 Lincoln Ctr, Stockton
(209) 956-0270
BudsSeafood.com