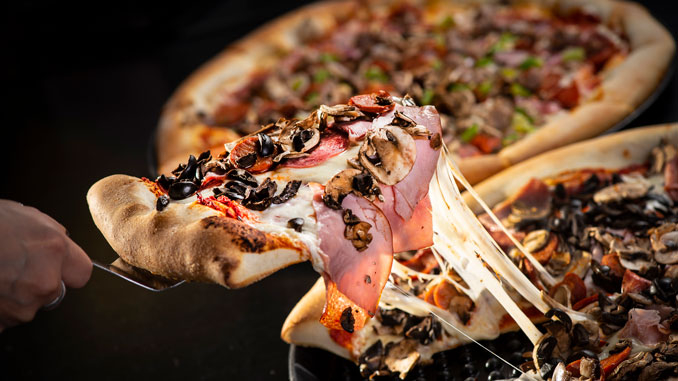 Piping hot pizza. If there is one thing we can all agree on in 2020, it's that America's love affair with pizza isn't going anywhere. In fact, Americans devour over 3 billion pizzas a year. Crazy right? Pizza is as American as apple pie and hamburgers on the fourth of July. But what about wood fired pizza? If you haven't had the pleasure of scarfing down a wood fired pizza, you haven't lived. But fear not my fellow pizza lovers, because San Joaquin County is home to some of the finest wood fired pizza joints in the state. From brick and mortar restaurants, to mobile ovens, and breweries too, we've rounded up our favorite spots for this delicious dish and we're dishing out our favorites for your enjoyment.
You might be asking yourself, what is a wood fired pizza? It's not rocket science, but it is delish. A wood-fired pizza is quite simply, a pizza cooked in a brick oven. So instead of being heated by electricity or gas, a brick pizza oven employs burning wood inside the oven to create a smoldering hot caldron that can reach anywhere from 500 to 700 degrees Fahrenheit. It's a beautiful sight to watch as the pizza is cooked using indirect heat trapped by the burning wood in the oven. The result, a pizza that can cook quickly with a charred crust and smoky flavor that will satisfy your taste buds and have you wishing you had one in your own backyard.
Viaggio Estate and Winery
If you are looking for a wood fired pizza experience that is next level, look no further than Viaggio Estate and Winery in Lodi Wine Country. One step onto the vast grounds at Viaggio and you may never want to leave. If there is such a thing as the ultimate food and wine pairing, it's pizza and red wine. Lucky for us, Viaggio offers up both to locals and tourists weekly. The vast grounds are home to one of the regions original wood fired pizza ovens, and it adorns their charming patio where guests devour weekly pizza specials alongside freshly shucked oysters. Oh, yeah baby!
Owners Teri and Larry Lawrence offer a world class experience to enjoy a wood fired pizza every Thursday through Monday from noon to four p.m. And as a bonus, they keep the pies flowing until 8 p.m. on Fridays. Executive Chef April Guttieriez crafts specialty pizzas with her culinary team that are drool worthy. Chef also pumps out both gluten free and vegan pizza crust for those with dietary restrictions.
Always on the menu is the Larry Special, a loaded pepperoni pizza with a charred crust and just the right amount of zesty spice. Their ever-popular vegan pizza is also available weekly. But if you want to taste Teri's favorite pairing, look for the chicken, artichoke, and sun-dried tomato pizza to make its way into the rotation. She loves to serve it alongside Viaggio's 2017 Ancient Vine Zinfandel. Talk about the ultimate Lodi pairing.
So, if you're in the mood for pizza AND wine, head out to Viaggio for the best of both worlds.
Viaggio Estate and Winery
100 E. Taddei Rd., Acampo
(209) 368-1378
ViaggioWinery.com
Editors Pick
We love the Canadian Bacon, cheddar cheese, and jalapeno pizza for the gooiest cheese pull around! Check out their social media page for updates on when this pie hits the patio.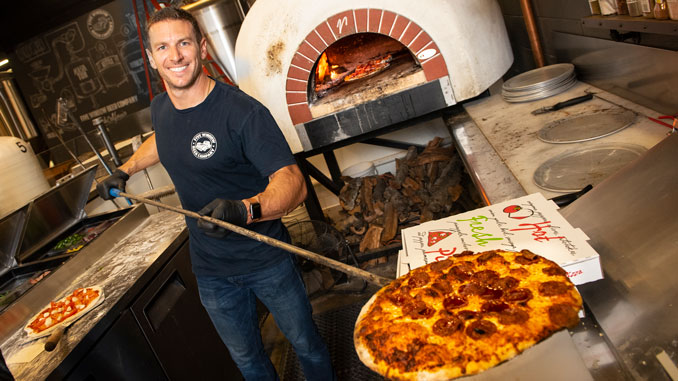 Five Window Beer Co
If beer and pizza are more your pace—we've got you covered. At Five Window Beer Co. owners Charlie Lippert and Joe Ehlers made a winning move after opening their downtown Lodi brewery by  purchasing a Mugnaini Brick Pizza Oven and an industrial dough mixer. Then they trained with Pete Murdaca of Pietro's on how to make stellar pizzas to complement their killer line up of beers.
Five Window's focus is on point. The expansive, industrial themed brewery is an experience. With jumbo Jenga, shuffleboard, cornhole and beer for days, this Lodi hot spot is popular for game nights, catching a game with friends, or even family night. But what we love most, is that you can gobble up seriously tasty wood-fired pizzas while tossing back a local brew.  
You can sense the quality of the pizza dough and smoky influence in every bite. Their pizzas are simple, seasonal, and flavorful. With a larger-than-life pizza menu, Five Window Beer Co. dishes up every kind of pizza you can imagine. From classic pepperoni, to caprese, the Fiery Italian, and It's Jammin pizza, there is something for everyone. In fact, they recently added a specialty dessert pizza that locals are raving about. Their home-made dough is topped with olive oil, ricotta cheese, blackberries, honey, mint, and sliced almonds.
The best part? Ordering is simple and quick. Head up to the pizza window, order your pie, and wait for your buzzer to go off. And if you are famished, no big deal, because Five Window's Mugnaini wood-fired oven can cook your pizza in just a few minutes. In the meantime, find a spot to sit, order a brew or a glass of Lodi wine, and savor the smell of the pizza oven. There you have it—your weekend is planned.
Five Window Beer Co.
9 W. Locust St., Lodi
(209) 224.8036
FiveWindow.com
Editor's Pick
The Pickle Pie. This pie has a ranch dressing base, garlic, mozzarella cheese, ham, and bacon. But the kicker—they add both dill and bread and butter pickles for an extra zing.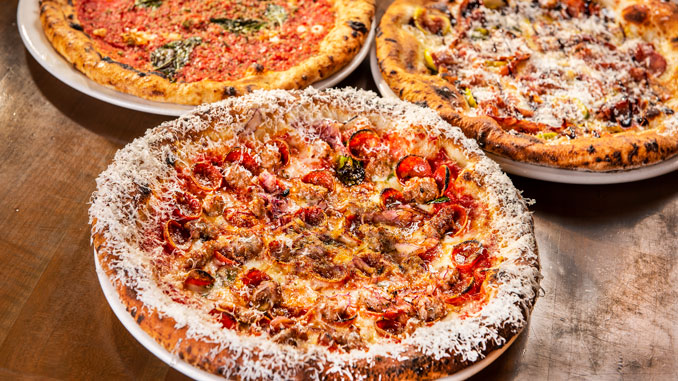 Pietro's Trattoria
It should come as no surprise that one of our favorite spots to savor a wood-fired pizza is at Lodi's long running King of Italian food, Pietro's Trattoria. For generations, the Murdaca family has been dishing up the tastiest Italian food in Lodi. One of their specialties is undoubtedly their Neapolitan-style, wood-fired pizzas.
When the restaurant underwent a remodel, one of the pillars in their kitchen became a Mugnaini Pizza Oven. The Cadillac of pizza ovens, this beauty is visible from their open kitchen design, and it's appropriately tiled in the colors of the Italian flag. It's a grand vessel to fire up, and stunning to see in person.
The oven is a special tool, but Chef Pete Murdaca insists that great pizza begins with the dough. Using quality ingredients, taking the proper time to let the dough cultivate, and rolling it out to perfection, creates the tastiest base for their specialty pizzas. It's so popular, the restaurant released their world-famous pizza dough recipe during quarantine for folks to make at home.  
Pietro's also boasts an on-site garden offering the kitchen ample produce from eggplant and basil to melons and squash. What they don't grow on premise is sourced from our region's finest local farms like Golden Bear Ranches and R & G Farms, for seasonal touches. From calymyrna figs to heirloom tomatoes to Corto Olive Oil, a simple pie is transformed using the best of the best ingredients.
While all their pizzas are delicious, they offer a few specialty food items that kick up the flavor in a major way. Do you like heat? Like, really like heat? Ask for a side of their Calabrian chili paste to spoon over your pizza. It's smoky, spicy, and down-right scrumptious. If that sounds too adventurous, ask for their chili oil, with just a hint of heat, or freshly grated parmigiana Reggiano.
Bottom line…it doesn't get much more authentic than Pietro's. Be sure to make reservations, order on Door Dash, or even make their recipe at home.
Pietro's Trattoria
317 E. Kettleman Ln., Lodi
(209) 368-0613
PietrosLodi.com
Editor's Pick
Picking just one is tough, but simplicity rules with their Marinara pizza. Crushed tomatoes, oregano, basil, roasted garlic, Corto Olive Oil, and parmesan make this a favorite.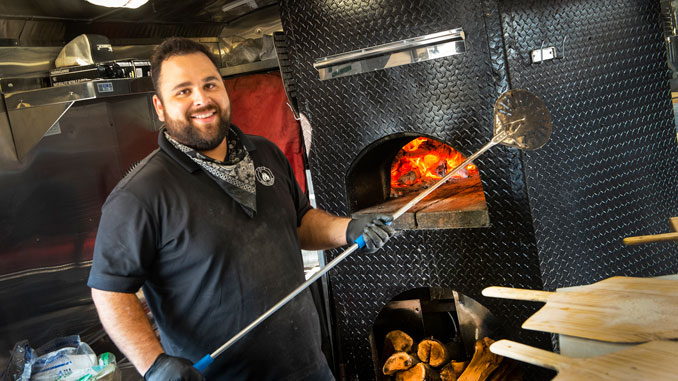 Fired Mobile Pizza Oven
At Fired Mobile Pizza Oven, a passion for pizza is a family affair. The husband and wife pizza power couple, Daniel and Sarah Correa, take their mobile pizza oven to every corner of the 209. From the beginning of their adventure, Sarah and Daniel knew they didn't want to be pigeonholed to a brick and mortar location. Their mobile pizza unit offers them flexibility, a change of scenery, and the ability to throw down some dough anywhere they please!
For the Correa's, the quality of their pizzas can be attributed to three essentials: the oven, the dough, and the sauce. The couple owns an authentic Forno Valoriani Wood Fired Pizza Oven made by Mugnaini. It's a beauty, and it serves them well. Second is the dough. Fresh, home-made dough is prepped for each event, and you can taste the difference. Lastly, the sauce. The couple uses the gold standard in pizza sauce making—San Marzano tomatoes. Yum! They also focus on utilizing locally sourced products from farms in our region, because sourcing your food close to home carries a lot of bonuses.
If you're looking to dive into some of the duo's favorites, try the Hot Boi. They start with a red sauce base and add mozzarella, pepperoni, and jalapenos. Then they hit the pizza with a ranch drizzle and some Mike's Hot Honey for extra flavor.
Fired Mobile Pizza Oven makes their rounds at a few regular spots like Yosemite Meat Market and Idol Beer Works. But they are also available for private or corporate parties, weddings, winery visits, and more. Be sure to stalk their social media so you can get a slice—or three.
Fired Pizza Mobile Pizza Oven
 (209) 242.4105
Fired-Pizza.com
Editor's Pick
For something outside the box, sample Sarah's signature pie. Loaded with fresh pesto and potatoes, this pizza is like a warm hug.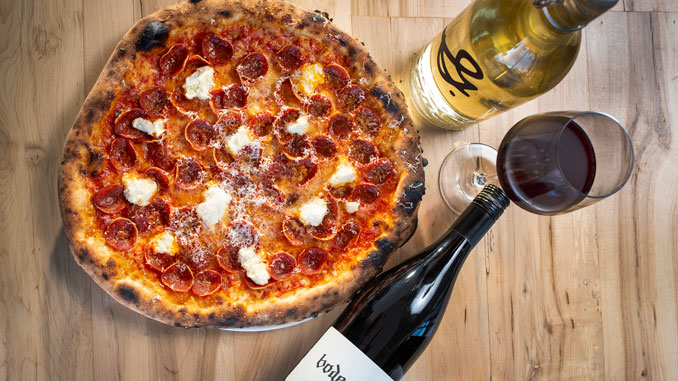 Guantonio's
The latest hot spot for local foodies, Guantonio's is tossing up legit wood-fired pizzas with flair. The newest location serves up authentic pizzas alongside crazy good sides and an eclectic wine list for the hippest take out in town. Owned and operated by the Guantone family, they are no strangers to wood fired oven cooking. In fact, they had the first mobile Mugnaini Pizza Oven in town. The transition to brick and mortar brings their vision full circle, with a home base to serve good eats to the community.
But let's talk pizza. The centerpiece of their open kitchen concept is the beastly charcoal grey Mugnaini Pizza Oven used to cook their gourmet pizzas. Chef Nick Guantone is a master of his craft, working and stoking the fire until It reaches the right temperature.
If you want to know what separates their pizza from the rest of the crowd, it's the dough. Using a sourdough starter, the dough is a labor of love, with timers set to remind Chef to punch it down or work it with his hands. The outcome of this arduous process is a pizza dough that is distinctly delicious, chewy, and smoky.  
The menu consists of staples like Ezzo Pepperoni and features weekly specials utilizing the bounty of local produce that surrounds us. Try the Fino pizza, loaded with roasted fennel, house fennel sausage, tomato, onion, and farmstead ricotta. The depth of flavor is layered and lingers after every bite.
When you're picking up your pizzas, be sure to check out Guantonio's wine offerings. The restaurant serves as a funky little wine shop with wines using Lodi grapes for super small production wineries. Of course, you can also find local favorites like Acquiesce Winery and Field's Family Wines, too.
Guantonio's
600 W. Lockeford St., Lodi
(209) 263.7152
Guantonios.com
Editor's Pick
This might sound simple, but this pizza has SO much flavor. Order the Pepperoni Pizza, "Nick's Way." Ezzo pepperoni cups are crisped to perfection and topped with fresh ricotta cheese and Jacobsen Salt Co.'s Hot Honey.
---
Turn it Up
If you want to turn up your pizza game, grab some of our favorite pizza add ons! Just remember, a little heat goes a long way!
Hot Chili Oil
Calabrian Chiles
Parmesan Cheese
Red Pepper Flakes
Hot Honey (Mike's or Jacobsen's Salt Co.)
Must Have Pizza Oven Accessories
Aluminum Pizza Peel
Cutter
Rolling Pin
Infrared Thermometer Gun
Gloves or Mitts
Pizza by the Numbers
46 – the number of slices the average American consumes each year.
38 billion — annual pizza sales in the U.S.
350 — slices of pizza sold every second
93 — percentage of Americans who eat pizza once a month.
70,000 — number of pizzerias in the U.S.
The 411 on Wood Burning Pizza Ovens
A wood fired or brick pizza oven, is one of those bucket list backyard additions we all want in our lives. If you ask us, the Mugnaini Pizza Ovens are the cream of the crop, and wish we had one to take our outdoor entertaining up a notch. With temperatures reaching 500 to 700 degrees Fahrenheit, they are an efficient way to feed a crowd, cook up a pie, and make your backyard smell delish.
High heat = less time. It shouldn't take more than a few minutes to cook a pizza at those temps!
Boosts Flavor. The smoke from the wood enhances the pizza's flavor because the heat is evenly distributed.
Helps retains nutritional value of fruits and vegetables on pizzas because they are cooked over an open flame. Longer cooking times in a traditional oven deplete nutrients and antioxidants.
Saves Energy. I mean, who isn't sick of paying high electrical bills?
---
Wood-fired pizzas are all the rage, and a great way to try something different. But pizza lovers needn't shy away from the originals. If you're looking for another kind of pie, check out this list of Best Of joints, along with our favorite pizza from each.
---
David's Combo @ David's Pizza
If New York and Detroit style pizzas are more your style, look no further than David's Pizza. This is the kind of pizza you sink your teeth into, and toppings fall into your lap because they are piled high. David's Pizza is San Joaquin's reigning Best of Champion, and it's easy to see why. When we crave a traditional pizza, we always go with David's Combo. This beast is loaded, and we mean loaded, with pepperoni, salami, Canadian bacon, mushrooms, bell peppers, red onions, linguica, and sausage. All topped with the finest mozzarella cheese that melts and oozes over all the toppings. The standouts at David's Pizza, however, are the family-friendly atmosphere, wide variety of pizza options, and quality ingredients. After all, you don't get the reputation of best pizza in the 209 without delivering the goods!
1744 W. Hammer Ln, Stockton, (209) 477-2677, DavidsPizza.org
---
Garlic Veggie Gourmet @ Michael's New York Style Pizza
Michael's New York Style Pizza is home to some of reader's favorite pizza creations. Famous for its seasonal asparagus pie, this Stockton parlor caters to the masses with specialty doughs to meet diet restrictions, including gluten-free and whole wheat. If you're a vegetarian, you don't have to shy away from really good pizza. Instead, order up the #3 Garlic Veggie Gourmet, made with creamy garlic sauce, feta cheese, spinach, zucchini, artichoke hearts, mushrooms, red and green onions, and sun-dried tomatoes.
2300 W. Alpine Ave., Stockton, (209) 462-6668, MichaelsPizzaCafe.com
---
The Mendocino @ Dante's California Style Pizza & Café
At Dante's, chefs pay homage to California's best sites with appropriately named menu items including The Gilroy, The Big Sur, The Old Carmel, and more. When we stop into Dante's, we're ordering up Chao's Choice, The Mendocino. Number 11 on the menu, this pizza comes slathered with both pesto and red sauce before it is topped with pepperoni, mushrooms, ground beef, ham, and green olives.
9305 Thornton Rd., Stockton, (209) 474-0221, DantesPizzaAndCafe.com