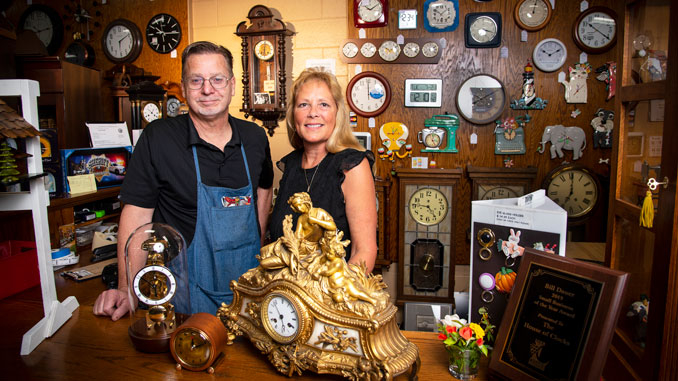 Marie and Joe Hohn opened House of Clocks in Lodi in 1970, which means 2020 marks the company's 50th anniversary, now owned and operated by two of Marie and Joe's sons, Steve and Chuck, and Chuck's wife Sandy.
"They would be shocked. I'm pretty sure," Sandy says of the legacy the three Hohns are continuing. House of Clocks is one of the few clock repair shops still operating in San Joaquin County. But the downtown Lodi shop offers more than repairs, the clock store also sells new and used, antique and modern clocks for purchase. "Most people ask to see our oldest clocks," Steve says.
For Chuck and Steve, House of Clocks has been their life's work. From a young age the brothers were always helping in one way or another. "Eventually when we were old enough, we started working at the shop," Chuck says. In 1976, a second store was opened that Chuck took the reins on after high school while attending Delta College. Since 2011, however, the operations have been consolidated into the Lodi store.
The duties are divvied up between the three co-owners. Steve and Chuck both handle repair work, skilled at servicing clocks old and new, including large grandfathers in-home and smaller items at the shop. "There are very few brick and mortar repair shops anymore," Sandy says. "For that matter, very few people even working on clock repair." All three also sell the clocks in their store, of which there are plenty, ranging in styles, time periods, and more. The walls are lined with everything from nostalgic black and white cat clocks to new, colorful clocks made for inside and out. Sandy also handles the behind-the-scenes work.
The team attributes a lot of their success to customer service. The long-time San Joaquin residents were born and raised in the area and have grown to love the customers they serve as family, as neighbors. By answering to themselves, they are able to do things their own way, which means treating every potential customer with respect and honesty. "Personally I love talking with people and meeting new friends. None of us should take for granted our awesome surroundings and what Lodi has to offer," Sandy says.
"Downtown is such as nice atmosphere! It is clean, wonderful shops and restaurants and people feel safe walking around," says Chuck.
Tick Tock:
House of Clocks
208 S. School St., Lodi
(209) 369-7961
TheHouseOfClocks.biz