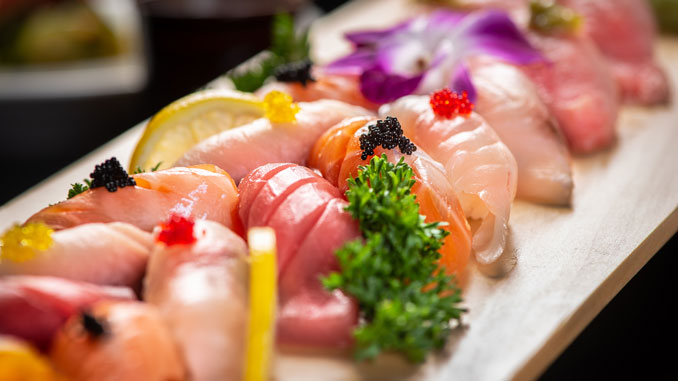 The menu at Lodi's Komachi Sushi is extensive, filled with a variety of dishes both cooked and uncooked. From sushi rolls to fresh salads, sizzling soups to donburi, the options are seemingly endless. But one of Komachi's (several) specialties is its raw offerings, including oysters, seasonal Japanese fish, and more.  "We have a wide selection of raw fish items," says Executive Chef Tim Chang. "It's hard to choose a favorite."
At Komachi, Tim and his wife, Owner Sunny, have a formula for serving the freshest fish so their raw dishes not only taste good but are safe, as well. The first step to serving fresh, raw fish is to know your suppliers. Where fish comes from is very important and the practices suppliers use before the fish gets to Komachi affects the final product. Then, once the fish is received at Komachi, they have a list of protocols for storing and preparing fish to keep it fresh. The faster inventory turns around, the fresher the fish is. That's why busy restaurants often have the best fish—good thing Komachi is accustomed to a line of customers out the door. Some fish, however, they keep on hand on purpose. "With exception of certain fish, we intentionally age them to bring out better flavor," Tim says, adding that there is a difference between an aged fish and old or bad fish.
If getting into raw fish is new for you, start slow. Tim recommends ordering raw fish ceviche style, which has a more appealing texture to those who don't routinely eat it. Ceviche at Komachi is marinated in a mix of citrus and soy sauce. "It's easier for the novice who are just getting into sushi," Tim says. "We also sear fish and serve with various garnishes, such as daikon, green onion, etc. to give it a unique texture and flavor."
If you like sushi, Komachi has a menu  packed with options, boasting just about every kind of fish in the sea from octopus to eel. Tim recommends trying Katsuo, popular in late fall and early winter (as well as spring), a seasonal fish from Japan. When you're ordering drinks, consider how it'll pair with food. Tim says sake and sushi are a match made in heaven. "All sake goes good with raw fish," he says. And Komachi keeps a wide variety in stock, including dry, fruity, sweet, or sparkling sake, plus hot and cold options. "We have different grades including high-end reserve sake," Tim says. "Shochu (Japanese vodka) is available as well."
These aren't the only ways to enjoy raw foods at Komachi. The Poke bowl also combines cubes of raw fish. Made with fresh tuna and cucumber slices and tossed with seaweed salad, sesame oil, ponzu, and spicy sauce, the Poke Sashimi is good for everyone, including those on a keto diet. Or, order the sashimi salad, a refreshing bowl of greens topped with assorted fresh raw fish, tobiko, and green onion, and served with olive oil ponzu dressing.
"In our 50 combined years of experience, food and serving people has always been our passion [and] our love for creating dishes with quality ingredients and authentic flavors continues to grow," says Tim.