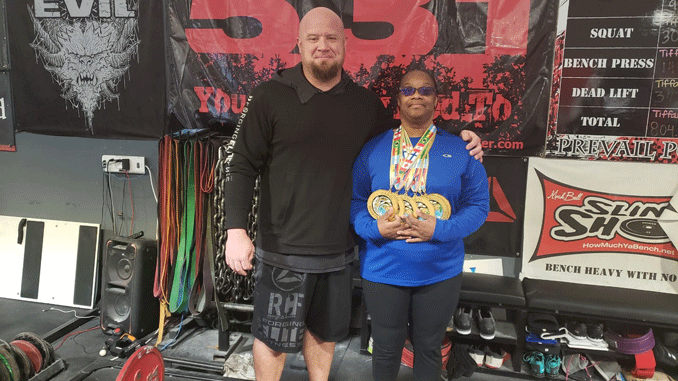 Chloe Kaalund, 33, is a state, national, and world record holder for weightlifting. In late 2019, she attended the WABDL (World Association of Benchers and Deadlifters) worlds competition and took home six gold medals, two in bench-press and four in deadlift. At that competition, the team she competes with from Willows Eastside Gym also won gold in the team category for the second year in a row.
At the competition, Chloe, who started weightlifting in the seventh grade, competed in both the Disabled 1 and Disabled 2 categories for women under 220 pounds, lifting 308.7, 325.18, 330.5, and 336.2 pounds consecutively. She also lifted 473.7 lbs. and 479.2 lbs. in push-pull raw weight to earn two world records, two national records, and two state records.
While Chloe is killing it at competition now, getting started in weightlifting wasn't easy. In addition to the physical challenges of the grueling sport, Chloe had to overcome adversity related to having down syndrome, leading her dad to train her for her first four years when she couldn't find a coach to take her seriously. "It was hard to get a serious coach early on to train me in powerlifting because they don't think Down Syndrome people can do anything other people can do," Chloe says. "My mom and dad pushed to get me the help I needed, and they still do."
For the United Cerebral Palsy-student, weightlifting has offered the perfect balance of team effort and individuality, a good combination for the self-described shy girl from Tracy. "I love independent sports where I can challenge myself and still work as a team," she says. "I like that I don't have to talk to a lot and most powerlifters are very serious." She also says it's a sport she can continue to do for most of her life, which is appealing.
Today, Chloe trains three times per week at Combat Sports Academy with her coach Jessie Burdick. She also works with Monte Spicer. "Jessie and Monte keep me healthy and also injury free by stressing correct format and taking care of my body," she says. "[They] see me as an athlete who can do anything and treat me as anyone else they work with and hold me to the same standard."