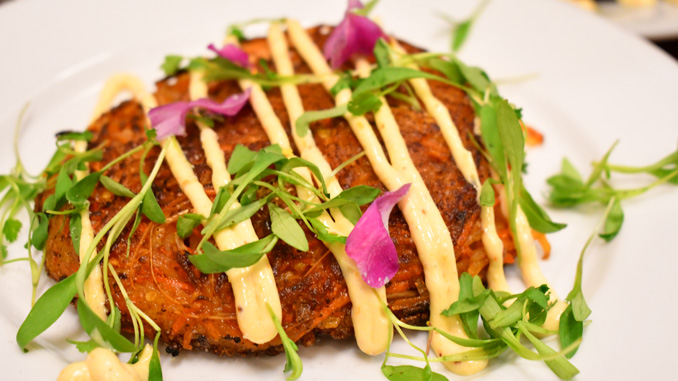 New to the Scene
Meat and Drink
Downtown Lodi's Blend Ultra Lounge has cooked up something fun and exciting for locals looking to hang after work. Owners Michael and Alexis Thorpe have teamed up with Amin Mozeb, a master mixologist, to open Meat and Drink in the lounge. Open every Wednesday through Saturday from 5-9 PM, Meat and Drink serves up theatrical cocktails and seasonal fare. The cocktails are so cool, you would expect to see them at a club in Las Vegas, not downtown Lodi. Take for example, the Up in Smoke, a libation served in a glass box with rye whiskey, aperol, cherry bitters, lemon, and sage honey syrup. It is then finished with cherrywood smoke infused into the glass box.
Meat and Drink, 115 S. School Street #13, Lodi, (209) 334-2036
---
Going Mobile
Kik Basil
A new food truck with a unique concept recently rolled into town. Kik Basil launched Stockton's newest lunch on wheels, and they are spicing up the foodie scene with authentic Thai cuisine. Order the Seafood Pad Kao Prao for fresh-from-the-sea shrimp cooked in a traditional pad ka prao style. It is also available with chicken, pork, or tofu. If you want to make it extra, top it with a fried egg. You can find Kik Basil at the corner of Thornton Rd. and Lower Sacramento Rd. in the Costless Auto Glass parking lot 7 days a week.
Kik Basil, 7711 Thornton Rd., Stockton.
---
Rice Queen Social Launches Food Truck Concept
Bennyjann Peneyra of Rice Queen Social held a launch party in September to kick off his crowdfunding to open a mobile food truck. After hosting pop ups over the past three years, local foodies are stoked to see Rice Queen Social create a concept of his own.
Keep up to date on Rice Queen Social's journey by following @ricequeensocial on IG and FB. 
---
Coming Soon
Woodbridge Inn Steakhouse
In case you missed the exciting news, The Murdaca family, of Lodi's long-established Pietro's purchased the old Woodbridge Inn Steakhouse at the end of 2018. They plan to open a swanky steakhouse by year's end that is sure to delight carnivores in the 209. For the past several months the family has been hosting pop-up dinners to introduce locals to the type of cuisine that will be offered at the new location. And if the food they've been serving up is any indication, we are in for a treat. Think dry-aged steaks, fresh seafood, and all the sides you can dream up, plus seasonal appetizers and desserts.
Woodbridge Inn Steakhouse, 18878 N. Lower Sacramento Rd. Woodbridge.