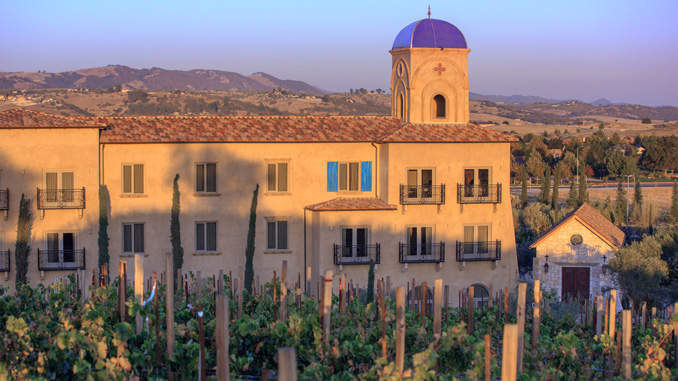 Find romance amongst the vines. Located on the Salinas River north of San Luis Obispo, Paso Robles affords its guests a luxurious experience from start to finish. Premier wineries takeover much of the land, producing otherworldly Bordeauxs like the cabernet sauvignon for which the region is best known and lesser-known varietals like malbec and petit verdot. With a lush landscape and fog-kissed mountains near the central coast, adventure can be found in the urban city center boasting organic menus and eclectic hotspots or in the hills where zipping and sipping is what locals do best. Wherever you go, the underlying vibe in Paso Robles is romance, if you book it right. So grab your sweetie and plan a weekend away during one of Paso's most delightful seasons—fall.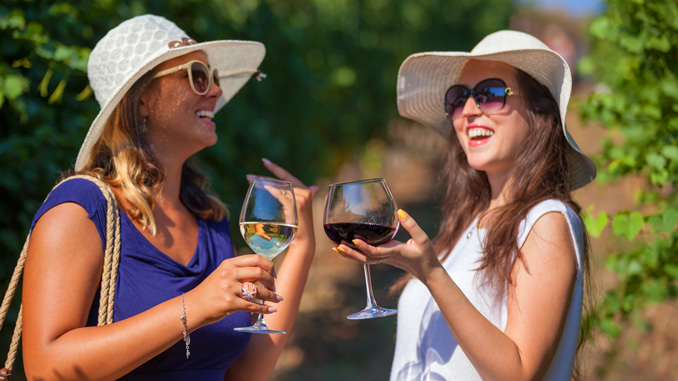 Wine Tasting & More
With more than 40,000-planted acres in the Paso Robles American Viticultural Area (AVA), there are plenty of places for couples to stop for a glass, tasting, or bottle. Mosey through the hillsides and go in blind, or follow our trail for some of the best vino in San Luis Obispo County.
Niner Wine Estates proffers an extensive wine list rich with heavy, bold reds. The reserve wines are perhaps the most spectacular, a collection of single-vineyard, small lot vinos the winemaker has selected as the best of the best. From lesser-known varietals like grenache blanc to the popular cabernet sauvignon, these wines are must-trys during a Paso visit.
And while you've come for the wine, you'll stay for the food—and the education. Take a seat on the covered patio and enjoy the fall colors that surround. Order up plates of decadent seafood, including a rockfish ceviche and cooked octopus (served as a full tentacle), or share plates of cheese, burrata, and sausage. And if you come during a special event, the chef just may teach you how to shuck an oyster. 2400 Highway 46 W.
Once you've tasted the line-up of gems at Niner, move on to Vino Robles. Here wine is just the appetizer. The events center explodes with energy as big name performers take to the stage. The lineup of varietals here are crafted to represent the best of both the old world and the new, while paying homage to the diverse appellation that allows Paso to make such a wide selection of quality sips. With an impressive assortment of vinos in every shade, this is the place to try some of those lesser-known varietals. If you possess an affinity for white wines, sip albarinos, viogniers, vermentinos, and verdejos. If it's the reds that speak to you, reach for a tannat, petit verdot, and, of course, the cabernet the region hails as king.
Post wine is a perfect time to find entertainment. On weekends live music may fill the tasting room, but headlining acts are often performing just steps away at the on-site amphitheatre. October welcomes big musical acts like Cole Swindell, Jason Mraz & Raining Jane, and Sara Bareilles, plus comedian Nick Offerman. 3700 Mill Rd.
If your favorite type of wine is free wine, then we have the place for you! At Eberle Winery, Gary the winemaker still greets guests daily with free cave tours and wine tastings. In 1991, the Eberle caves were the first underground wine caves in Paso, built to store wine as it ages underground. In addition to tours and production, the caves also house exclusive opportunities for guests such as private dinners in the 16,000-square foot cave system. In fact, on Oct. 18, the estate will host a winemaker dinner down below to celebrate harvest season, led by Chef Lou Rook III as a kickoff to harvest festival weekend. 3810 CA-46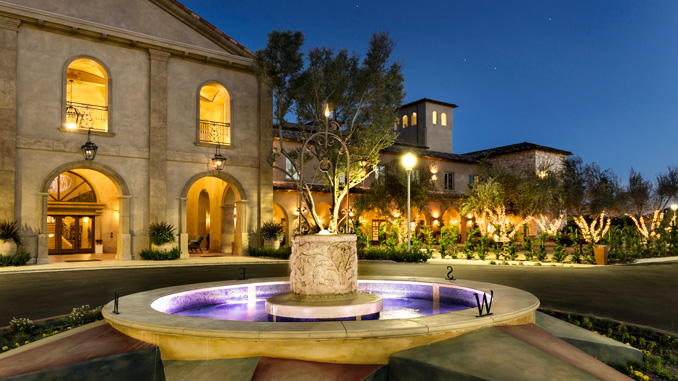 Luxury Digs
Live a life of extravagance at the Allegretto Vineyard Resort & Spa, a Mediterranean-inspired vineyard resort built to impress. Outside, sprawling vineyards and abundant orchards surround the property where outdoor spaces are created to stimulate the senses, and inside architecture and art amaze even the most hard-to-impress guests. Every corner of the estate is built to embrace the beauty of the outside world with materials sourced from all over to include statues from India and marble from Italy. During visits guests indulge in the fresh, local ingredients that make up meals at Cello Ristorante & Bar,—the property's on-site restaurant—swirl wines from the Allegretto label, get lost in the musical beauty of the world's only sonic labyrinth, learn the historic relevance of the property's extensive art collection, and melt into the table during a massage or other tantalizing treatment at the spa.
Whether a guest of the property or not, public tours are open to those who want to learn more about the Allegretto. During the art tour a knowledgeable friend of the owner explains the significance behind each element of the building, many of which have spiritual connotations.
Self-guided tours of the sonic labyrinth, a circular labyrinth that produces sound as guests walk through it set off by motion sensors, and the grounds—where a short walk up the hillside proffers gorgeous sunrise and sunset views—are some of the best ways to embrace the beauty of the Allegretto.
When time permits, grab a poolside cabana for an afternoon of relaxation. Both the pool and the hot tub are there for guests to use, and private cabanas are available for rent. Order a cocktail, or snacks, to enjoy as you lounge.
It's obvious the Allegretto isn't lacking in amenities. If you're staying on the property, the resort also offers bright yellow tandem bicycles for guests to rent. Take a ride through the nearby vineyards with your significant other for an experience that is sure to have you laughing as you pedal. If you're brave enough, it's a quick ride into town, but the roads get a bit tricky especially when you're navigating a bike for two.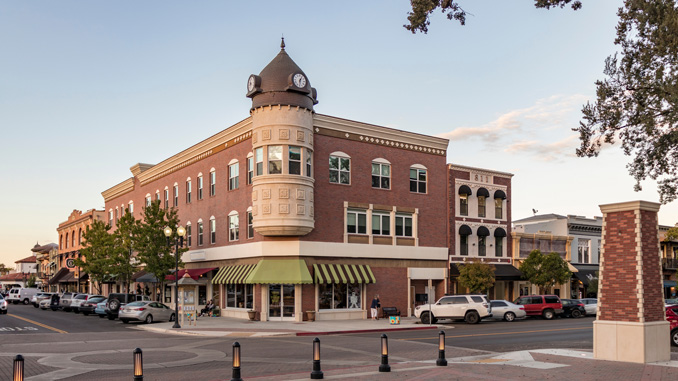 Dining & Downtown
Paso Robles' historic downtown is best described as charming. From street to street, not-so-hidden gems offer a world of opportunity to guests. Walk around the block and peak into boutique tasting rooms, or grab a meal from one of the area's famed restaurants. The nightlife here is also top-notch—and we've got the details on that speakeasy you can't quite find.
For dinner, grab a table at Thomas Hill Organics. This American eatery provides a menu brimming with fresh-ingredients and local bounty to guests. The menu is inspired, with creatively prepared dishes you won't find anywhere else. Because the restaurant is dedicated to working with organic food sourced from local purveyors, dishes change with the seasons to reflect what is grown around Paso Robles throughout the year. Choose from a collection of farm-to-table meals with organic produce and grass-fed meats from area farms. 1313 Park St.
If you're looking to taste Paso wines without carpooling from winery to winery, take a stroll through the downtown streets. There are 23 tasting rooms located here from Asuncion Ridge to Tudor Wines, and including well-known labels like Justin.
At the end of the night, switch to cocktails. At 1122 Pine St., speakeasy connoisseurs can spot a hidden cocktail lounge just behind Pappy McGregor's Pub—a raucous bar with a completely different feel. To be let in, simply ring the bell. Once there, guests are transported to a 1920s lounge complete with smoking craft cocktails sporting fancy garnishes and hand-formed ice cubes made by bartenders in suspenders and collared shirts. In 2018 it was named one of the top hidden speakeasies in the world by The Venue Report, so you know it's good.
If you're looking for other libations, Fish Gaucho won't do you dirty—unless you order the dirty martini that is. This local establishment serves expert cocktails and shots of tequila until midnight and California Mexican cuisine until 10 PM on Fridays and Saturdays. 1244 Park St.