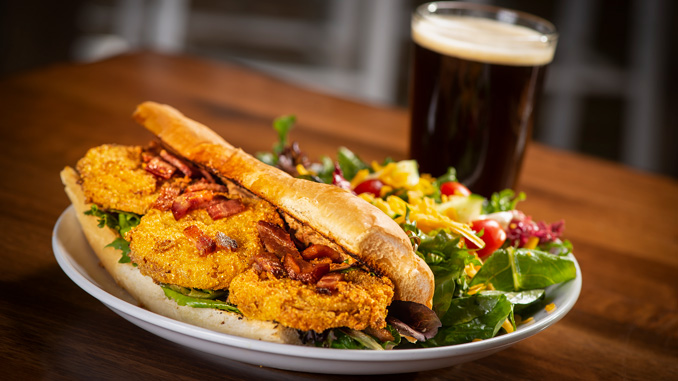 It's food that's meant to make you feel good. With fresh, seasonal ingredients, diet-friendly dishes, and a dedication to organic, there's a reason the man at the helm of Stockton's The Downtowner—Kevin Gilman—categorizes his cuisine as "good mood food."
The eatery, located in the heart of Downtown Stockton, serves up biscuits and gravy and stuffed breakfast burritos to the working class before shift, and then protein-packed salads overloaded with greens for lunch—all under a lighted sign that literally tells guests to "Come and Get It." Recently, The Downtowner has also expanded its menu into late nights; with breakfast and lunch options offered until 8 PM, plus some extra food dishes for dinner including charcuterie boards and baked ziti that pair nicely with picks from the extensive wine list.
From 8 AM (when the restaurant opens) to 8 PM (closing time), Kevin stays true to his vision of a casual ambiance meant to put a smile on your face. Rock music plays over the speakers, the crew shares jokes and stories, and the food is created to fuel your day. Even the décor is meant to make guests laugh; walls are covered in positive affirmation artwork that makes the bar eclectic and fun (see the wooden sign that reads "I have a feeling my check liver light will come on soon"). These are all necessary ingredients to that good mood Kevin pushes.
The majority of The Downtowner's weekday clientele are county workers and downtown employees looking for a healthful meal before, during, and after work. For Kevin, the space offers a solution to the salad shortage Downtown Stockton was facing before, with few places to pick up a good-sized salad for lunch.
Lunch is undoubtedly the restaurant's busiest meal when the number one seller is the cobb salad, a bed of mixed greens and romaine piled high with oven-roasted chicken, avocado, apple-wood smoked bacon, bleu cheese crumbles, and a hardboiled egg, drizzled with a blue cheese vinaigrette. But the DT Burrito just may be the best early morning item on the menu—a tortilla stuffed with scrambled eggs, sausage, bacon, avocado smash, roasted peppers, sharp cheddar cheese, and pico de gallo (with a vegetarian version that uses black beans and chevre). And, please, don't forget the smoothies.
While salads make up a good base of the midday menu, it's hardly all there is. Organic sandwiches and wraps feature meats that are all smoked on an in-house pellet grill, burgers are made with patties from Richmond Farms out of Merced, and produce is sourced from local farmers whenever possible. In this way, Kevin's grill is serving more than just Downtown Stockton, it's making a positive impact on the entire county—and beyond.
Like any good restaurant owner, Kevin's home life inspires the menu. As a kid, once a week Kevin's mom would declare a night of breakfast for dinner—and that's one reason Kevin serves his morning meals until closing. "Why not a mimosa and biscuits and gravy at 6 PM?" he asks.
The native Oregonian brings more than a feel good philosophy and a few good recipes to Stockton. The fine-food connoisseur has spent most of his life working in upscale restaurants. But when he moved to Stockton to be near his wife's, Barbie Gilman, family, he decided what Stockton really needed was a no-fuss stop dedicated to providing quality food to its community. Kevin describes it as a "casual atmosphere with an upscale food quality."
The other talent Kevin has brought to The Downtowner is an in-your-face love of wine. The certified level two sommelier's appreciation of the craft is obvious in the newly renovated countertop turned wine bar that beckons an after-work crowd to Sutter Street.
"I've always been involved with wine," he says. "I'm a wine geek."
The long-winded wine menu includes old-world European wines that Kevin adores, representatives from his home in the Pacific Northwest, and, of course, some local California favorites. And there is no highbrow atmosphere here; Kevin's goal, despite his knowledge of it, is to take the pretentiousness out of wine.
Want to try his stash? Stop in on Wednesday for 30 percent off bottles, or indulge in $5 glasses during happy hour, every Monday through Friday from 4 to 6 PM.
Come & Get It
40 N. Sutter St. in Stockton
(209) 910-9714
TheDowntowner.net