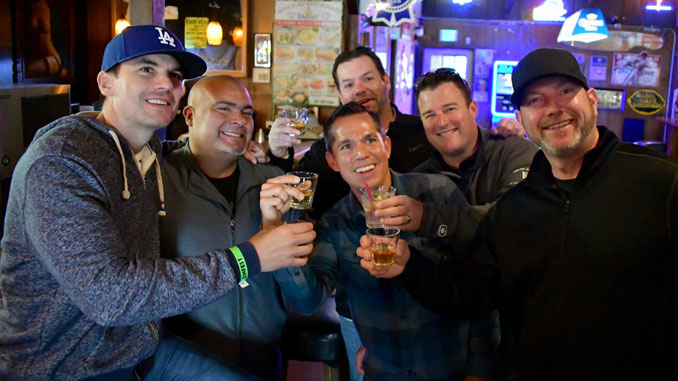 Just off the beaten path on the outskirts of Lodi Wine Country lies Know Place. Its nestled amongst old buildings in the tiny town of Victor, population 293, and it's one of those places that is hard to explain; everyone has a different impression of the local jaunt. Some people call it a dive bar. Others pigeonhole it as a biker bar. Local farmers consider it the place to grab a drink after a long day working in the fields.
But if you ask me, Know Place can be described like this; it's just one of those places you want to pony up to a barstool, turn on some tunes, sip on a cocktail, and stay awhile.
You see, Know Place has a storied history. It has been a bar since 1969, and was everything from a dry good store to a sandwich shop since the building was constructed in 1917. But in 2007, everything changed. The bar was purchased by Cy and Jessica Bersi, a couple with as rich a history in the area as the building itself. Cy's great grandparents were the building's original owners in 1917, and after changing hands over a half dozen times, the couple had the opportunity to bring the bat back to the family.
"We wanted to bring good booze back to the region," Cy says. "When the wine industry boomed in Lodi, there was a shift amongst local bars where Budweiser and Jack Daniels were the focus." The Bersis set out to revolutionize the bar scene with craft cocktails using fresh, seasonal ingredients and a focus on traditional drinks made well.
Whether it's a classic Manhattan, a paper plane, dirty martini or tiki drink, every libation is made with quality ingredients. The same goes for the beer program. With 12 beers on tap and a focus on craft, foreign, and domestic beers, there is something for everyone.
Outside, it's the barn wood red exterior and wrap around porch that invites guests in, but the casual interior keeps the bar busy. An open floorplan makes way for pool tables, shuffleboard, and high-tops and the electronic jukebox sees the most action.
With a steady stream of customers from all walks of life, "The thing I love most about Know Place is that it's a different experience every day," Jessica explains. "There are always new faces and different people."
Have a drink:
Know Place
17271 Bruella Rd., Victor
(209) 369-4444
10 AM-6 PM daily