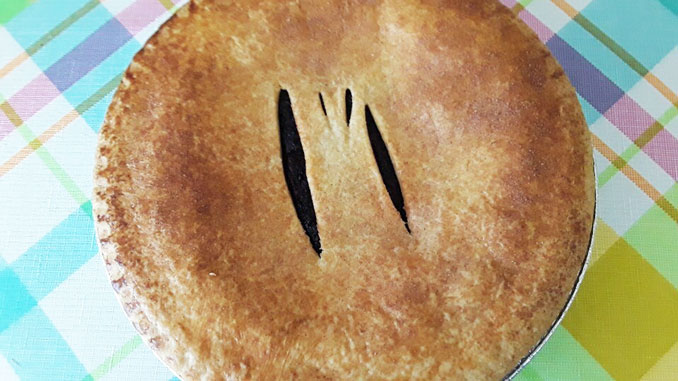 Nothing is sweater than sinking your fork into a warm pie when the weather cools down. You can, of course, get the family together around a traditional pumpkin pie dusted with cinnamon and wafting aromas of nutmeg and cloves. Or maybe it's the caramelized crunch of an old-fashioned pecan pie that gets your mouth watering. Even this time of year, however, seasonal fruit flavors shouldn't be overlooked.
The trouble with pies, especially as the holidays loom nearer, is that they can be time consuming to make from scratch and it can be hard to get that finicky crust to crumble just right. Sure, you could cave and take the walk of shame down the frozen food aisle for a pre-made pie shell or beg grandma to stock the dessert table for family functions. But for those holiday hosts who don't want to leave anything to chance, there's another option to have your pie and eat it too: order one of these spectacular seasonal pies from local San Joaquin bakeries and prepare for some tantalizing fall flavors.
Clemont's Ridge
Whoever said fruit should be reserved for summer pies has never been lucky enough to try Clemont's Ridge's signature pear pie. With pear season in full swing during the fall months, grandma's recipe doesn't shy away from big fruit flavors with five pear halves in every pie. With the pears nested in a vanilla custard and dusted with nutmeg, this pie is best served at room temperature with strategic slicing to ensure pear on every plate.  
Expert Tip: Try the seasonal pumpkin and pecan pies, too.
Clemont's Ridge, 23225 Hwy 88, Clements, (209) 759-3850, ClementsRidge.net
Sweet Mel's
At Sweet Mel's the seasonal flavors are available year round – but that doesn't make them any less tempting as the weather cools and we find ourselves reaching for our trusty pie platter. While Dutch apple and pumpkin pies are in high demand at the bakery this time of year, none is as popular as the Marionberry pie, a type of blackberry that only grows in Marion County in Oregon. Served à la mode or à la carte, you're sure to make guests drool when you dish out this seasonal pie.
Sweet Mel's, 623 E. Oak St., Lodi, (209) 329-0918
Michael David Winery
A winery might not be the first place you'd think to find a pie and you might just scratch your head when we tell you to try the Peach Boysenberry. "But those are summer fruits!" you protest—trust us. With peach and boysenberry season stretching into the cooler months of August and September, this pie has a unique flavor profile that will change how you look at fall foods.
Michael David Winery, 4580 CA-12, Lodi, (209) 368-7384, MichaelDavidWinery.com