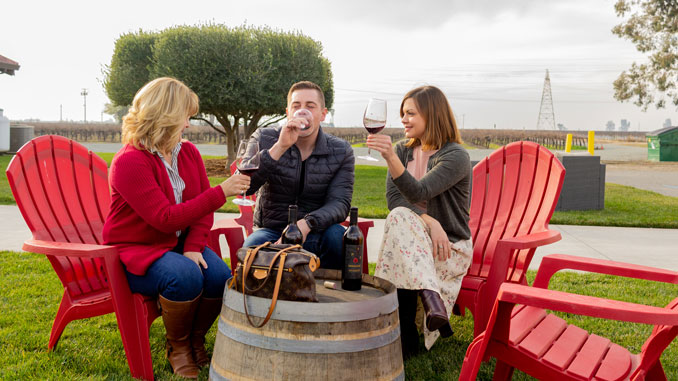 Thomas Allen Winery
Award winning wines at an unbeatable price—that's what Thomas Allen Winery offers its guests. A refreshing bottle of pinot grigio from the winery recently earned 91 points from Wine Enthusiast magazine and was featured in the publication as one of the best wines from California. The surprising part is that it's not unfathomable to add this bottle to your collection. At Thomas Allen, the goal is to make wine sipping both enjoyable and accessible to everyone.
Stop in for a tasting flight, a customizable line-up of favorites from Thomas Allen's extensive and growing wine list. While each guest is greeted with a menu of available wines, there are no pre-determined flights. Guests can request all reds, all whites, or a blend of the two, or they can pick and choose their favorite five to sip.
Stumped? Ask the bar master to make suggestions. The staff is knowledgeable in wines from not just their own vineyard, but others, too, making it easy to find favorites on the menu. Plus they offer quality conversation as you sip at the inviting, wooded, u-shaped bar that makes gabbing with other vino lovers easy.
The tasting room is new to Lodi—opened in 2018—but Thomas Allen wines are not. For years the vineyard was creating wines for sale under a few labels and selling grapes to other wineries, but in 2018 Allen Lombardi and his family moved to Lodi full-time—they previously split time between California and New Jersey—and opening a tasting room just made sense.
"It was the perfect time for them to plant new roots and fulfill their dream," says Lisa Brand, the tasting room and event manager at Thomas Allen Winery. "As Allen likes to say, opening the tasting room has never felt like work."
The timing was also perfect because Lodi itself is experiencing growth, and the two families behind the Thomas Allen brand want to be part of that growth. "We hope to bring a new and exciting energy to Lodi," Lisa says.
In addition to making wine tasting accessible to all, regardless of experience or price point, the menu at Thomas Allen brings wine diversity to the community by spotlighting uncommon varietals. One of the most popular wines on the menu is the Generations Red Blend, a mix of syrah, petite sirah, and tannat, and they have more interesting flavors prime to add in the coming years.
"We are just getting started," says Lisa.
Sip Away:
Thomas Allen Winery
5573 W. Woodbridge Rd., Lodi
(209) 210-4029
ThomasAllenWine.com