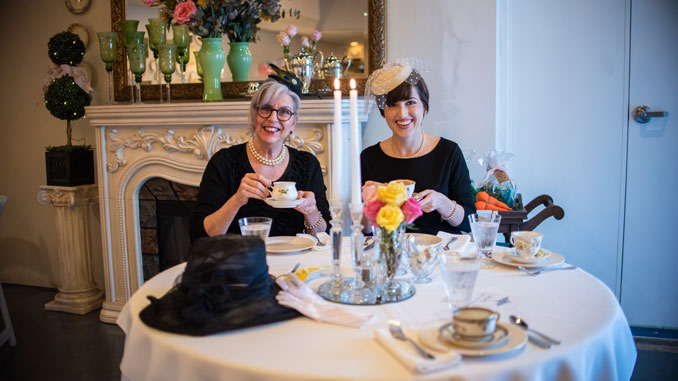 At the Hidden Tea Room in Lodi
If you think High Tea is just for the Queen of England, we're delighted to inform you that that's simply not true. Thankfully, the simple pleasures and luxuries of tea time are available to all, courtesy of The Hidden Tea Room in Lodi, where owner Terrie Green and her daughter – Manager Tara Miller, provide customers with the serene environment (and the fancy hats) needed to indulge in freshly baked pastries and a variety of loose leaf teas, from their classic Earl Grey to green and herbal blends.  
High Tea is their most popular service, in which customers enjoy five courses over two hours. As owner of the award-winning Corner Scone Bakery, Terrie knows the importance of fresh food and pastries. "Your scones should be hot out of the oven," she says. The freshly-baked scones are served with chilled lemon curd made in-house, clotted cream, jam, and sweet butter.
"From there we move into the palate cleanser—a fresh fruit sorbet—then we move into the savories," continues Terrie, listing warm quiche and puff pastries filled with cheese or meats served with fresh fruit. Then the cut-out tea sandwiches are served. "We traditionally prepare a dill chicken salad and ginger cucumber served on Genova bread." Is your mouth watering yet?
It's not just the excellent food that draws people to The Hidden Tea Room—themed events such as "Alice in Wonderland" or "Downton Abbey" encourage customers to dress up for the occasion. And don't worry yourself over the etiquette; Terrie and Tara say there are a few basic principles to keep in mind when dining. "Paying attention to the setting and tone of the room when you enter will help," advises Terrie, adding that Tara provides Tea Tips on their Facebook page. "Use your manners, say 'please' and 'thank you', and use low voices. Enter from the right to sit down and place your napkins on your lap."
As the busy owner of two businesses, Terrie enjoys the serenity of the Hidden Tea Room almost as much as her customers do, "I love the energy of the clientele—I love when they come in and they get a chance to relax and are taken away from their daily tasks," she says.
"They say it's an oasis," adds Tara, "almost like being at the spa."
Their gift shop opened recently and is located right next to the Hidden Tea Room, so don't forget to peruse the varieties of loose-leaf teas, imported jams, and unique tea accoutrements after enjoying your own personal spa day!
Join us for Tea:
The Hidden Tea Room
310 N. California St., Lodi
(209) 452-5366
HiddenTeaRoomLodi.com