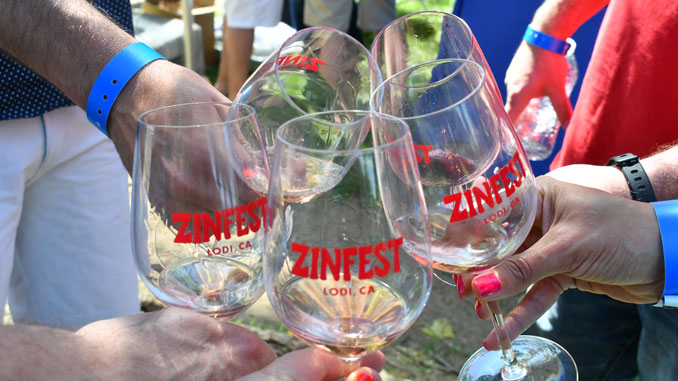 ZinFest weekend is a big deal in Lodi Wine Country, attended by over 4,000 people! Not sure where to start? We've got the scoop on where to go, what to do, and how to secure your spot at the table.
Pre-Event – Top Chef Master and Lange Twins Wine Dinner
It's not every day a winery flies out a Master Chef from Texas for a winemaker dinner. But that's exactly what's happening at Lange Twins Winery and Vineyards. The winery will host Top Chef Master and Ft. Worth rock star Ben Merritt for their annual ZinFest dinner on Thursday, May 16. Count on an incredible multi-course dinner paired with their award-winning Lodi wines. The dinner always sells out, so secure your seat now. LangeTwins.com
Pre-Event – Blind Tasting: A Study of Ancient Vine Zinfandels in California
Indulge in this exclusive blind tasting of 12 California Zinfandels, each sourced from vines with an average age of 100 years old in the Wine & Roses ballroom on Friday, May 17. Led by 40-year wine industry professional and journalist Randy Caparoso, be guided through a sensory evaluation of some of the best wines in the state. LodiWine.com
Vintner's Grille
Lodi's premier wine dinner launches the ZinFest weekend at Lodi Lake on Friday, May 16. A who's-who of the Lodi wine industry, this event is attended by over 600 guests. Savor a seasonal family style dinner from Angelina's, sip on some of Lodi's finest wines, and rock the night away to some of the best live music around. ZinFest.com
ZinFest
ZinFest's grand tasting on May 17 showcases over 200 unique wines from Albariño to Zinfandel with the picturesque Lodi Lake as the backdrop. With a dozen food vendors and several live music stages, there is something for everyone. And new this year is an Early Entrance Admission ticket for $75. Offered in advance, and limited to 500 people, guests will have the opportunity to sample exclusive wines only poured during the hour before General Admission. ZinFest.com
Open Houses
The fun doesn't stop after the Grand Tasting! Participating wineries will host special activities and tastings throughout the day on Sunday. This is always an excellent opportunity to meet the winemakers and taste the wines in the intimate setting of the cellars. Be sure to revisit your top wine picks from the day before (and maybe go home with a bottle or two).