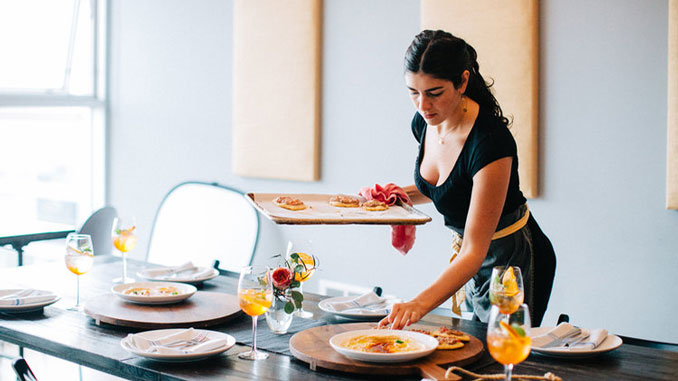 4 Chefs. 4 Cultures. For a good cause.
You know the Goodstock girls—Amy Sieffert and Anne Wilcox, the dynamic duo behind beloved events such as Stockmarket in Downtown and Herstory at the Haggin Museum. This month, they're channeling their devotion to their community via food, culture, and the beautiful Japanese Garden at Micke Grove Regional Park.
"Micke Grove has always had a soft spot in our hearts, and when we met the folks there, we talked about partnering up to bring awareness to the Japanese Gardens there. It's really a hidden gem," says Anne.
"We knew we needed to do something interesting with a purpose," adds Amy, who held her wedding in the Gardens in 2003. "In addition to promoting the space, a portion of the proceeds goes to Micke grove park, so you're not only connecting to the space but also supporting it."
The event, dubbed "A Garden A'Fare", is a cultural and culinary celebration featuring four chefs of different nationalities. Each will prepare a specific type of cuisine that represents some of the most prominent cultures found here in San Joaquin.
The lineup is as follows: Lauren O'Leary of Lauren Rose Cooks will be whipping up Italian, Manjinder & Paulette Singh of Delicious India will be simmering Indian cuisine, BennyJann Peneyra of Rice Queen Social Club will be frying Filipino fusion, and Jake Whitlock of The Black Rabbit (formerly Abbey Trappist Pub) will be serving Japanese fare.
"This county is so diverse culturally, we really wanted to connect people to both the Garden and to each other through food," Amy explains.
Apart from the delicious cuisine, carefully paired libations will be available, provided by The Whiskey Barrel. Guests will feast, sip, and savor in the serene beauty of the Japanese Gardens to live music provided by Travis Vega, a local jazz guitarist. It will truly be an event to remember.
"One of the things that we're passionate about with all of the events that we do is connecting people to each other but also to a place. We enjoy showing things in new perspectives," explains Amy, adding with a laugh, "Also, we love food."  
While the guests will no doubt share this love, everyone present will also be sharing in traditions that have defined San Joaquin county, simply by exploring these flavors that hail from four very different countries.  
"Food is one of the most universal things that all people can connect to—it's almost a language," muses Anne. "Even if you have not been to that part of the world, or don't speak the same language—everyone loves to eat."
For Tickets and Information:
GoodstockCA.com