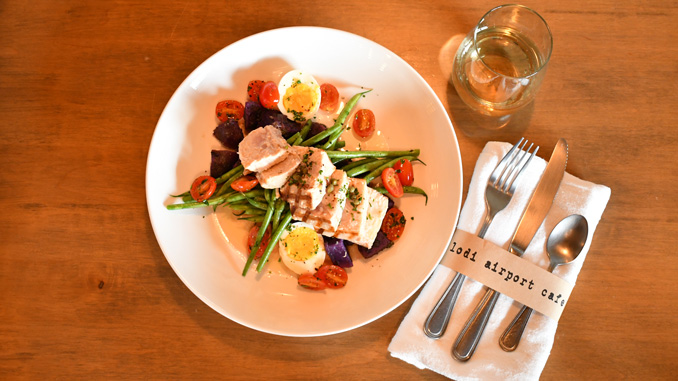 Yoga studio owner. History buff. Holistic medicine expert. Chef. Jennifer Kupka Kingston is all these things and more. And for Jennifer, cooking is more than a career—it's a way of life. Her role as Chef de Cuisine and manager for the Lodi Airport Café is a lifetime in the making.
Jennifer's mom, Joanne Kupka, bought the Lodi Airport Café when Jennifer was just a year old. Jennifer spent every morning of her childhood at the restaurant before school and most afternoons, too. So, it's no surprise that after earning a degree in history from Saint Mary's College, she returned to the café where she was raised.
But thanks to her upbringing in a home that favored Eastern medicine and a natural, holistic approach to healing, Jennifer was hungry to learn more about the lifestyle. She returned to school to earn degrees in both Ayurveda and Holistic Medicine. Coming full circle, Jennifer now applies her knowledge of holistic healing to the kitchen at the Airport Café, where the focus is on farm to table dishes.
If you've ever been to the Lodi Airport Café, you know they maintain a cult-like following of farmers and foodies. With a solid lunch game featuring some of the most delectable sandwiches and colorful salads, the restaurant is always packed at midday. And this past year, Jennifer began serving up savory dinners of house-made pastas, fresh fish, and perfectly cooked steaks.
"I've never relied on any sort of recipe in the kitchen," Jennifer said. "Instead, I experiment and cook with local, seasonal ingredients to bring flavor and nourishment to my cuisine." And while she doesn't have any formal culinary training, she cut her teeth in the kitchen at the Airport Café, watching her mom whip up mouth-watering dishes for her regular customers.
One of Jennifer's current creations and favorite dish on the menu is the Duck Confit, served with local stone-ground polenta with pearl onions, swiss chard and a portobello and cremini mushroom ragu. It's the perfect comfort meal you'll want to gobble up.
When she isn't cooking at the Café, you can usually find her at her other home, Flow and Function Yoga Barre Wellness, the yoga studio she opened over a year ago. It's another one of her passions in life, and one that keeps her grounded. Jennifer also keeps her hands full exploring regional restaurants with her husband Scott and her almost one-year old little girl, Sophia.
Fly on Over:
Lodi Airport Café,
23987 CA-99, Acampo, CA
LodiAirport.com