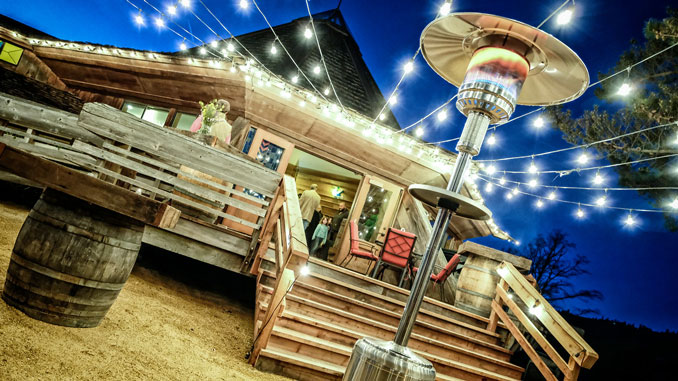 Fall in Love on the Coast
February is for lovers—and so is Mendocino. The Northern California coastal town offers a quiet luxury perfect for the month of love. Whisk your sweetheart away for a weekend full of adventure, or skip the adventure and instead spend 48 hours lounging in high-end accommodations fit for a king and his queen. We've got all the tips for enjoying your weekend away, and making the most of your ocean-side vacation.
Hit the Beach
Fancy yourself a "long walks on the beach" type of couple? Year round the beaches of Mendocino remain uncrowded and pristine. Spend time with your toes in the sand while enjoying cool coastal breezes. Mendocino boasts a 10-mile trail perfect for strolling hand in hand, or even biking.
The road is divided into two sections; on the north end you'll discover rugged coastline in an otherworldly sanctuary away from the hustle and bustle of other tourists while the south part of the road offers up views of the booming Pacific Ocean and is frequented by locals looking to enjoy the ocean air most days of the week. Grab your honey and stroll together along the coast from Mendocino to Fort Bragg. Hop on and off the trail at any point to break those miles up into manageable chunks. An open parking lot next to a motel just north of Pudding Creek offers the best access, and bathrooms.
The 10-mile stretch of coastline along the Pacific Ocean is good for more than long walks and bike adventures. It also caters to horseback riding excursions put on by Ricochet Ridge Ranch. Guests can book a one-hour ride—the company's most popular trip—or go all out with a horseback riding vacation in the redwoods. Horse-Vacation.com
At night the best way to enjoy the beach is with a bonfire near the ocean. Outside of Elk Cove Inn & Spa sit giant bonfire pits prime for making smores and sipping wines. Grab the ingredients from the Mendocino Market—graham crackers, marshmallows, and chocolate bars are stocked here—and then head to the beach at sunset to curl up and indulge.
Most Romantic Beaches in Mendocino County
Hit these hot spots to turn up the heat! (But dress in layers—it gets chilly)
Mendocino Headlands
Point Arena Stornetta
Van Damme State Beach
Big River Beach
Manchester
Pomo Bluffs
Greenwood State Beach
Schooner Gulch Beach
Bowling Ball Beach
Navarro River Beach (in Anderson Valley)
Mendocino Must-See!
Perhaps you've heard of a glass beach before—but how much do you really know about these man-made wonders? Mendocino is home to the glass beach believed to have the highest concentration of sea glass in the world, boasting ocean coves covered in rounded glass created in the wake of the 1906 earthquake when the residents of Fort Bragg used the ocean as its rubble dumping ground.
Over several decades, the rolling waves reduced much of the glass debris to sea glass, a sort of rounded and frosted glass crafted by seawater and sand. Most of the pieces are green, brown, and clear because these were the most common colors of glass used during that time, but it is possible to find shades of blue, red, lavender, and pink. Fire glass—sea glass that has been burned—is considered more rare and can also be found here.
Getting there: Take Highway 1 to Fort Bragg; turn west on Elm and head to the ocean. The walking paths are at the bluff's edge on the left/south side.
Pamper Yourself…and Your Sweetheart
Unwind with a massage before dipping into a private hot tub at Sweetwater Spa. Guests of the inn can use the communal spaces for free, but everyone is welcome to pay for use.
Start with a massage. In addition to traditional Swedish massages and deep tissue options, the spa also offers Thai and hot stone massages for releasing muscle tension and promoting relaxation. After that, slip into the sauna together, a clothing optional space for guests. While plenty of spas offer these two amenities, it is the hot tub feature that sets Sweetwater apart. Guests can choose from a completely private experience—a soak in a private outdoor tub and access to a private sauna, shower, and bathroom—or use of the communal spaces, all for an hourly fee. SweetwaterSpa.com
If you're up for the trip, there's another place to soak nearby. The Vichy Springs in Ukiah (about 40 minutes from Mendocino) is a 160-year-old hot springs resort that offers healing mineral baths and more. This location is the only naturally warm and carbonated "Vichy" mineral baths in North America. The springs are unique because they mimic the mineral concentrated and carbon dioxide charged Vichy waters in France and Madagascar. Scientifically speaking the water works by covering the body in tiny bubbles and dilating the capillaries to provide a feeling of calm and tranquility as you soak.
After—or before—a dip in the hot springs, book an appointment at the spa. A hot stone massage followed by a clay masque facial using the Vichy springs water is the perfect way to cap off the day.
Perhaps the best part of spending some time in Ukiah, however, is taking advantage of its surrounding nature. Vichy Springs is encircled by 700 acres of private wilderness available to guests for day use. VichySprings.com
Go Outside
Most of the activities in Mendocino challenge guests to get outdoors. It's just too beautiful to stay cooped up inside. Continue the adventure with a few more excursions that'll keep you enjoying the sun and the breeze near the Pacific Ocean.
A trip to Mendocino isn't complete without stopping by the city's own 47-acre botanical garden. Here, colors burst from every corner and the greenery reaches to the waves. Make the most of your stay by stopping by the education center, open for workshops and lectures. It's also a great place for bird watchers as the gardens attract more than 160 species of birds every year.
While you're there, walk through the sculpture garden, featuring works of art from primarily California sculptors, where you can simply browse the oversized pieces or even take one home. GardenByTheSea.org
February falls right smack in the middle of whale watching season—a treasured time for anyone who lives near or visits the coast from November to April. The California Gray Whale migration offers a 95% chance of seeing whales during these months as the giant creatures make their way from Canada to Baja California and back. It is possible to catch sight of them from the shore, but a five to 15 minute ride out into the ocean provides better views.
Three times each day The Sea Hawk—a charter boat sponsored by All Aboard Adventures—takes passengers out to get a closer look. Look like a pro by first picking up some gear from Out of This World, a cute shop that sells telescopes and spotting scopes, plus cameras. AllAboardAdventures.com, OutOfThisWorldShop.com
Two more spots you can often spot whales from are Mendocino's lighthouses, but even without the promise of whale watching these landmarks are worth a visit. The Point Arena Lighthouse houses an indoor museum (it's located in the historic Fog Signal Building) where guests can learn more about the history of the lighthouse and local marine life before peeking out the windows to see dolphins, porpoises, and the occasional orca. Expert Tip: Looking for accommodations? You can sleep here! PointArenaLighthouse.com
Mendocino's other lighthouse is Point Cabrillo. In addition to whales, harbor seals and sea lions call this spot home. Plus bird watchers will love the variety of species that perch in the surrounding trees. Stop by to visit the museum, or take a hike around the property on one of the many trails that span the bluffs and coastal prairie. Just north of the lighthouse visitors can see the crash site from the clipper brig Frolic that sparked the region's lumber industry boom in the 1800s. PointCabrillo.org
Whale Festival
Hold out until March for your trip and enjoy a festival that caters to whale watching. At the Mendocino Headlands State Park, visitors can usually catch glimpses of the California Gray Whales while enjoying chowder, beer, and wine tastings and exploring nearby art exhibits and local shops. The focus is on what's local—nearby restaurants serve up several types of chowder for guests to sample and the beer and wine pours come from local establishments, too. When you're done, take a docent-led tour and borrow a pair of binoculars to up your chances of spotting whales. March 2-3, Mendocino Village.
Where to Eat:
Impress your significant other with a dinner at Flow Restaurant & Lounge, an upscale eatery located in the top of a water tower. In addition to the indoor dining room that proffers ocean views, there is an outdoor patio that gets you closer to the coast. The specialty here is seafood. Start with appetizers of fried calamari and garlic lemon steamers before diving into a main course of cod tacos and seafood pasta punctuated by sips of a thyme Collins or gentleman's lemonade. MendocinoFlow.com
Café Beaujolais offers a different vibe. Located inside of a renovated 1893 Victorian farmhouse, guests can enjoy garden views as they dine on sustainably sourced dishes topped with locally grown produce. Don't forget to sample the steak tartare before noshing on local black cod, and chile and citrus brined chicken. CafeBeaujolais.com
Romance is all about ambiance. Trillium Café goes a little more casual without skimping on the fine dining experience. After indulging in a gourmet meal, order a couple of desserts to finish the evening. The flourless chocolate torte is topped with ice cream and the vanilla cheesecake is served with a blackberry sauce. Pair both with a port. Expert Tip: Ask for a seat near the indoor fireplace to set the mood, or, weather permitting, a seat on the patio. TrilliumMendocino.com
Where to Stay:
Don't skimp on luxury while visiting Mendocino. Your accommodations should echo the romantic tone of the weekend. At Brewery Gulch Inn there are few limits to what you can do. Want to drive around town in a Porsche? You can borrow one! Feel like touring nearby wineries? You can book that! Want to sip champagne with breakfast, lunch, and dinner? No judgment here!
The once in a lifetime package is the way to go when looking to up the ante on a weekend getaway. In addition to use of a luxury vehicle, private transportation from the Bay Area, and welcome gifts at the inn, guests will also get to partake in a slew of Mendocino's best activities including horseback riding in the redwoods, in-room couples massages, a private five-course dinner with wine pairings, a behind-the scenes winery tour, and more.
Looking for something private? Book Brewery Gulch's Serenity Cottage where you and your partner can enjoy 700 square feet to yourselves. Sitting on 5 oceanfront acres and flanked by beautiful gardens, Serenity Cottage offers both luxurious amenities and ocean views.
When you're not bustling through activities, enjoy quiet time at the lodge—built from salvaged redwood logs that are more than 100 years old—where there are places to sit and enjoy the views or play games together while enjoying a cup of tea. BreweryGulchInn.com
Is Brewery Gulch booked up? Luckily there is no shortage of cozy inns in Mendocino. Solid backups include Little River Inn, Headlands Inn Bed & Breakfast, and The Elk Cove Inn & Spa.
Wine Weekend
Mendocino itself isn't home to any wineries, but on the way into town San Joaquinians will pass Anderson Valley, a premier wine tasting destination approximately 45 minutes out. On February 23-24 various winery tasting rooms between Yorkville and Philo will host White Wine Weekend with winemaker dinners, special wine, and food pairings and open houses all weekend.
Planning to attend? Give the wineries a heads up by making a reservation: AVWines.com/White-Wine-Festival