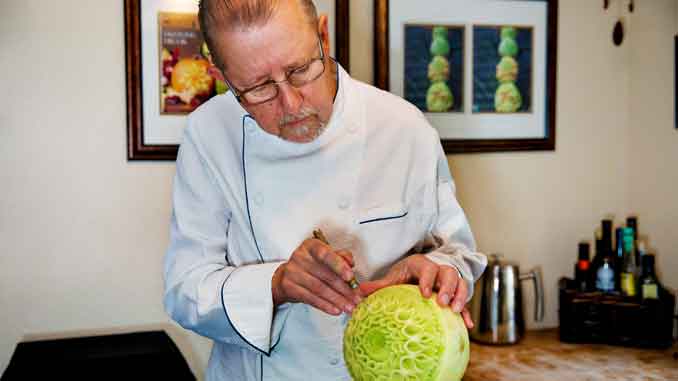 Catching up With Culinary Artist Chef Duey
For a living, culinary artist Chef Ray L. Duey gets to do exactly what his parents told him not to do—play with his food.
Perfecting his craft for the last 42 years, the 62-year-old chef has become world-renowned for his beautiful—and often, fantastical—creations. From intricately carved melon centerpieces that tower to the ceiling, to the tiniest of tiny sculptures (for example, a butterfly carved from a quarter of a grape), Chef Duey's work has been recognized and coveted by everyone from The Food Network to the Obama White House.
Originally from Tacoma, Washington, Chef Duey's obsession with carving began when he was working as a line-cook and his boss asked him to sculpt something decorative. "I had no experience doing that, but you'd be amazed what you can do when your job is on the line," laughs Chef Duey. "You just fake it 'til you make it."
Long past faking it, today, culinary artistry has turned into "one step short of an obsession" for Chef Duey. With no official training, it's truly amazing what this culinary artist can accomplish with a fruit or vegetable and a miniscule knife. "You have to work fast because it's a perishable project," explains chef Ray. "Unlike chocolate or sugar, you can't work on it for 10 hours."
And working fast was a key skill to be employed on The Food Network. Both a contender on the Network's Sugar Dome as well as The Rematch: Fantasy Fruit Sculpture, for the latter production, Chef Duey had just eight hours to complete his piece, and a migraine to make things interesting. Despite it all, his team still won the competition.
You may have also seen Chef Duey's work in the first season FX's hit show, "American Horror Story". Those incredibly detailed lanterns? You're looking at the work of Chef Duey. His spookier sculpting talents even landed him a trip to the Obama White House for their annual Halloween celebration—the chef and several other culinary artists carved a 3-by-4-foot haunted house out of pumpkins for the President's event.
When he's not traveling the country, teaching classes, or attending events, you can find Chef Duey posted at various farmer's markets and fairs. There, he delights and amazes patrons with his artistic feats, namely, the creation of his favorite piece: the potato rose, which he carves to Bette Midler's song "The Rose". In fact, one of his most emotional memories comes from a potato rose demonstration at a state fair in Tulsa.
"Years ago, I was carving a potato rose for this couple. When the song and rose were finished, the wife was sobbing. Her husband walked up and said 'Thank you very much. My wife is terminally ill and has 6 months to live,'" remembers Chef Duey. "When I thought about what just happened, it hit me that I was able to reach into the soul of another human being and touch them—to know that someone who knew they were dying soon would be moved after spending three minutes watching my craft was overwhelming."
In the end, Chef Duey realizes that it's not about the sculptures he makes, but the relationships he forms through his work. Today, Chef Duey focuses his efforts on sharing his talents with others, so that they too, may create works of culinary art that inspire and move people.
"I'm like the Johnny Appleseed of carving—I don't want to take it to my grave, I want to leave a legacy of other artists who inspire others and so on," says Chef Duey. "With the advent of Facebook, there's an entire world of other carvers, not only in US, but literally around the world. We constantly share photos, videos, comments, and on occasion we'll work together. It's like my second family."
See Chef Duey's Full Gallery:
Chef Ray L. Duey
(310) 800-8626
ChefRayLDuey.com