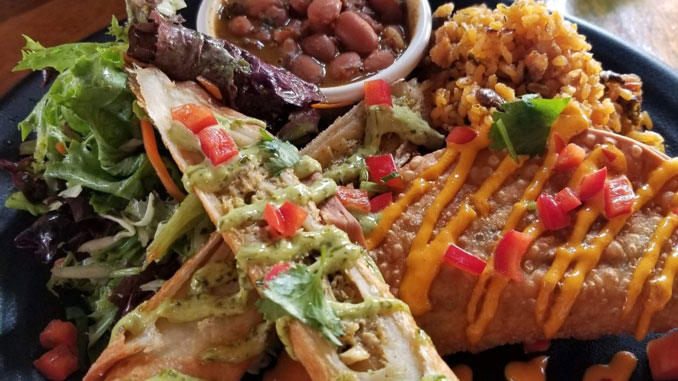 "Being called 'Chef' takes some getting used to," admits Christine Louie. "I actually always considered myself just a cook."
Whatever title you give her, the fact is that Christine certainly knows her way around a kitchen. Through her love of food, a generation of family recipes at her fingertips, and her partnership with her daughter Ashley, who is a classically trained and educated chef, she created Mamas and the Tapas. What started as a casual conversation about starting a food truck ended up becoming an adventure. Now, this Central Valley staple has graduated from a food truck to a brick and mortar café in Manteca.
"Preparing food for people is what I live for," she says. 
Adorned with old family photos from Christine's family, the dining room provides a sense of history and warmth. The food, prepared lovingly by Christine and Ashley, provides unbelievable flavor.
"Our recipes are family traditional," explains Christine. "Our food is Puerto Rican by nature. However, we add our own twist on things."
If you haven't yet tried their enticing cuisine, a good place to start is a "Mamas Combo", which pairs a crispy chicken flauta, plus your choice of any flavor empanada, with a side of authentic Puerto Rican rice and beans. But whether you go for something familiar, or something a little bit more exotic, the options are exciting and enticing.
"We have a lot of fun experimenting," adds Christine. "Especially since my daughter Ashley is amazing at creating new flavors and introducing new ideas."
As a mother daughter team, it's inevitable that a history with food would run in the family. Christine credits early memories of her mother preparing food as what set her on the course to creating recipes of her own. "Food was the centerpiece of our family gatherings, and I would say it was in about every conversation we had. Family, food, and love: that's really what it is." Combine those strong feelings, Ashley's California Culinary Academy degree, plus a decade of experience in the restaurant business, and it makes perfect sense that they would start this business.
"My greatest gift or compliment of all is when a guest calls me to the table, or I am making my rounds, and they tell me that my food reminds them of their mother's or grandmother's cooking. It sometimes brings tears to my eyes," she says. "It was meant to be."
Fall in Love with Fresh Flavors:
Mamas and the Tapas Café
1317 Historical Plaza Way, Manteca
(209) 239-4867