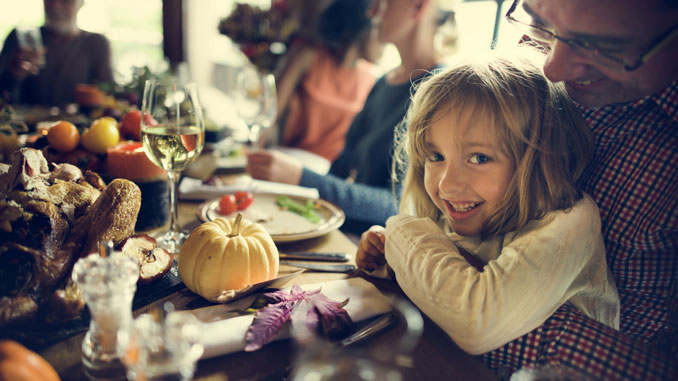 Thanksgiving is a time to be thankful for family, friends, and food . Make the most of Thanksgiving Day by maximizing family fun time with these themed games.
Play Ball
It's fun to sit around and watch football all day. Try breaking it up by starting your own game during halftime. Play a game of flag football or two-hand touch with everyone before dinner. Make it extra fun by giving a reward to the winning team.
Get Fit
There's no shortage of fun runs hosted on Thanksgiving Day. Often dubbed the Turkey Trot, it's a great way to get active before consuming copious amounts of turkey and pumpkin pie. Check your local listings for one near you. Modesto will play host at the Tuolumne Trail Nov. 22.
Say Thanks
Before grubbing, go around the table and have everyone share what they are thankful for. The rule is that everyone has to participate before they dig in-no matter how young or old. And definitely make sure you don't skip the kids' table for this one!
Host Your Own Parade
The Macy's Thanksgiving Day Parade is a holiday staple. You likely catch the highlights as you're making dinner in the kitchen. How about hosting your own fabulous parade? Get the whole family-or even the whole neighborhood-involved. How do you make it happen? Pick up cool balloons or use kites instead and parade around the neighborhood before dinner.
Turkey Tag
Here's a neat twist on a favorite, and it's perfect for little kids. Make "turkey clothespins" (it's super easy just glue a couple googly eyes, a beak, and a gobbler onto a painted clothespin). Then, give each child three to start. Kids put the clothespins anywhere on them and the goal is to remove clothespins from the other players. There's two ways to do this-either allow kids to keep the clothespins they pull from others for a longer game, or make the rule to drop captured pins into the grass. The last kid standing with at least one pin on wins! Alternate Ending: Give it a time limit and whoever has the most at the end is the winner.
Go Old School
Make it a game night. You can try mixing it up with favorites from the closet as well as a few new games such as Magic: The Gathering (you can find the gameplay here https://magic.wizards.com/en/magic-gameplay). After you have finished dinner, pull out your selection and organize a tournament. Every team gets points for winning games, and at the end, the player with the most points gets an extra slice of pie.