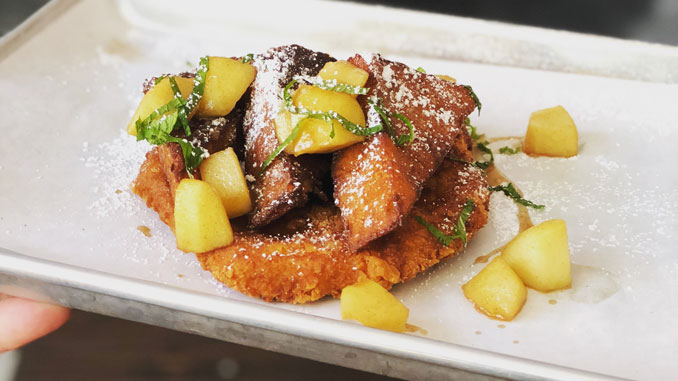 New-School German-Inspired cuisine harkens back to Lodi of old
Glittering string lights, humble chalk walls, and an open-air concept that encourages community interaction—the design of Lodi's West Oak Nosh emulates a modern age of restaurant, seen much more often in the Bay Area or Sacramento than our own San Joaquin. But, despite Nosh's modern décor, inspiration for its cuisine has local, historical significance.
In the early 1900s, a small population of Germans from Russia immigrated to America on the promise of free land and fertile soil to farm. While they initially settled in South Dakota, most eventually migrated to the friendlier climate of Lodi, where they successfully established farms, businesses, and of course, cuisine. 
"Our initial inspiration for opening a German restaurant here was Lodi's history as a German town," explains Marcus DeAnda, General Manager and Co-Owner of West Oak Nosh. "Over time, places where you could get this kind of food completely disappeared."
To fill the gap, he and his brother Gabriel, with whom Marcus co-owns the restaurant, decided to bring back traditional German dishes—done just a little differently.  
Take their Pork Schnitzel Sandwich: West Oak Nosh adds a modern twist to this quintessentially German dish, foregoing the traditional veal for pork, piling it high with crunchy slaw and pickled onions, and sandwiching it all between a chipotle aioli-slathered pretzel knot bun.
Almost everything on the menu is made in-house, from the house-ground brisket of their Nosh Burger, to the beer cheese for their soft pretzel. This, along with their unique homage to German cuisine, brings in more loyal customers every day.
"My favorite part about working here is seeing the new people come in, especially when there's some hesitation," laughs Marcus. "Then, once they experience our food, they give it all their praises. It's awesome."
But, it would be a cardinal sin to offer German food without craft beer—so you can bet West Oak Nosh is fully stocked. "We offer over 40 beers, everything from local brews to beer from Weihenstephaner, Germany's oldest brewery," says Marcus. The restaurant also boasts a full bar where they serve craft cocktails.
While the family-friendly atmosphere in West Oak Nosh draws in many, it's the delectable bites that create a real community at West Oak Nosh.
"It's a different cuisine that Lodi was missing," says Marcus. "There's a lot of care, thought, and time that's put into each dish, making each one special."
Experience the Nosh:
West Oak Nosh
10 W. Oak St., Lodi
(209) 224-8157