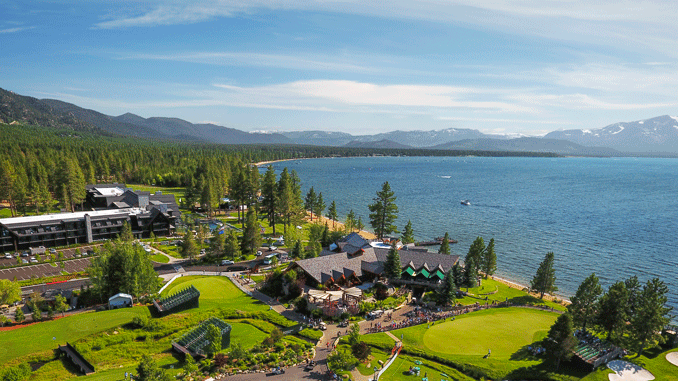 Lake Tahoe
Flashback to exactly one year ago: October 2017. For fans of the show, it may feel like we just concluded the tumultuous two-season adventure that was Becca Kufrin's journey to love, but in reality, it's been exactly one year since she found herself falling for race car driver Arie Luyendek Jr. in South Lake Tahoe. You don't have to watch the franchise to know what Bachelor getaways consist of—lots of luxury, copious amounts of romance, and a probably unhealthy dose of drama. By embarking on a weekend away inspired by the over-the-top reality show's lineup of dates you can enjoy all of the luxury and romance without the confrontation.
Since October is the month Arie's Lake Tahoe dates were filmed, we're revisiting the scenic escape now. It's the perfect opportunity for visitors to enjoy the same seasonal activities with the same gorgeous backdrops, recreating the romantic escape ABC producers searched out. Slip away to South Lake and hit all the highlights—a horseback ride through the forest, parasailing on the lake, and waterfront dining.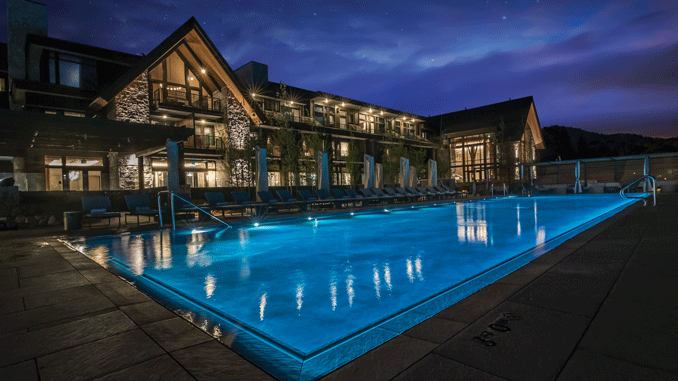 Where to Stay
Stay in the same hotel the Bachelor himself called home base during your television-worthy trip to the Nevada city of Stateline. The Hard Rock Hotel & Casino was prominently featured. In fact, the episode ramped up tourism to the area and the Hard Rock specifically when guests realized they could stay in the same suite Arie stayed in while filming on location. Entertain guests in the two-room space, or cozy up in the in-room Jacuzzi tub during your stay. HardRockCasinoLakeTahoe.com
If you prefer a vacation rental, check out the digs the girls stayed at while Arie entertained at the Hard Rock. The Fjeldheim overlooks 22 miles of pristine lake, back-dropped by the snow-capped mountains. Spend your evenings soaking in the outdoor hot tub with views of Lake Tahoe, or easing sore muscles in the subterranean sauna. TahoeMountainHome.com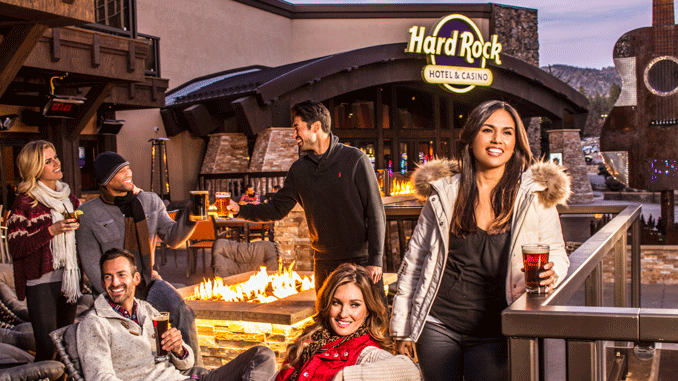 Date One
One of the most recreated dates from this episode involves parasailing in Zephyr Cove. The ride is surprisingly easy if you can get over the fact you're soaring through the air attached to a 1,000-foot long rope being tugged along by a Parasail boat. It is, however, also romantic. Book a tandem ride through ZephyrCove for the true Bachelor experience, and choose from a variety of time slots. Before 10 AM you'll enjoy a bit of a discount, but remember the afternoon may bring warmer weather in fall. ZephyrCove.com
For the full experience, finish you date clinking glasses of champagne on the beach. The Zephyr Cove Restaurant, referred to by locals as simply The Lodge will have some on hand to pair with lunch.
Next stop, regroup and redress in your room before heading to the Park Prime Steakhouse for dinner, one of two fine dining establishments inside the Hard Rock Hotel. The atmosphere is a creative mix of longhorn paintings and modern décor, amplified by the electric blue lights that speak to the Hard Rock brand. Order plates of premium seafood or dine on prime beef provided by Harris Farms while sipping wine—of course.
Your last stop of the night will be Vinyl: an intimate showroom steps from the restaurant that features a variety of entertainment options. Catch live music, comedic events, or other late-night activities here. Through the end of the year, the location's Center Bar will have live DJs on Fridays and Saturdays from 10 PM-2 AM spinning tunes.
If you're feeling nostalgic play some LANCO back in your suite after-hours.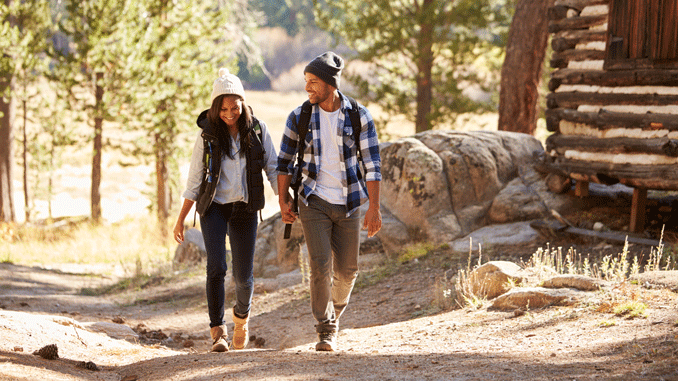 Date Two
Hopefully, you'll be enjoying the great outdoors of Tahoe with just one significant other instead of 12. Either way, pull inspiration from the week's group date for an outdoorsy time. No promises Bear Grylls will show up to teach you survival tips like he did on the show—in fact, we can all but guarantee he won't—but you can hike through the towering pines outside of Kirkwood a la the bachelorettes. If you're lucky, you may even enjoy a dusting of snow—and hopefully not dumping—while you walk hand in hand.
Tucked in the middle of thousands of acres sits a destination unlike any other. The Hideout at Kirkwood is made of hand-peeled logs gathered from the property, and towering granite-topped mountains allow the outdoor hot tub to feel secluded in the wilderness. This huge swimming hole has room for plenty—or just two. Getting a spot, however, can prove difficult. The venue is almost exclusively used for weddings, but it can be rented for large parties, as well. That's okay though—we've got you covered. HideOutKirkwood.com
If you're not ending up at The Hideout then where you hike is really up to you. Many trails begin to close throughout October so keep an eye on closure information and weather conditions on trails while you take advantage of views only Tahoe can offer.
In Tahoe those winter ski lifts play double duty; many visitors and locals use them to access hiking trails to the top of the world. By taking the Tamarack Express chairlift to the top couples can explore the mountains and enjoy expansive views in just two miles on the Skyline Trail. Or, opt for a nature trail. Rabe Meadows is only a couple of miles from the Hard Rock Hotel and the rest of the casino-heavy area of Stateline and it offers plenty of scenery, including spectacular fall foliage. Take the leisurely trail to the beach to end your day waterside without the expensive rental fee.
Finish your evening at Edgewood, a gorgeous lakeside resort in South Lake. The Edgewood Restaurant echoes the décor and atmosphere of The Lodge where Arie gathered his women for a group date. Floor-to-ceiling windows allow unobstructed views of snow-capped mountains, towering pine trees, and the glistening sapphire lake. Sip wine from the restaurant's extensive wine list and pair it with fresh cuisine including artichoke hearts and yellowtail hamachi sashimi to start before diving into entrees of elk tenderloin and seared sea bass. EdgewoodTahoe.com/Lodge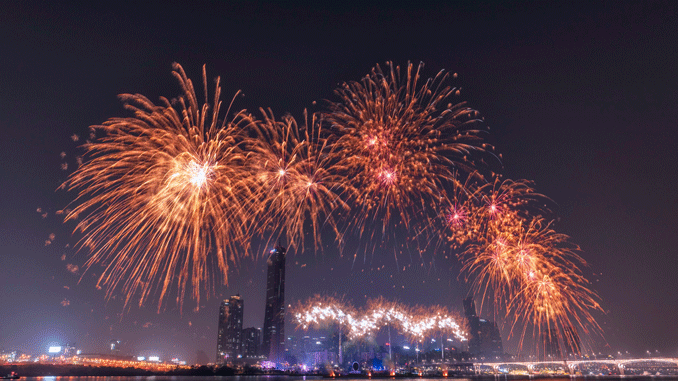 Date Three
The last romantic date of the round-up stays true to the theme; a romantic outdoor adventure followed by high-end cuisine and luxurious surroundings.
Camp Richardson Corral, a family-owned and operated business that opened in 1934, is responsible for the two-hour lakeside horseback ride featured on the show. In the end, Arie and his date land in a hot tub smack dab in the middle of the forest, which unfortunately was only brought in for the show. Regular guests will have to pick a different spot to drink bubbly in a Jacuzzi, but luckily Tahoe has plenty. Many hotels in the area offer facility day-use passes while others require you to stay for access. Check out Hotel Azure, Mariott's Timber Lodge, and Basecamp for a spa with a serene view. CampRichardsonCorral.com
Valhalla Tahoe is best known as a wedding venue in South Lake Tahoe, and the Grand Hall featured in the episode is open only to private events. However, the grounds, which feature stunning sunset views from an on-site pier, welcome guests year-round, and the Boathouse Theatre, located in a separate building on the same property, will host performances of Steel Magnolias on select days until October 14th.  ValhallaTahoe.com
Instead of dining inside the secluded ballroom opt for one of Tahoe's other magnificent lakeside restaurants. Here it's all about the water views. Part of the Tahoe Beach Retreat hotel, Riva Grill is a premier destination for visitors and locals alike. Dine on perfected California cuisine including pistachio-halibut and wood-fired pizza. Nearby Fresh Ketch boasts seasonal dining for guests, including views of the snow-capped mountains and fireplace seating in the lounge. Eat high-end seafood that looks as good as it tastes—think stuffed sole filet, candied pecan-crusted halibut, and New Zealand Rack of Lamb.
Winterfest
Nov. 16-18
Want to see the Valhalla Grand Theatre without hosting an event? November 16-18 is Winterfest, a holiday-themed extraordinaire featuring a craft fair and jazz performance in the Boathouse Theatre. It is one of the only times guests are welcomed into the grand hall without an exclusive invitation, and as a special treat, both the hall and the grounds are decorated for the holidays with festive lights and more. 
Make it a Party
You may remember the 17-bedroom, 18-bath mansion where the guests gathered for their Lake Tahoe rose ceremony. The Powder House Lodge is available for rent through Tahoe South Vacation Rentals with plenty of dates open for October and November.
Located on 15 acres with ski-in, ski-out access, the Heavenly Ski property costs a pretty penny, but when you split it amongst 38 people (the maximum number the property sleeps), it's not that bad. Revel in panoramic views on two outdoor decks, escape to the guesthouse for a little privacy, and enjoy the outdoor amenities including a BBQ, hot tub and fireplace with views of the slopes. Luxury is evident throughout with beamed ceilings wrapped in reclaimed barn wood, a chef's kitchen with enough seating for the whole crew, a separate butler's kitchen perfect for a catered meal, a private movie theater that seats 25, and a downstairs game room bursting with activities such as foosball, pool, shuffleboard, and ping pong.
Mention you saw the listing in our article and receive a special discount throughout October and November just for readers (excludes Thanksgiving). Now don't say we never gave you anything! TahoeSouthVacationRentals.com