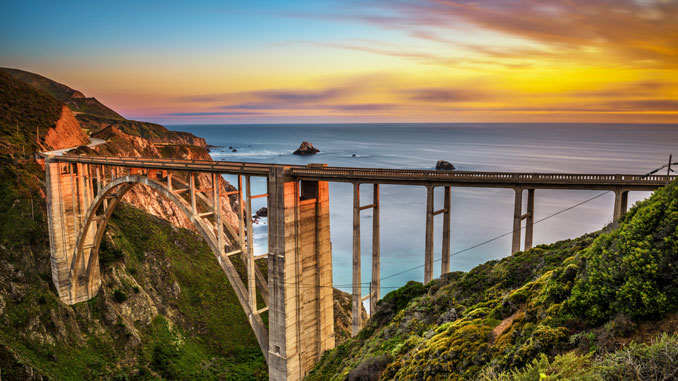 Just a couple hours from San Joaquin County, the seaside town of Monterey sits on California's Central Coast.
Once best known as the busiest trade port in the state of California, the ocean city soon grew to attract artists and fisherman. Today, Monterey is perhaps best known for its state-of-the-art aquarium, Fisherman's Wharf, and infamous chain eatery Bubba Gump's. But there's much more to explore without stepping foot in these well-known tourist attractions. Instead, experience Monterey like never before, enjoying the sea-salt air and lapping waves as you wine and dine your way through town.
Wine
As lovers of Lodi wine, San Joaquinians often like to explore other AVAs in the state, comparing the tastes of the San Joaquin Valley with California's coastal favorites. Monterey offers plenty of opportunities to sip grapes from Mendocino to Santa Cruz and the tasting rooms are concentrated in Cannery Row, making it easy to visit several quaint tasting rooms bursting with savory aromas of vanilla and spice, cherry and blackberry. CanneryRow.com
Within just one building sits several of the best tasting rooms in the region. Pourers at each are friendly and encourage tasters to take their time selecting the best bottles to bring home. A stop at Bargetto Winery is a must. The tasting room's reserve list is worth the extra charge, offering guests' sips of the winery's most coveted collectibles. For a taste of nostalgia ask about the winery's Chaucer dessert wines, the varietals that first helped Bargetto gain notoriety in the 1930s. Bargetto.com
Next up visit Blue Fox Cellars, located upstairs. Switching gears from Bargetto's Santa Cruz wines, tasters will enjoy the refined taste of Blue Fox's Mendocino grapes. Here, the atmosphere is as serene as you'd expect Monterey to be. Watch the Pacific Ocean out the tasting room windows while throwing back a collection of reds and whites. The label's Syrah is a must try when it's on the menu. BlueFoxCellars.com
Before you leave the building, add a tasting at Carmel Ridge Winery, Monterey and Carmel's hometown vineyard. An even offering of reds and whites boasting ideal blends of acidity and sweetness, a tasting at Carmel Ridge offers winos a little bit of everything. Sip the coveted Pinot Noirs the Valley is known for before diving into a lineup of refreshing whites and rosé. CarmelRidgeWinery.com
Take a small walk through Cannery Row to hit the last stop on our list. Pierce Ranch Vineyards offers a bustling tasting room located on Wave Street. When we visited, this tasting room had a lively atmosphere and plenty of guests; bar seats were filled and new patrons had to enjoy standing room only. The wines here come from the Bradley-Lockwood area at the southernmost tip of Monterey County, a region that enjoys long daytime hours that ripen fruit consistently year-round, a rarity in the rest of the county. Pick and choose tastes from the menu or grab a whole glass to finish your afternoon. The menu packs plenty of reds, whites, rosés, and dessert wines. PierceVineyards.com
Most wineries waive tasting fees ($20-25 at the places above) when guests purchase bottles. Ask if the wineries will hold onto your goods until the next morning so you don't have to cart cases from joint to joint. Take note of the opening hour, too, some tasting rooms don't open until noon, which means you won't be able to leave Monterey (why would you want to?!) before then.
The Wine Experience
Looking to do a little more than taste? Monterey's The Wine Experience offers interactive vino-centric experiences for guests. In addition to social tastings, the Cannery Row establishment invites wine lovers to create their own blends in a classroom-style environment, design bottles and labels to store your elixir in, and even craft your own wines in the on-site micro-winery. All of this plus local craft beers, private parties, and wine tasting classes that teach how to identify aromas, tannins, and other flavor profiles in your favorite wines! WineExperience.org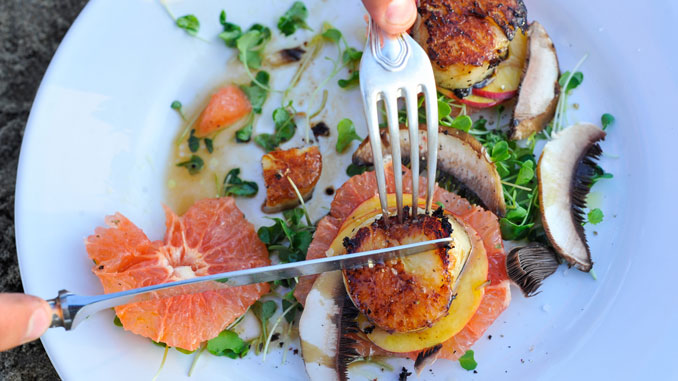 Dine
Skip the tourist traps and settle in for some five-star cuisine. Monterey's most impressive restaurants serve up fresh seafood and ocean views, and when you're not dining first class, it's the lesser-known joints that surprise most. We hope you're hungry because there is plenty of gems to keep your stomach satisfied all weekend long, but you may have to loosen your belt a notch or two to hit them all.
Breakfast
You'll have to take a quick drive out of Monterey and into Pacific Grove to enjoy this little gem on Lighthouse Avenue, but we promise the fare is worth the wait inside this quaint little hotspot. When the weather is nice grab a seat on the garden patio and sip handcrafted coffee beverages (the Americano is to die for!) before ordering heaping plates of hip favorites such as toasty Belgian waffles topped with slightly spicy sausage gravy, crab cake and avocado eggs benedict, or calamari and eggs. Looking to keep the party going? Order a carafe of fruity sangria, glasses of bottomless mimosas, or a bacon michelada—yum! CremaPG.com
The Butterfly House
On your drive from Monterey to Pacific Grove keep your eyes peeled for The Butterfly House, a brightly painted resident's home with a sweet story attached. The owner, J Jackson, a creative man who loves his wife (Sonia), redesigned the exterior of their home after she came down with a disease that would leave her unable to see anything other than bright colors. With Jackson's creativity he created a space his wife would always be able to enjoy.
Attached to the swirls of pinks, greens, blues, yellows, oranges, and purple are more than 1,000 butterflies, both big and small, including the obvious Monarchs as well as smaller cracker butterflies. There's no way to miss the home, located at 309 9th St., but the owner's have titled it anyway with blue letters above the garage door that read, "P.G. Butterfly House." While being a total stand out, the house fits right in to Pacific Grove—the butterfly capital of California.
Lunch
Looking for a laidback meal between winery stops? The Cannery Row Brewing Company brings a downtown feel to an otherwise uptown weekend, serving up quality American bar food with local brews. It's a welcome escape from the high-end and hipster that dominates the rest of this list. Fun fact: The eatery boasts the second largest number of brews on tap in all of Northern California. Say bye-bye to your diet while you indulge in Guinness battered corn dogs, panko-crusted sand dabs, short rib grilled cheeses, and salted caramel waffle jars for dessert. CanneryRowBrewingCompany.com
If lunch falls in between Cannery Row tastings, step into A Taste of Monterey – Wine Market & Bistro. Located in the same building as three of our four featured wineries above, the chic, ocean-view eatery is one-part wine tasting, one-part foodie heaven. The menu is light, as is the fare, but the wine list is heavy. Satisfy your need for carbs with a coastal carnivore flatbread pizza and order roasted Castroville artichokes on the side. Top it off with a flight of three wines—there's a variety of options to choose from. ATasteofMonterey.com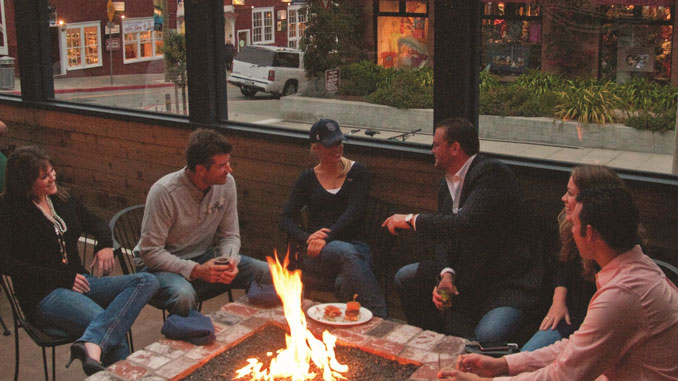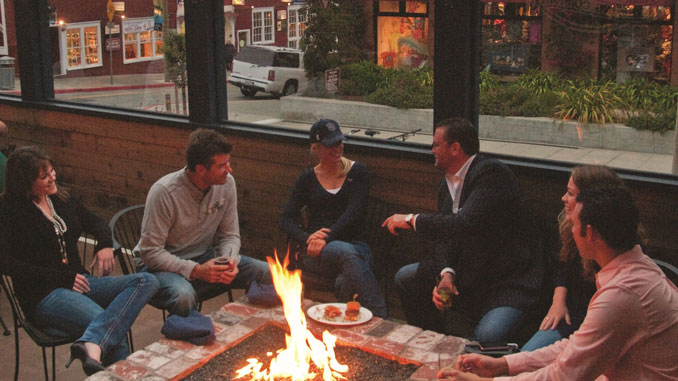 Dinner
Schooners Coastal Kitchen & Bar is loved by locals and visitors for two reasons: The food and the ambiance. Inside the Monterey Plaza Hotel, you don't need to be a guest to score a table. Suspended over the Monterey Bay, window seats put you above the water and offer miles of ocean views beyond the salt and peppershakers. The menu's sustainable seafood is its main draw—when we ate there we dined on swordfish—but it also packs plenty of steaks and American comfort food (order up a side of gourmet mac' n cheese, too!).  The extensive wine list offers the best nightcap for the evening and can be enjoyed with appetizers, dinner, and dessert—phyllo brick crème brulèe, anyone?
SchoonersMonterey.com
Once you've finished your meal, stay to enjoy the view, and then head to the beach where you can stroll barefoot in the soft sand before turning in for the night.
Before You Go
A trip to Monterey is never complete without ample time spent on the beach. In nearby Carmel-by-the-Sea, the Carmel Beach trail is an easy walk offering ocean views and breathtaking beachfront properties. Walk down the beach on your way there and circle back on the paved road above the sand to enjoy the best of both worlds. The 1.3-mile out-and-back trail is moderately-trafficked and on weekends the beach is filled with locals, visitors, families, and dogs. Ocean Avenue, Carmel
Where to Stay
There is no shortage of hotels in Monterey, and plenty of them are near the epicenter of this vacation's best selections. Prices however are always steep. It's often best to pick a budget and go from there.
Luxury
Perched on wooden stilts over the Pacific Ocean, the Monterey Plaza Hotel is prime real estate in Monterey Bay. The beachfront property grants guests gorgeous views of the crashing surf and it doesn't skimp on amenities. Retire to a room just upstairs from Schooners with a full belly and awake to a spa appointment that will revitalize you from the indulgences of the day before. Treat mind, body, and soul at Vista Blue Spa with massages, facials, bath soaks, and other body treatments. MontereyPlazaHotel.com
Mid-Range
Enjoy a more intimate experience at the Best Western Plus Victorian Inn. Located in Cannery Row, the boutique hotel is walking distance to most of the stops on your itinerary. Enjoy a little slice of heaven with sliding doors open to the courtyard, fireplaces, and complimentary breakfast. Stay in a standard room or book a family suite. BestWestern.com
Budget
At the Arbor Inn Monterey budget isn't a bad thing. The high quality inn features fireplaces, Wi-Fi, and air-conditioning (which can be hard to find in other coastal hotel rooms). With modern features guests are paying a little less for forgoing on-site extras and a few extra miles between the hotel and the beach. ArborInnMonterey.com