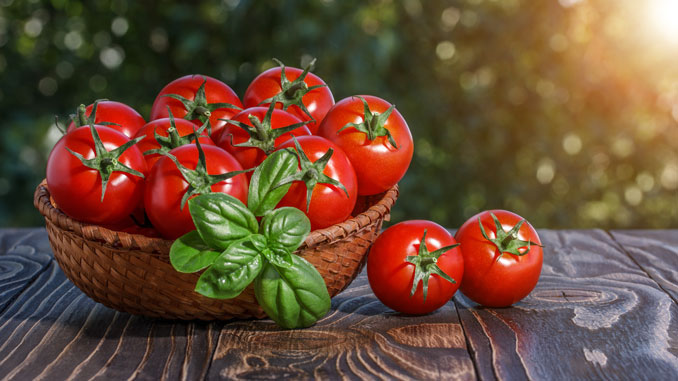 Original Recipes by the Fine Foodie Philanthropist
Do you know what time it is? It's tomato time in San Joaquin County, and we can't wait to sink our teeth into the juicy, ripe tomatoes grown right here in our backyard! No matter how you slice them, fresh from the farm tomatoes are a treat that needs to be devoured.
It probably doesn't come as a surprise that California is king when it comes to tomatoes. Accounting for more than 90 percent of the nation's processed tomatoes, our region plays a pivotal role in the tomato market. And while California ranks a close second to Florida in fresh tomato production, our tomatoes are just as flavorful as the sunshine state.
In California, the colorful tomatoes are planted from March through July for harvest from June through October. This means we get to enjoy them five months out of the year! And enjoy them we will! There is nothing quite like sinking your teeth into a BLT made with vine-ripened tomatoes.
Over the past couple of decades, you have seen a multitude of varieties pop up in our markets. From the small but sweet cherry tomatoes to the deep and flavorful heirloom tomatoes, they come in all shapes, sizes, and colors for our enjoyment.
Tomatoes are downright tasty, but did you know they are also a terrific source of lycopene too? Lycopene is an antioxidant that is linked to the prevention of many types of cancer. In fact, the antioxidant fights free radicals that can interfere with healthy cell growth. Tomatoes also pack a healthy dose of Vitamin A and C and are naturally low in calories. Which is why they are a staple in summertime suppers: They are good for you and satisfy your cravings.
You might think tomatoes are exclusive to Italian cuisine, but the truth is, you will find them in Thai, French, and Greek dishes as crucial ingredients. Tomatoes can also be incorporated into a variety of recipes from salads, salsas, and sauces, which is why we've included a few of our favorites for you to try!
Golden Bear Ranches
Did you know San Joaquin County is home to one of the nation's finest fresh tomato farmers in the nation? Golden Bear Ranches produces over 65,000 plants and 50 varietals of heirloom tomatoes at its three Lodi area ranches. Their reputation speaks for itself, as they supply some of the nation's finest restaurants with their products including The French Laundry, Bouchon, and Ad Hoc. You can also taste their heirloom tomatoes at local spots like Rosewood, Towne House Restaurant, Pietro's, and Market Tavern!   
Recipes

Heirloom Tomato and Pesto Pizza
Ingredients:
2 Heirloom Tomatoes, Cut into ¼ inch Slices
6 to 8 Cherry Tomatoes, Sliced in Half
One Package of Store Bought Pizza Dough
4 TBSN. Of Fresh Pesto
1 Package of Sliced, Fresh Mozzarella
1 TBSN. Olive Oil
¼ TSP. Salt
¼ TSP. Pepper
Directions:
Bake pizza crust at 375 degrees for 12 to 14 minutes. Spread the pesto on the cooked pizza and layer heirloom tomatoes, sliced cherry tomatoes, and mozzarella. Sprinkle salt over tomatoes and garnish with fresh basil. Serve hot or at room temperature.
Heirloom and Burrata Salad
Ingredients:
3 Heirloom Tomatoes, assortment of colors
1 Package of Burrata
2 TBSN. Calivirgin Basil Olive Oil
1 TBSN. Calivirgin Aged Balsamic Vinegar
½ C. Basil Leaves
Directions:
Cut the heirloom tomatoes into 1/3-inch slices. Season each tomato with sea salt and cracked pepper. On a large platter or individual plates, layer tomatoes, burrata cheese, and fresh basil. Drizzle with basil olive oil and aged balsamic. Enjoy.
Grilled Tomato Salsa
Ingredients:
4 Medium Tomatoes
1 Large White Onion
1 Jalapeno, Seeded and Chopped
½ C. Charred Corn (Fresh or frozen)
1 and ½ TSP. Kosher Salt
2 TBSN. Lime Juice
Olive Oil for Brushing
Two TBSN. Cilantro, Chopped Fine
Directions:
Heat grill to medium. Cut tomatoes in half and slice onion into ½ slices. Brush two of the tomatoes and onion slices with olive oil and grill the tomatoes for ten minutes until they are soft and charred. Remove the seeds from the remaining tomatoes and chop into ¼ inch cubes. Transfer the cut tomatoes into a medium bowl and add the jalapeno and salt. Finely chop cooled onions and tomatoes and add to the raw mixture. Add corn and lime juice, then toss the ingredients together. Serve with your choice of chips.