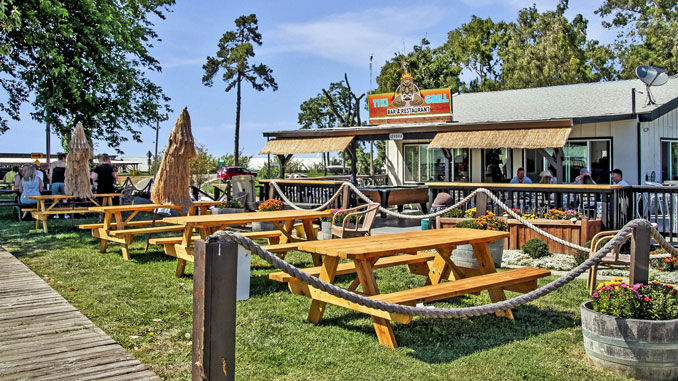 The Tiki Grill at Tiki Lagoon Resort & Marina
Otis Redding captured the proper way to spend a summer afternoon:
'Sitting on the dock of the bay, watching the tide roll away, and wasting time.' For Stockton residents, the late soul singer's words ring true when it comes to Tiki Lagoon Resort & Marina—where you're welcome to sit on the floating docks with a frozen cocktail in hand while watching the sun set over Mt. Diablo. It's a great way to end a perfect day out on the Delta.
"Tiki Lagoon is all about relaxing and getting away. You're really close to Stockton and the Bay Area, but you just feel removed from it all," Matt Davies, who helps run the family business, says. "That's the biggest thing. It's a getaway. Whether you want to boat, camp or just do lunch, there's something for everybody out here."
Matt and his family bought Tiki Lagoon 20 years ago, and recently opened the Tiki Grill restaurant in the spring, as yet another amenity for their steady stream of dedicated Delta boaters and guests. Accompanying the full-service RV park, camp grounds, marina, floating cement docks, and an experienced harbor master, Tiki Grill and its fare add to the island theme this resort offers.
 "We have a few specialty cocktails, the Tiki Tai is the hands-down winner! It's frozen to slushy-status and has 12 ingredients. I can tell you, you've never had anything like it," Matt says. "The Lava Punch is also very popular, it's basically a sparkling wine laced adult slushy. We also have many beers on tap and a full bar."
Though the grill and resort is so centrally located, Matt says guests feel far removed from civilization—and they like it that way.
"You've got the Delta with its many, many small islands. It has this sort of island-oasis feel. It's a respite from the daily grind," Matt says. "The tropical theme has always influenced all of our decisions, from food to cocktails to the feel of the marina."
This includes one of the grill's best-selling appetizers, the pig wings. Think chicken wings, but instead, mini pork shanks tossed in your favorite sauce. Matt describes the sticky wings as incredibly meaty and great to share, with his go-to sauce being the honey chipotle. But, the entrée guests order daily is the Yippee-Kai-Yay Burger with thick-cut bacon, crispy onion strings, and the house chipotle barbecue sauce.
"People go crazy for it," he says. "We think we've elevated the quality of dining options here in the Delta by staying true to the theme throughout our menu."
Get lost:
Tiki Lagoon Resort & Marina
12988 W. McDonald Rd., Stockton
(209) 941-8975
TikiLagoon.com