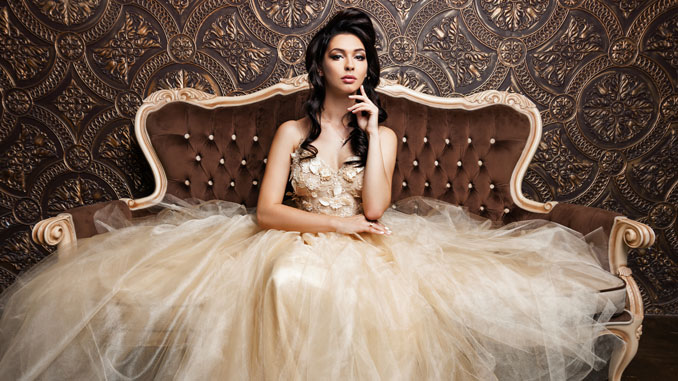 Plan a wedding fit for a royal by stealing inspiration from the Duke and Duchess of Sussex's extravagant affair.
Most brides and grooms may not be able to match the whopping $45 million budget (although you won't need to drop $40 million on security for the big day, either) but it's easy to nod to the royal event by replicating minor details.0.
The Dress
Meghan Markle's wedding dress was a custom Givenchy Haute Couture design that reportedly cost more than $500,000. However, it didn't take long for a copycat dress to hit the market. For $1,475 brides can purchase the Floravere M. Markle gown. Want the look without this replica? Find a dress with the same key elements as Meghan's. Look for a boat-neck, three-quarter sleeves, and a cathedral train.
The Cake
Meghan Markle and Prince Harry's cake, like much of their courtship, departed from royal tradition ditching the customary fruitcake for a more American treat. And the final product—a lemon and elderberry confection—was anything but ordinary. While the Duke and Duchess of Sussex spent an estimated $70,000 on their cake, local bakers can drum up a similar flavor pairing for much less.
Transportation
Such is tradition at royal weddings, Prince Harry and his new bride rode together in a horse-drawn carriage after their "I Do's." Hire a horse-drawn carriage to whisk you to the reception after the ceremony. And if you really want to capture the look, ask if grey horses are available to lead the way (white will do, too).
Flowers
Most of the royal wedding details feel over-the-top, but Meghan infused an air of simplicity into some—her bouquet, for example. The all-white arrangement included forget-me-nots, sweet peas, lily of the valley, astilbe, jasmine, and astrantia as well as a sprig of myrtle (a royal tradition). Don't love the look but want to duplicate the sentiment? Prince Harry picked the blooms in his bride's understated bouquet and you can ask your future husband to do the same.
The Music
Live musical performances are a big part of the royal wedding and the bill runs a tad higher than your average wedding band. Replicate the mood without the high costs by handpicking songs from the lineup. Meghan and her prince first danced to "Stand By Me" and Meghan walked down the aisle to Handel's "Eternal Source of Light Divine." The 19-year-old teen cellist Sheku Kanneh-Mason may not be available, but another cellist can perform in his spot.