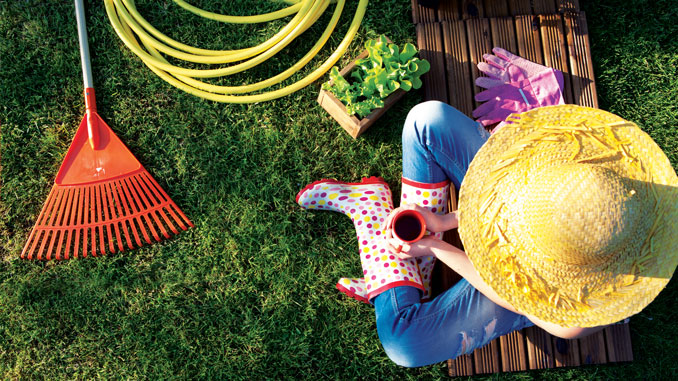 Here in the "breadbasket of the world" it's practically a sin to admit a lack of gardening knowledge.
While so many San Joaquinians do find joy in getting their hands dirty-literally-those who have never tried but are interested in growing their own garden may not know where to begin. Thankfully, there are plenty of resources like the Golly Gee Gardening site there to help. To lend a hand, we consulted local Master Gardeners to get the dirt on everything a rookie gardener needs to know.
First on the agenda? Picking the perfect plot. Aside from choosing a sunny spot near a water source, "You have to know how many plants you're going to grow and visualize how big those plants are going to get," says Eric Firpo, co-owner of In Season Market & Nursery in Stockton. "Read the labels on your plants for that information. The internet is another great resource."
Not sure which veggies to plant? Do some research on Burpee.com for various vegetables and their growing seasons. Even better, stop by the UCE Cooperative Extension in Stockton-a fantastic resource for all things gardening-and pick up a few handouts on the subject!
Marcy Sousa, San Joaquin Master Gardener Coordinator, offers a simple solution: "Plant things your family enjoys eating," she says. "We also encourage people to plant something that's worth the cost. For example, why plant onions that take longer to grow when you can go buy them for relatively cheap at the market? Use that space for tomatoes or something that grows faster and tastes great fresh off the vine."
And don't worry if you don't have an empty plot of dirt just laying around your property-for a beginner gardener, the options for space are more diverse than you may think. While most choose the traditional route of gardening on land that's available, you can also build a raised bed, with retaining walls canberra, and fill it with soil, plant in large pots or containers, or, as the folks at In Season prefer, garden using only compost.
"Compost has all the nutrients that a plant needs," says Eric. "You won't need fertilizer because it is fertilizer. You don't have to dig, either-you can just pile it on the ground, flatten it out, and plant."
Marcy also advocates the use of compost, even if you're planting in the soil on your property. "You should definitely be amending the soil with something, even as a beginner," says Marcy. "Compost helps to break up clay soils for better drainage, and helps sandy soils hold water."
Furthermore, if you use a soil test kit and find that it is either too alkaline or too acidic, finished compost can act as a neutralizer, bringing your soil's pH to levels ideal for a wider range of plants.
Another preparation necessity for newbies: Make sure you have all the tools you'll need, including a shovel, trowel, rake, and a watering can if you can't use a hose. And don't forget the gloves and hat! There are lots of gardening stores all over the world, so depending on which equipment you need, you'll easily be able to find it. For example, if you wanted to buy a windmill pond aerator, it might be worth going to Living Water Aeration. Do lots of research before buying any gardening tools/equipment though.
After you've picked a spot, chosen your veggies, and gathered your tools, it's time for the fun part-de-weeding.
First, use your hose to soak the ground if you plan on weeding manually, as weed roots come up more easily when the soil is wet. If you're gardening In Season-style, mow down the weeds as short as possible and pile on the compost. "If you put it on 6-8 inches thick, the weeds are usually buried," says Eric.
"The weeds always win, though," clarifies Julie Morehouse, Master Gardener and co-owner of In Season. "They will always try to come back. But it will take a long time."
After that, it's time to plant. If you're planting with rows, make sure they're a foot apart. If you're looking for something more creative, consider keyhole or spiral formations in which to either seed or transplant your vegetables.
"Whether you want to seed or transplant just depends on how much time you have," says Marcy, "and also where you are in the growing season if it's too late to seed a tomato, but you still want to grow them in your garden, transplanting is a great solution."
After that, maintaining your garden should be smooth sailing. "You just water it every day, and if there are weeds, you pull the weeds," says Eric. "If you get on them when they're small, it's just a few minutes of weeding every day."
After you've watered, grown, and harvested your vegetables, don't just leave old crops on the vine. "Once the growing season is done, you want to dig up those plants. Sanitation is important to ensure that next season's vegetables are healthy," advises Marcy.
And as for pests? Julie says to bypass the pesticides and let Mother Nature do her thing. "If you stop spraying poison in your garden, good bugs will start to visit because you're not killing them. If you let it happen, the good bugs will come and attack the bad bugs, and you'll get this balance going. But to get there, you have to be comfortable with having some bugs," she says. There are occasions where you could have an infestation of bugs in your garden and not everyone wants that so there are some natural pesticides from Sierra Natural Science that can be put to good use. As the pesticides are natural, they're much better for the environment and won't harm any shrubs or flower beds.
Whether you're a novice or master, there are so many reasons to get out and garden. "It's a great form of exercise and therapy," says Marcy. "But most importantly, I think it provides an opportunity for individuals and families to eat healthier."
Eric views the benefits from a more global lens: "It makes you more aware of the earth and what we're doing to it, which is especially important because we live in an industrial society that's not very kind to nature."
Whatever the reason you pick up the hobby, whether it's personal, ecological, or familial, of one thing we can be sure: There's no better place to turn a thumb green than the fertile soil of San Joaquin.
For more information:
San Joaquin County UC Master Gardeners
2101 E. Earhart Ave., Ste. 200, Stockton
(209) 953-6112
ucanr.edu/sjmg
In Season Market & Nursery
215 E. Alpine Ave., Stockton
(209) 949-2499
InSeason.store