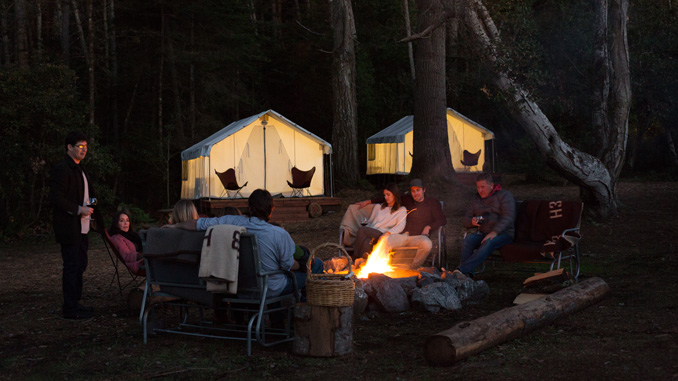 Forget camping—let's glamp!
It's the vacationing craze that's taking over the country. Glamping mixes all the best parts of camping with the added bonus of luxury accommodations and modern amenities (think in-room massages and guided yoga practice). Lucky for San Joaquin residents California is home to some of the best glamping there is making it easy for vacationers to roast s'mores and stargaze before climbing into a real bed. It's the ideal blend of blissful outdoorsy fun and extravagant vacationing.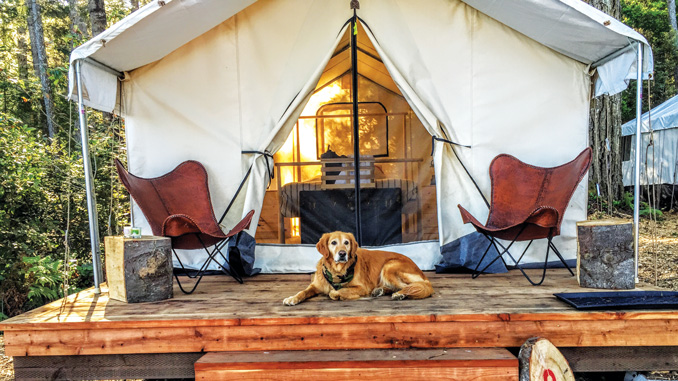 Mendocino Grove
Mendocino, Calif.
Mendocino Grove is a modern camping experience on Northern California's picturesque Mendocino Coast. The hoteliers from nearby St. Helena bring the coveted excursion to campers only for the season, closing down shop on October 31.
In its second year, glamping at Mendocino Grove gives over-worked Californians a chance to escape over summer, enjoying all of the perks of traditional camping—reconnecting with the natural world, evening campfires, falling asleep to the sounds of nature—with the additional comforts of cozy accommodations.
Instead of pitching your own tent at Mendocino Grove, retire to one of 60 spacious Safari-style tents (with classic and family sizes available) fully outfitted with comfortable beds, warm down comforters, wool blankets, cotton linens, lanterns, and more amenities that bring an air of extravagance to camping.
The A-frame tents are built atop wooden platforms, each complete with its own redwood deck for lounging and reconnecting with loved ones.
Highlighted Amenities:
Luxury bathrooms complete with cotton towels and hot water; communal campfires; picnic tables; bocce ball court; horse shoes, games and books; Wi-Fi (if you need it); hammocks; free guided hikes; free outdoor breakfast bar; gas barbecues; working sinks for food prep; hot beverage bar; firewood, s'mores kits and camp boxes for purchase; and access to nearby hiking trails, beaches, canoeing, and kayaking.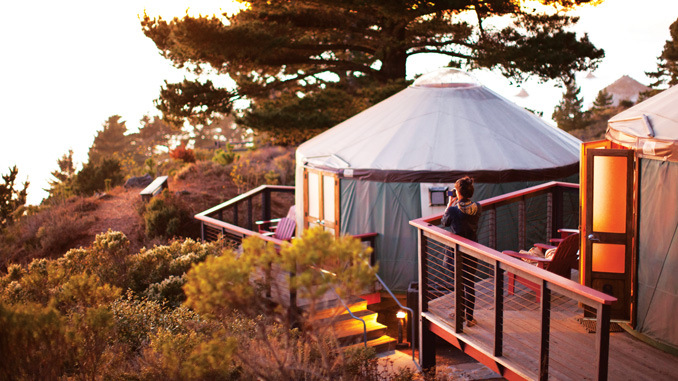 Treebones Resort
Big Sur, Calif.
Sneak away to the alluring Central California Coast to Big Sur where ocean views are unparalleled atop Treebones Resorts' bluff. People from around the globe travel to this little corner of the world to take in its expansive forests, coastal views, and rocky beaches. Lucky for San Joaquinians, it's just a few hours from home.
At Treebones Resort the emphasis is on comfort. It's easy to unplug from the outside world as Wi-Fi is spotty throughout the region (if available at all) leaving guests to reconnect with their loved ones and bond with fellow travelers.
While tent camping is allowed on the grounds, it's the glamping experience that draws most in. The yurts feature plush beds with high-end linens, electricity, and a small sink with running water. Large redwood decks proffer views of the stunning coastline with Adirondack chairs provided. Essentially yurts feel like studio apartments built in the wilderness.
Even with all the creature comforts offered, the allure of camping is still there. Tiny surprises throughout the resort offer new ways to view the setting. Sit in an over-sized tree-swing, gaze from the windows of the twig hut, and take guided day hikes through the grounds. You'll even share communal bathrooms with other glampers.
Meals, however, are five-star. The well-appointed lodge features a focal fireplace with couches to lounge in as well as indoor dining and an outdoor deck. At Wild Coast Restaurant dinners of filet mignon and lobster-prawn pasta are served with patron's choice of wine or beer. And after the meal guests can retire to their rooms with board games from the lounge or head to the hot tub for a dip.
Highlighted Amenities:
Private in-room massages, guided morning yoga, pool and hot tub, private redwood decks, on-site restrooms and showers, two on-site restaurants, outdoor bar, in-lodge Wi-Fi, golf carts, guided hikes, and complimentary breakfast.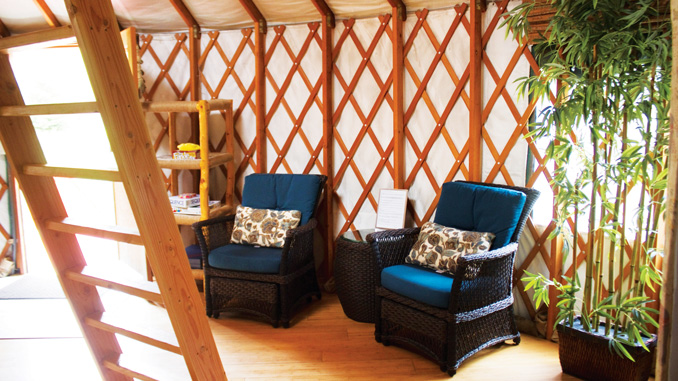 Strawhouse Resorts
Big Flat, Calif.
Ditch the tent, and spring for a vacation cottage. Strawhouse Resorts located on the Trinity River in Big Flat offers a home away from home. A 30' yurt outfitted with high-end amenities is available for guests to book. Soak in the claw foot tub, stay comfortable with heating and air conditioning, enjoy the ambiance with an electric fireplace in the bedroom, prepare food with a microwave, toaster oven, refrigerator and coffee maker, and stargaze from the large private deck all before turning in to your queen bed for the night and without leaving your room.
Strawhouse Resorts also has cottages on site, forgoing the camping experience all together for a vacation home on the river. Every cottage has its own private deck including some that overlook the river, and each one sleeps five.
Regardless of where you sleep the property's restaurant cooks up mouthwatering meals for visitors. Forego campfire hotdogs and burgers and instead indulge in all-day breakfast and lunch at the Strawhouse Café. Don't forget to start your mornings with coffee, too—Strawhouse has its own organic blend brewed on-site.
When you're not longing in your tented yurt or riverfront cottage, take advantage of Big Flat's surrounding nature. With river access nearby it's easy to partake in fly fishing, kayaking, and canoeing. Out of the water there's bird watching, hiking, biking, and more.
Highlighted Amenities:
On site-restaurant, organic coffee roasted on site, private massages, private and small group yoga sessions, nearby fishing and white water rafting, in-room kitchens, private decks, river view balconies, outdoor barbecues, private dinners by reservation, and river access.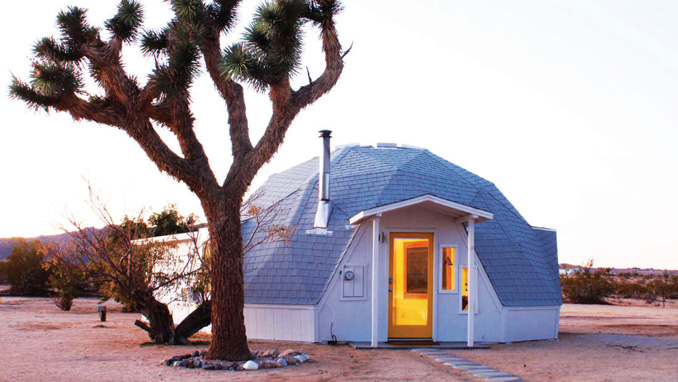 Dome in the Desert
Joshua Tree, Calif.
Not only is the geodesic dome house in Joshua Tree, built by a dynamic team of creators who construct unique spaces across the globe, one of a kind, unlike the other spaces on this list it's also secluded from neighboring campers. Located on several acres of desert land in Southern California, the modern-bohemian dome house offers an escape from the day-to-day replacing deadlines and emails with desert skies and mountain views.
Inside, the dome boasts all the comforts of home—a full kitchen with refrigerator/freezer, oven/stove, microwave, French Press, Moka Pot, and drip coffee maker as well as a king-sized memory foam bed, a natural wood burning stove, and AC and heating units—in a setting that feels like another world. For those who don't want to spend their entire vacation secluded, the town of Joshua Tree is just a few miles away. There guests can enjoy restaurants, entertainment, and the Joshua Tree National Park visitors center.
The oasis does offer Wi-Fi but guests won't find a TV on the premises. Instead the dome is stocked with antique books and games. Take advantage of the chance to recharge and turn your vacation into a health retreat for mind, body, and soul. Outside hikes abound and Angela of Juice in the Desert provides juicing services to guests who stay at the Dome for an additional fee.
The dome, as well as Kathrin and Brian's other luxury accommodations, can be booked through Airbnb.
Highlighted Amenities:
Full kitchen, Wi-Fi, access to several acres of private land, indoor fireplace, hair dryer, linens, games and books, heating and AC, hot water; dishes and cooking utensils, and BBQ.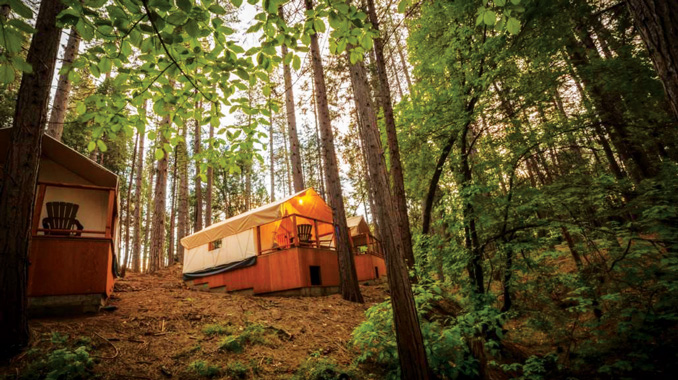 Nevada City Inn Town Campground
Nevada City, Calif.
It can get chilly in the forest at night bur the glamping tents at Nevada City Inn Town are there to keep you warm. In addition to electricity and real beds and linens, glamping accommodations include heated mattress pads for ultimate comfort. When it gets hot, turn on the fan.
Every glamping tent comes with a private porch or balcony and outdoor seating, plus an awning to provide shade on sunny days. As an added bonus, four-legged family members are invited to join the vacation as a section of the tents are dog friendly.
Even with all the perks of Inn Town's glamping accommodations guests won't lose the allure of camping. The serene forest setting—towering trees shading campsites and rustic trails weaving in and out—plus communal bathrooms and indoor/outdoor showers offer the same laidback atmosphere you'd expect while camping.
Part of what elevates the glamping experience is the on-site extras. On-site The Commons offers the best in luxury camping experiences with an air of summer camp. Head to the 3000 square-foot lodge to enjoy a hostel-style community kitchen, foosball table, communal eating area and living room, TV, fireplace, reading nook, and covered porch. Outside laundry machines, picnic tables, BBQs, a swimming pool, and a fire pit are available for guest use.
Highlighted Amenities:
Communal wood burning fire pit, movie nights, easy access to Nevada City, hiking trails, a ping pong table, foosball, board games, private decks/balconies, awnings to protect from the sun, an on-site camp store, communal common area and showers/bathrooms, and coin-operated laundry.
Try This!
At Nevada City Inn Town glamping and tent camping are par for the course, but a new kind of upscale accommodation has been added. Families who want to enjoy RV Camping without the hassle can rent the Riverside Retro for the night. There's no trailer hauling or setup required for families, instead you just drive in and enjoy.
In addition to the queen bed and twin bunks inside, the renovated RV features a dinette, kitchenette, bathroom with shower, air conditioning, and heat; and it sleeps up to two adults and two children. Outdoor seating, a stove, and everything you need for the weekend (linens, towels and dishes) are all included so families can just show up and stay—no assembly required.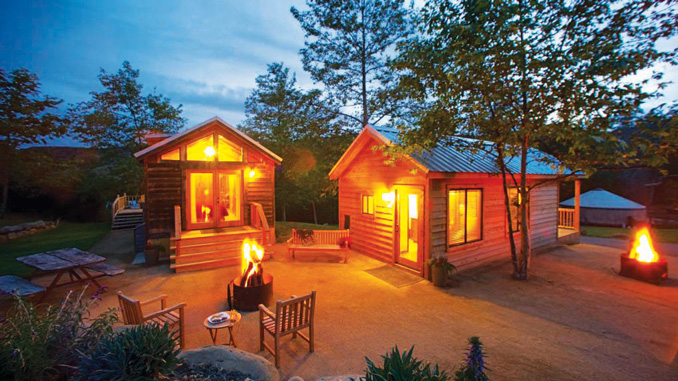 El Capitan Canyon
Santa Barbara, Calif.
Twenty miles north of Santa Barbara on the Southern California Coast sits El Capitan Canyon, a nature lodging experience that combines camp-like surroundings with modern amenities—call it minimalism without deprivation.
On-site, nature lodges come furnished with casual fixtures and bedding while safari tents offer something more akin to the traditional camping experience without the set-up and takedown. Every cabin boasts a spacious front porch for gathering under the stars or taking in the sunrise with a cup of coffee. As an added bonus, the cabins offer gadgets for cooking as well as private bathrooms and heat. For added luxury, more romance, or extra guests, upgrade to dwellings with fireplaces, soaking bathtubs, and sleeping lofts.
Even the camp store at El Capitan Canyon goes beyond your typical market, trading bare minimums like firewood for organic groceries, Santa Barbara County wines, aromatherapy oils, reading materials, and more. Local artisans sell clothing and personal goods through the shop, too, so guests can simultaneously shop and glamp.
The Canyon Market acts as the property's social hub with dining options morning, noon, and night. Plus, El Capitan kits provide everything glampers need to manage dinner on their own from BBQ sets filled with burgers and hot dogs or salmon and vegetables; and every kit comes with fixings for s'mores.
Highlighted Amenities:
On-site restaurant, private patios, all-you-can-drink coffee, access to trails, complimentary cruiser bikes, guided tours, boat charters, water sports, yoga, storytelling, heated swimming pool, ropes course, massages, concierge services, and events.

Safari West
Sonoma County, Calif.
Have you ever wanted to sleep next to giraffes, cheetahs, zebras, and other wildlife? You don't have to fly to Africa for the experience. The Sonoma Serengeti offers guests a chance to get up close and personal with nearly 100 species of wildlife, most of which you find outside of a zoo in the U.S.
Safari West is a 400-acre private wildlife preserve located in Sonoma County. While guests are invited to visit for the day, enjoying a local safari with friends, the chance to stay over night should not be passed up. The Safari West tents are luxurious. Imported from Botswana and customized on site all 30 tents offer private viewing decks, en-suite bathrooms, hardwood floors, and wildlife sounds of the Sonoma Serengeti to serenade you at night.
When you awake, grub on the complimentary continental breakfast to fuel up for a tour. Classic safari adventures are guided and guests get the chance to head out and look for rhinos, wildebeest, ring-tailed lemurs, and other foreign animals. A leisurely walk offers access to hidden species including many of the properties' resident birds as well as some monkeys.
Highlighted Amenities:
In-room massages, guided tours, continental breakfast at the Savannah Café, on-site dining, accessible tents, private decks on every tent, space heaters, electric blankets, ceiling fans, and private bathrooms.
Book a package
There's always a way to make your Sonoma Serengeti vacation even more special. If your headed out with a loved one, book the romance package. Romance on the Savannah includes a safari tour for two, en-suite Swedish massage, a one-night stay in the property's luxury glamping tents, and wine and chocolates delivered to your room.
For those who want to enjoy Sonoma's other import, try the Wild Nights in Wine Country Package. In addition to a one-night stay and a safari tour, Francis Ford Coppola provides a complimentary bottle of wine (diner's choice) to accompany dinner at the Savannah Café.