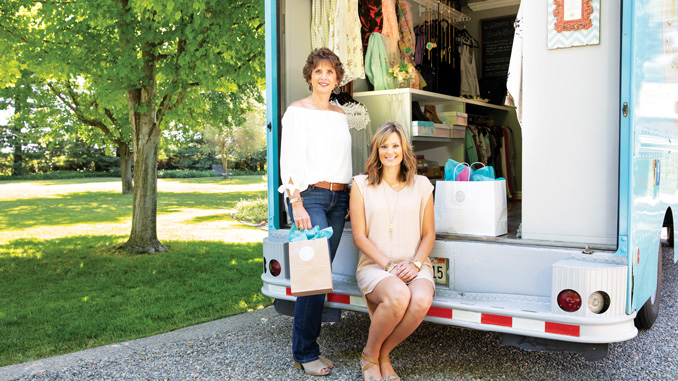 When it comes to what's in style this summer, Lovely Girl Mobile Boutique, a fashion hub on four wheels owned by mother-daughter team Jan Peterson and Casey Means have customers covered from trendy sunhats to strappy sandals.
A close-knit pair professionally and personally (they talk everyday), Casey and Jan launched their on-the-go business four years ago when they transformed an old office supply truck into a full-fledged traveling fashion boutique.
"It's something we have talked about doing together for a long time because we both love fashion, have always been told by our family and friends that we have a knack for it, and we love the flexibility it gives us," Casey says.
Lovely Girl's robin's egg blue boutique travels to customer's homes for private fashion parties, it's spotted at wineries, office events, street fairs, schools, and more. Casey, who has two little ones, and Jan, who loves to spend time with those little ones, enjoy owning their own mobile boutique because of the freedom it provides. But the best part, they say, is that Lovely Girl's possibilities are endless when it comes to going to new places and meeting new customers who share a love for fashion.
Every two to three months, Casey and Jan travel to Los Angeles, Calif. where they hand pick the latest trends from local designers. Lovely Girl carries sizes small to 3X and the prices are affordable with accessories such as necklaces starting at $21 and tops priced at $36. Casey says they try to keep their store affordable for everyone regardless of age or shape.
"We would describe the fashions and accessories in our truck as the latest fashions and trends of that season or year," Jan, Casey's mother, says. "We try and keep up with what's new and what people seem to like (including ourselves). With the age difference between us, we can cater to all ages."
So what's in this summer? Florals, stripes, belts, loose-fitting and flowing blouses, chunky to strappy sandals for those warm summer days, and accessories that sparkle and accent outfits such as long gold necklaces and also cute, over-the-shoulder wallet-sized purses. It's an intimate shopping experience that is chalk-full of fashion ideas.
"We hope that we make it a fun and unique shopping experience and that each woman who leaves with a shopping bag bought something that they love and makes them feel pretty," Casey says. "When we hear the words 'I'm wearing my Lovely Girl today,' it's truly music to our ears and puts a smile on our face because that has always been our vision and hope for the truck. Lovely Girl Mobile Boutique is truly our dream come true."
Want to shop aboard the Lovely Girl Mobile Boutique? Follow the mother-daughter team on Facebook and Instagram @lovelygirlboutique to keep track of where they're headed next. Lovely Girl will also visit homes, offices or special events for two hours with 25 percent off an entire purchase as a gift for the hostess. Make an appointment by email, Lovelygirlmobileboutique@yahoo.com, or call (209) 483-8910.
For a Unique Shopping Experience:
Lovely Girl Mobile Boutique
Facebook.com/LovelyGirlMobileBoutique
(209) 483-8910