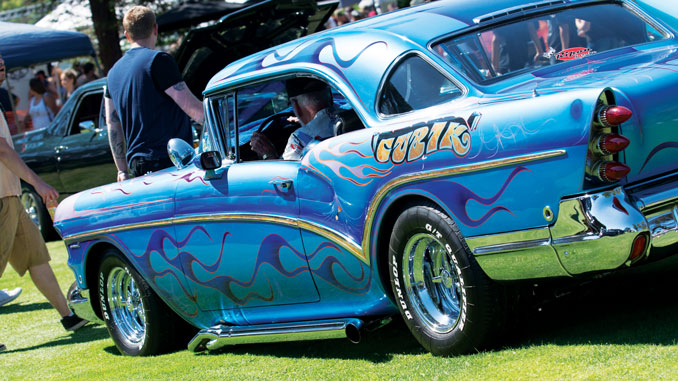 4 local car shows fit for summer fun
Rev up your vintage vehicles and suped-up hot rods! With the dawn of summer comes classic car show season, so roll out your 1967 Ford Mustang and let that candy-colored paint job see the sunlight. Whether you're a classic car collector, self-professed antique automobile aficionado, or just a humble admirer, San Joaquin has some fantastic classic car shows that you need to mark on your calendar this summer.
The American Graffiti Festival & Car Show
June 8, 9, 10
Where were you in '62? More importantly, where will you be in June 2018? With any luck, you'll be in Modesto meandering through 1,300 classic cars, enjoying hundreds of food and vendor booths along the way. Every summer, this festival and car show draws hundreds of classic car owners to the city where they show off their vehicles in the spirit of the film "American Graffiti", set in 1962 Modesto. Kicking off with a car parade down McHenry Ave., the festival is held to promote the legacy of the man who co-wrote/co-directed the famous film, Modesto's very own George Lucas.
Municipal Golf Course, 400 Tuolumne Blvd., Modesto
Stockton Car Show & Swap Meet
July 8
For its 24th year, Stockton Car Show & Swap Meet will be gathering at the San Joaquin Fairgrounds to show off the locals' vintage vehicles. Apart from the classic cars that will certainly impress any hot-rod enthusiast, the show also features a swap meet where gearheads from across the west coast come in search of the car parts they need to fix up their "baby" back home. But while you're on the hunt for that part you've been needing, don't forget to check out the Vintage Bicycle Show and Model Car Show that accompany the event.
San Joaquin County Fairgrounds, 1658 S. Airport Way, Stockton
"Stuck in Lodi" Classic Car Show
August 4
Cruise on down to the 23rd annual classic car show in downtown Lodi that draws hundreds of locally-restored, classic American vehicles, with proceeds going to a variety of charities. Hosted by the American Steel Car Club, last year there were over 300 classic cars entered into the event with 86 trophies awarded; this year, they're hoping for an even bigger turnout. Come support American Steel and their charity work while trading notes with other classic car-buffs as you admire the inventory of vintage beauties.
Downtown Lodi
Lincoln Center LIVE! Classic Car Show
August 17
Benefitting the Lincoln Center Scholarship Fund, this highly anticipated annual event is an evening the whole family will enjoy. With excellent restaurants offering take-away food, you can eat while you admire over 220 classic cars, 1976 or older. After dinner, let the kids play on the Fun Slide while you relax with a couple brews in the beer garden and enjoy the music of up to four live acts. Stick around until the end of the evening to catch the fireworks!
Lincoln Center, Pacific Ave. & Benjamin Holt Dr., Stockton