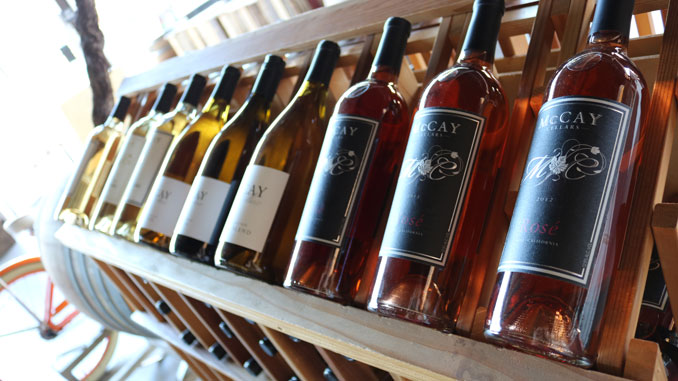 Nothing goes unnoticed in our humble little heart of downtown Lodi. So, when Michael McCay of McCay Cellars opted to transform an old abandoned building on Sacramento Street into a rustic wine tasting retreat, avid fans of McCay's artful blends rejoiced!
"We moved from our old location to downtown back in January," explains Michael McCay. "We've got a chic, urban, and rustic atmosphere going on. We're excited to be here."
Pairing fine wines like Grenache or Sauvignon Blanc alongside outdoor picnic arrangements and intimate indoor seating is a match made in heaven for those who walk along the streets of Lodi. It's the perfect rest stop for those perusing the region on bike, or a reprieve from the boutiques and corner shops only a stone's throw away.
Already well-established in the agricultural business, Michael chose to try his own hand in the wine industry in 1994 and evolved into offering his own label in 2007. "So, we've been growing wine grapes for about twenty-five years," says Michael. "We started with 300 cases of wine. We're up to 5,000 cases now."
And within each case stows away bottles of corked bliss. There's not a single year that McCay doesn't sell out. And since their inception, their variety has flourished. "Our first year, we had four different wines that we released," says Michael. "Currently, we have 24 released wines. We're passionate about Zins and Rhone varietals in particular."
As a family business, the McCays are passionate about the entire wine-making process, staying true to the specific grape's native fermentation. "We're not adding yeast to the wine. We're using the native yeast from the vine," says Michael. The method does take more time, but the results are brilliantly showcased in the layers of flavor. A fingerprint left behind, as Michael describes. "You get very specific characteristics."
That's likely why, when sipping McCay's Paisley, a blend of four different Zinfandels and Petite Sirah, one can truly sample the complexity of blackberry, hazel nut, and plum. And the Bonotto Zinfandel, heralding old vine flavors, plays along soft tannins and dark, rich, enveloping fruit flavors.
And with summer finally upon us, the next time you're in the mood for a bottle that breathes life into your weekend, drop by McCay Cellars and settle into a sample of rosé. Who knows? You might find yourself a club member soon enough, and with that delectable honor, a one-way ticket into soirees aplenty.
Check out their new location:
McCay Cellars
100 S. Sacramento St., Lodi
(209) 368-9463
McCayCellars.com