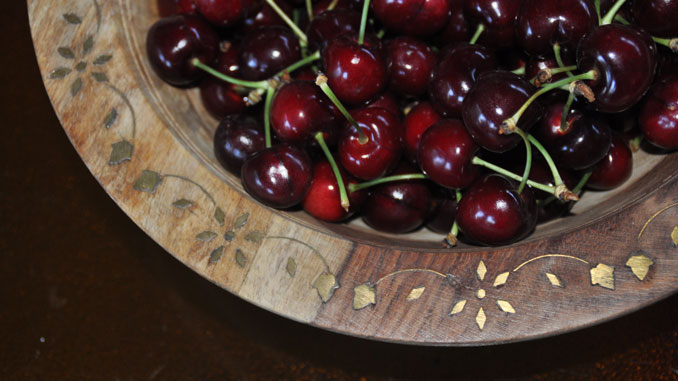 Original Recipes from the Fine Foodie Philanthropist
Homestead Favorites' Cherry Pepper Jelly. This local pepper jelly is available at multiple locations from Cheese Central to Harney Lane Winery and Podesto's in Stockton. For a detailed list of where to pick some up, head to www.homesteadfavorites.com
 One of my favorite things to do in June is head out to one of our amazing Farmers Markets to grab farm fresh local cherries! The seriously sweet and tangy super fruit is grown in abundance in our region, and that's good news for us! Cherries rank 4th among fruit and nut crops in San Joaquin County, so get them while they are hot, because I can guarantee June will be!
Cherry oh…cherry oh…how good are you to eat? Well for starters, one cup is equal to around 90 calories. They are high in fiber, an excellent source of potassium, and supply us with vitamin C. The nutritionally dense cherry is also rich in antioxidants to fight inflammation and contain melatonin, which aids in getting a good night's sleep. It's hard to believe you can reap so many health benefits simply from consuming something so sweet and delicious as cherries.
Cherries are essentially a stone fruit that grows on trees and are harvested from mid-April through June. The fruit's skin can be a deep red, rich mahogany, or a golden yellow—which is why you should try as many different varietals as you can. In California, the top types include Bing, Brooks, Chelan, Coral, Tulare, and Rainier. 
The satisfyingly rich cherries are so much more versatile than they get credit for. Of course, they are always delicious served alone as a mid-afternoon snack, but they can be used in a variety of dishes and cuisines. Consider adding fresh cherries to salads, sauces, pork or lamb dishes. You can even add them to ice cream! But the All-American classic Cherry Pie remains the quintessential favorite of foodies across the land, and for good reason. Look for Bings, a dark red cherry that is both sweet, juicy, and firm to make the mother of all cherry pies!
With close to 20,000 acres of cherries planted in San Joaquin County, look for fresh cherries on every corner throughout the month of June. Be sure to buy plenty of extra to throw in the freezer for the next time you are craving something sweet without the guilt!
Recipe #1
Vanilla Ice Cream with Cherries, Pistachio, and Toasted Coconut
Ingredients
1 C. Whole Milk
¾ C. Granulated Sugar
2 C. Heavy Whipping Cream
1 ½ TSP. Vanilla Extract
2/3 C. Shelled Pistachios
½ lb. Pitted Fresh Cherries
Directions
Combine milk and sugar in a chilled glass or metal bowl. Mix with an electric mixer at medium speed to combine. Add heavy whipping cream and vanilla extract. Beat on medium to high speed for thirty seconds. Transfer to the bowl for at least four hours up to overnight. Add the mixture to a standard ice cream maker and churn until ice cream begins to form. Add fresh cherries and pistachios. Pour ice cream into desired container and freeze until use. Remove five minutes before serving and add toasted coconut. Drizzle with a dark chocolate sauce if desired.
Recipe #2
Boozy Bourbon Cherries for a Classic Manhattan
Ingredients
¾ C. Bourbon
1 1/3 C. Fresh Cherries
I Vanilla Bean Pod, Scraped
1 TBS. Honey
Directions
Add the cherries to a 16 oz. mason jar. Add the Bourbon, vanilla bean pod and honey. Seal the jar and let macerate for 3 hours or up to one week. Use the cherries as the perfect garnish for a classic Manhattan cocktail.
Recipe #3
Pesto and Cream Cheese Appetizer with Cherry Pepper Jelly
Ingredients
2 8 oz Packages of Cream Cheese
2 TBS. Fresh Pesto
1 Jar of Homestead Favorites Cherry Pepper Jelly
Directions
Open cream cheese packages and heat in a microwavable dish for 30 seconds. Add two tablespoons fresh pesto and mix. Prepare a square Tupperware container with Saran wrap. Pour cream cheese mixture into Tupperware and refrigerate for 8-10 hours or overnight. Carefully dump out cream cheese mixture onto a plate and pour Cherry Pepper Jelly over the top. Serve with crackers.