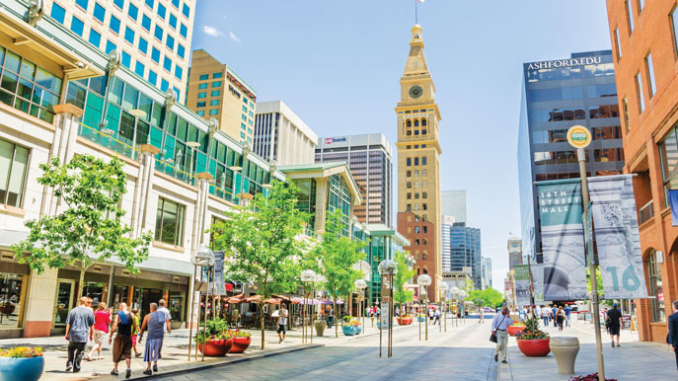 Get ready for the trip of a lifetime; summer in Denver is superb.
With plenty of places to hike, bike and sip beer, it's impossible to get bored when visiting the Mile High City. Enjoy the old-19th century buildings and a state capitol with ties to the Gold Rush-and the new. Like most big cities, Denver has the normal amenities, such as professional sports teams to cheer on, countless museums to traipse through, and streets filled with one-off restaurants and bars. But what's great about Denver is all the unusual that hides around every urban corner. Check out our list of truly unique experiences to have in and near Denver, many of which are located in the city's Lower Downtown (LoDo) neighborhood, and create a trip you'll never forget. If you truly fall in love with this place after your visit, there is a blog for Denver home buyers and sellers that may interest you if you decide to make the Mile High City your new home! Check it out and see what type of feedback you can get.
Step Back in Time at Fifty-Two 80's
For those who love all things 80s, this is the place to be. It's a different kind of antique shop-featuring walls and shelves filled with thousands of items plucked straight from the gnarliest decade there ever was. Shop packs of trading cards, action figures (many still in the box), and vintage video games and systems. There's something for everyone who was alive in the 80s, or those who appreciate the culture-much of which is being revamped as of late-including stuffed animals, video tapes, and McDonald's swag you probably owned, too. 1874 S. Broadway, The80sAreAwesome.com
Take a Secret Entrance to a Speakeasy
Bars are a dime a dozen in cities like Denver but nowhere is quite like Williams & Graham. The LoHi hotspot resembles a prohibition-era speakeasy. To keep it authentic, guests enter through the Williams & Graham bookstore, a small storefront with a hidden door to the bar tucked behind a bookcase. Inside, the décor echoes the 1920s time period and guests can really get into the theme by ordering a Manhattan from the bar's award-winning cocktail list, which also includes some more modern sips-think a blackberry sage smash or a mi belleza exotica. Williams & Graham also serves small plates and desserts. 3160 Tejon St., WilliamsAndGraham.com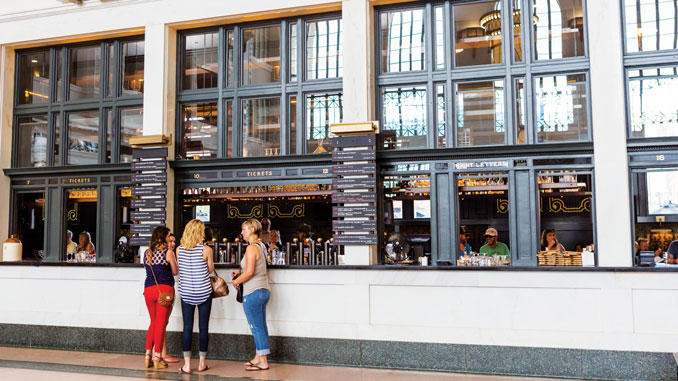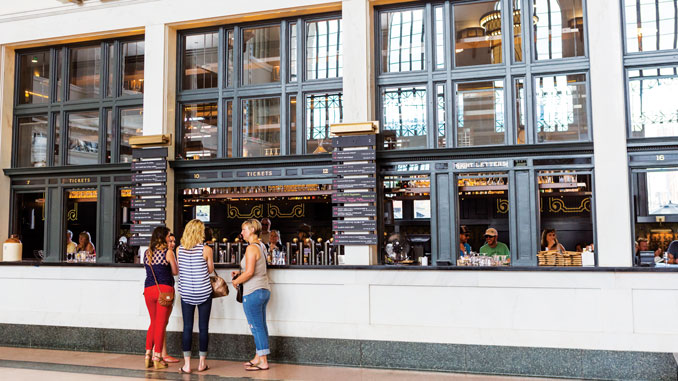 Drink, Shop, and Eat Ice Cream at a Train Station
Union Station isn't just for those catching a train. Even people not traveling like to visit the travel hub. Terminal Bar is stocked with some of the best local brews as well as other specialty cocktails and grub (try the sweet potato waffle fries with sriracha-island dipping sauce). Order appetizers while you watch a game with busy travelers and those catching up with friends after work. When you're done, walk around. There's a couple kitschy shops inside, an ice cream parlor, a deli, and several restaurants-including Snooze, perhaps the most beloved breakfast stop in Denver. Locals hail Union Station as Denver's Living Room, a gathering place for anyone in the LoDo neighborhood, but it also holds historical appeal-the 100-year-old building is a historic landmark. Adding more appeal to the spot, guests can get a room at The Crawford Hotel, located right inside the station. UnionStationinDenver.com
See Herds of Bison (and Other Wildlife)
You'll have to rent a car for this one-but it's worth it. The Rocky Mountain Arsenal National Wildlife Refuge in Colorado is an 11-mile drivable loop located just eight miles outside of Denver. On the drive, which encompasses 15,988-acres of sacred wildlife space, visitors can watch bison, bald eagles, black-footed ferrets, deer, prairie dogs, coyotes, and more, from the comfort of their car. In all, there's more than 330 species of mammals, birds, reptiles, amphibians, and fish in the park. And you're not just seeing these animals in the distance. If you pull to the side of the road you'll be just 20 feet from some of the largest land animals around. But please, stay in the car, for your safety and the animal's.
Check out the Refuge and Visitor Center for details about free nature programs or information on where you can hike and fish near the refuge. The 2018 catch-and-release fishing season is open until October 14. Fishing is allowed at Lakes Mary and Ladora on Tuesdays, Saturdays, and Sundays from sunrise to sunset. 6550 Gateway Road, Commerce City, FWS.gov/Refuge/Rocky_Mountain_Arsenal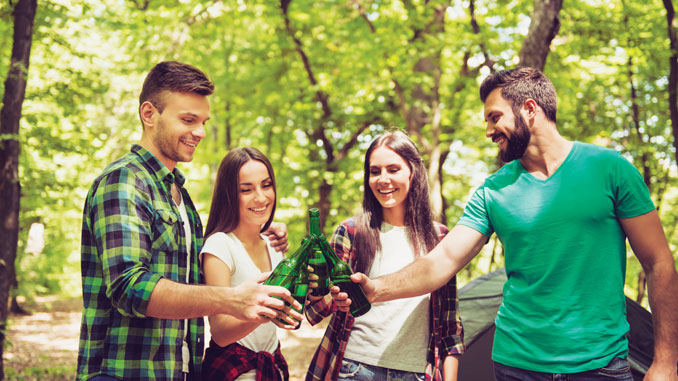 Visit the Animal Sanctuary
Lions, and tigers, and bears-but that's not all! Located about 45 minutes from downtown Denver in Keenesburg, the nearly 10,000-acre wild animal sanctuary is home to more than 500 large, carnivorous animals, and guests can see them all from the air. A 1.5-mile walkway-the largest footbridge in the world-stretches through the park to give guests an overhead view of the animals without threatening their habitat.
The Wild Animal Sanctuary is a totally different experience than any zoo. All of the animals at the park have been rescued from horrific conditions; many come from circuses or homes in Texas where they lived in small cages. None of them can safely return to the wild. In fact, some of them are so traumatized by their experiences in captivity that they can't live in an enclosure bigger than a garage.
Most of the animals, however, are in huge pens with miles to run and visitors don't come to ground level, which can make the animals nervous and sometimes aggressive, creating a more relaxed experience for them.
Check the visitor's center for feeding schedules, which tend to bring the animals close. And don't be alarmed when you hear roars echoing throughout the park-that's how healthy animals act. Come during summer to catch bears playing with balls in large swimming pools. 2999 Co Road 53, Keenesburg WildAnimalSanctuary.org
DONATE
The Sanctuary runs on admission costs and donations. Everyone who visits is asked to leave a little something to help animal rescue efforts and care costs. You can also donate from your phone. Text 80100 to make a donation; texting the word 'Bear' gives $5, 'Tiger' gives $10 and 'Rescue' gives $25.
Hike for Beer
There's two opportunities for self-guided beer hikes in the Denver metro. The better one is in Boulder, about 30 minutes from Denver, and features 12 breweries over 15 miles with zero cars. Dubbed The Boulder Ale Trail, an unofficial extension of the well-known LoBo Trail, it connects Boulder to Longmont. In between microbreweries guests will be treated to some of the prettiest plains in the country. Before setting out, it's best to pick a section of the trail to explore and find the nearest trailhead because you really shouldn't stop at all 15 breweries in one trip. The elevation is pretty flat, going up only about 300-feet when you head from Boulder to Longmont, which also makes it an easy trail for biking. If you step into Colorado's first craft brewery Boulder Beer, which you should, try the Shake Chocolate Porter and pair it with chocolate bacon or desert pretzels.
BoulderAleTrail.org
The other beer trail is the Denver Beer Trail, a collection of 35 breweries, brewpubs, and taprooms (Denver has more than 100) within Denver. There are four recommended routes that make navigating the streets between each stop a little easier, though each one is less of a hike and more of a stroll.
Tour the Largest Single-Site Brewery in the U.S.
Golden, CO, 15 miles outside of Denver, is home to MillerCoors, one of the biggest names in American Beer. Opened in 1873 by Adolph Coors, Coors is a big part of Golden's history. Embark on a 30-minute self-guided tour of the brewery that shows you how beer is made and packaged on a large scale. It's a far cry from the microbrewery operations you've seen elsewhere. At the end of the tour, during which details are provided to you by a handheld tour guide, guests get three generous samples to drink before they go. Options include Coors Light and Coors Banquet Lager but the real treat is the Colorado-only label, with two varieties on tap. Don't forget to grab swag at the gift shop.
The tour is free to everyone, operating Thursday–Monday: 10 AM-4 PM, and noon-4 PM on Sunday. Keep in mind you will have to wait for a bus that takes you to the tour and the line can get long. 13th St & Ford Street, Golden, MillerCoors.com
Go into the State Capitol Building's Golden Dome
The historic Colorado statehouse is a cool place to visit; much of the building is original to 1886 when the Capitol was first erected and other rooms are undergoing renovations to return them to their original state. Visitors are welcome to walk in and visit the rooms where politics are actively taking place, but the best way to tour the capitol is through a free, guided tour. It takes about an hour as the tour guide details the history of the building and Colorado's government while walking throngs of people from room to room. The real appeal of the tour, however, is where it ends. On nice days, guests are ushered into the gold dome 272-feet above ground and out onto its terrace. It is here that views of the entire city can be enjoyed from 360 degrees, a view unlike any other in the city. Before you leave, pose at the mile high marker, inscribed with "ONE MILE ABOVE SEA LEVEL." That is, after all, where the mile-high city got its nickname. 200 E. Colfax Ave.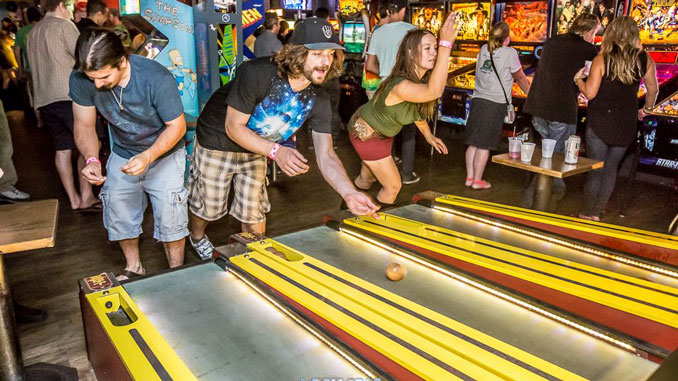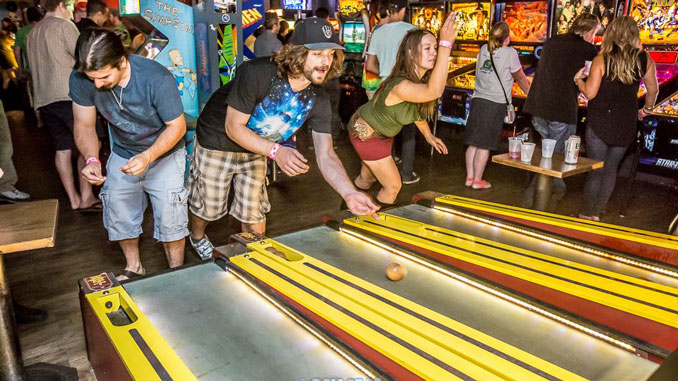 Play Like a Kid… at the Bar
1-Up is like nothing you've seen in San Joaquin County. With 45 classic arcade games, 16 pinball machines, three lanes of classic Skee-Ball and multiple sets of Giant Jenga, the half-bar, half-arcade will have you reminiscing of the days you used to save your allowance to play Pac-Man and pinball at the local arcade. You can now experience the real machines that you usually play on gamulator or other console emulators. Step into the basement hotspot after hours for an adult-only experience. Grab a drink and some bar food before unloading your change-heavy pockets at the machines. The arcade is filled with nostalgic video games including real classics like Centipede and 90s favorites such as The Simpsons, Super Mario Brothers, Donkey Kong, and Paperboy. The best part? Games still cost a quarter. Drop some change in the jukebox and get ready for a long night. There's a second location on Colfax Avenue. 1925 Blake St., The-1up.com
Catch a Show (or Something Else) at Red Rocks Amphitheatre
Denver's most-scenic attraction wasn't built in a day. In fact, the Red Rocks Amphitheatre took 300 million years to create. Red Rocks is known not only for its beauty but also for its contribution to music history. One of the most beautiful outdoor amphitheatres in the world, many artists have taken the stage here. After all, there's no better place to see the stars. Located in Morrison, CO, it's just 10 miles outside of Denver, an easy Uber ride if you don't have a car.
The best way to enjoy this geological wonder is to see a show, but if you're not in the mood for a concert, there's other ways to enjoy the view. Stop by for a guided tour of the amphitheatre, including a look at the Performer's Hall of Fame and best of footage from several Red Rocks concerts, or come for a movie or guided exercise class. Before you leave, eat lunch at Ship Rock Grille where you can take in gorgeous views of stunning vistas and occasional wildlife from the outdoor deck of the eatery. RedRocksOnline.com
Summer Concert Highlights
Bryan Adams – June 12
Barenaked Ladies – June 19
Chromeo/The Glitch Mob – June 28
The Avett Brothers – June 29-July 1
Blues Traveler – July 4
Seal (with the Colorado Symphony) – July 15
Imagine Dragons – July 16
Paramore with Foster the People – July 24
Sarah McLachlan (with the Colorado Symphony) – July 26
Halsey – July 30
Portugal. The Man with Oh Sees – Aug. 8
Other events include Film on the Rocks (this summer's lineup features Heathers, Goonies and Black Panther) and Yoga on the Rocks.
Grab grub between adventures at these Denver eateries-each with their own twist.
Slice Works. Eat pizza piled with unusual toppings-think chicken and waffles or baked potato-at two Denver locations; one in LoDo and on one Colfax Avenue. Sliceworks.com
Craving steak? Splurge at The Urban Farmer, a Denver steakhouse located walking distance from Union Station and next door to The Oxford Hotel (see Where to Sleep). The menu includes beef, shellfish, and foie gras, plus bison and a steak flight, where you can taste several six-ounce cuts in one sitting. 1659 Wazee St., UrbanFarmerDenver.com
Snooze. This chain has locations in other major cities across the U.S., but one of Denver's locales is extra special because it's housed right inside Union Station. The A.M. Eatery is known for welcoming custom orders as well as a menu filled with interesting combinations like pineapple upside down pancakes. 1701 Wynkoop St. #150
Casa Bonita is about as unusual as it gets. The Denver Mexican restaurant, actually located in Lakewood, is known less for its food and more for its entertainment factor. The 1,000 seat venue features 30-foot waterfalls, cliff divers, and fire jugglers. After dessert, check out the puppet shows, arcade games, old-fashion photos, and Black Bart's Cave. 6715 W. Colfax Ave., CasaBonitaDenver.com
Where to SleepStay in Denver's oldest hotel. The Oxford Hotel opened in 1891 and is now a historic fixture in LoDo. Walking distance from many of the unusual experiences on this list-including 1-Up, Union Station, Slice Works, and the state capitol-you can book a bed and breakfast package to enjoy free meals at The Urban Farmer during your stay. For anything a little to far to foot, hire the hotel's free shuttle to drive you. Hotel staff will take you anywhere within two miles of the hotel, including to get a rental car. Oh, and they forgo modern, electronic key cards here. Instead you get a big, old-fashion key on a tassel. 1600 17th St., TheOxfordHotel.com
Remember when we talked about all there is to do inside Denver's Union Station? Well, thanks to the recent addition of The Crawford Hotel, guests can now sleep there, too. Book a room upstairs. Options include sleeping quarters inspired by Pullman sleeper cars, lofts carved out of former attic space, and suites featuring five-piece bathrooms. Every room mixes the historic charm of the 100-year-old building with modern amenities including televisions, soaking tubs, and skylights. 1701 Wynkoop St., TheCrawfordHotel.com