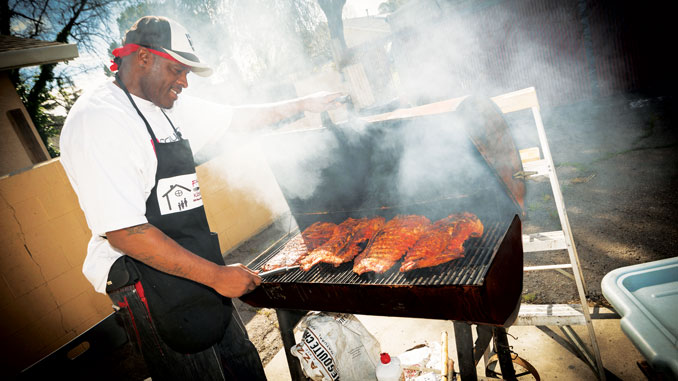 With summer right around the corner, it's finally time to break out the lawn chairs, don the sunscreen, and dust off the grill.

Not ready to set your eyebrows on fire? Well, never fear, my friend! You won't need an apron that says, "kiss the cook" with our spectacular line-up of finger-licking palate pleasers! Just hop in the car and head on down to our favorite barbecue destinations! Who knows? You may find a couple that will gladly cater that dreaded family reunion for you!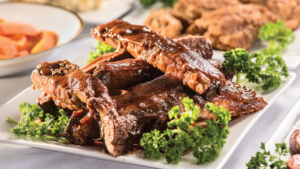 B and W Barbecue and Homestyle Cooking
535 W. Harding Way, Stockton
(209) 949-2025
Wayne and Barbara Anders know exactly what to bring to the table; after all, they serve up just what their patrons have a hankering for daily! From succulent cuts of hot links to marinated ribs that drip in house-crafted barbecue sauce, the taste of a home-cooked meal rests in every bite. And we can't get enough of the sides that serve up just as much flavor, from collard greens to home-made banana pudding.
Editor's Pick: Tri-Tip
---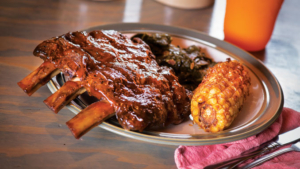 Billie Hill's Hillbillie Barbecue
106 Pierce Ave., Manteca
(209) 239-1227
It may be the décor that gets you through that front door (and who wouldn't want to peek into a restaurant that boasts a bedside commode planter box?), but it's the outrageous array of sauces and the unique cold-smoked cooking style that keeps you coming back for more. The creators behind these outstanding dishes emphasize that nothing ever has that burnt bark crunch when taking a bite at their rustic retreat. The food is always fall-off-the-bone tender and invokes that special southern charm with hearty portions and rich flavors.
Editor's Pick:  Beef Ribs
---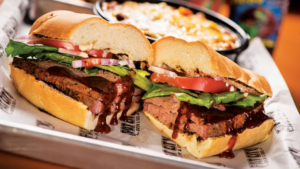 Fat City Brew & Barbecue
1740 Pacific Ave., Stockton
(209) 470-4037
Don King has been around the block. After operating his barbecue equipment store for years in Lincoln Center, he and his family finally decided they'd do some grilling on the Mile. Now, local residents and out of towners alike have their go-to grub stop for racks of St. Louis Ribs, tongue-tingling hot wings, and Genova bread-layered sandwiches that feature marinated pulled chicken or thick cuts of rib meat. Not that you need an extra nudge, but did we mention the many brews they have on tap?
Editor's Pick: Junk Nachos
---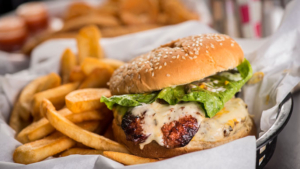 Family Kitchen & Grill
2650 Monte Diablo Ave., Stockton
(209) 565-5420
A taste of home is the recipe for success here, and James Smith knows it. Catering to those with hungry appetites, James isn't stingy with slices of tri-tip, or sauce-slathered ribs. And you better believe the meat is falling off those bones. Hot links are served up crisp, with a tender skin that breaks to reveal perfectly flavored juices. It's everything a barbecue fan could ask for—alongside major portions of mac and cheese, collard greens, and more.
Editor's Pick: Barbecue Ribs
---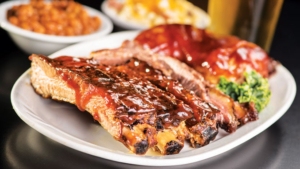 Tin Roof BBQ & Catering
171 S. Guild Ave., Lodi
(209) 366-1128
Tucked in between the commercial warehouses on the eastern side of Lodi is this little gem of a locale, owned and operated by Richard Berardi. But don't worry about getting lost; just about any day of the week, you can find this joint by following your nose. Smoked meats are their specialty, catering to briskets and pulled pork, tri-tip and some of the best chicken you've ever set your peepers on.
Editor's Pick: Barbecue Chicken
---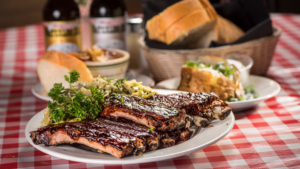 Waterloo
10447 E. Waterloo Rd., Stockton
(209) 931-4019
Dinner at The Waterloo is a foodie's dream, and for good reason. Having been in the business for years, the family behind every incredible meal has nailed down the secrets to tender ribs that are as hearty in flavor as they are in portions. The mesquite-roasted chicken is to dine for, slow roasted in mesquite ovens to achieve that perfect succulent bite before being char-broiled and doused in Bette's Famous BBQ sauce. And don't get us started on what's heralded as "The Best Steak in Town" on the menu.
Editor's Pick: Barbecue Ribs
---
BBQ Styles by Region

The U.S. is well known for its hungry appetite in all things BBQ! But among the sixteen main styles, there are four contenders that have stretched their wings and have moved beyond the boundaries of their home states.
Memphis
Famous For: Pork Ribs & Shoulder Dishes
With a special love for both dry rubs and sauce-laden dishes, Memphis-styled barbecue knows how to bring out the tang in pork. Their preferred method lies in lengthy cooking times in big pits, where cuts can be perfectly smoked.
Texas
Famous For: Link Sausage & Beef Brisket
When you have a state as large as Texas, you're going to have some conflicting opinions about what makes for a great barbecue. However, those that do follow Texan creed agree that it's the meat that must be emphasized, with sauces as a bit of a bonus. Beef is the primary cut, though you'd be hard-pressed not to find pork in plenty of meal options.
Kansas City
Famous For: Beef Brisket, Burnt Ends, Rib Dishes, & BBQ Chicken
Variety is the spice of life, and Kansas-style barbecue fans couldn't agree more. With a hand in beef and chicken, pork and more, Kansas prefers slow-smoking the meat off the bone. You'll find much more emphasis on sauces for these aficionados, preferring a combination of spicy, tangy, and sweet recipes that are just as diverse as what's being cooked on the grill.
Carolinas
Famous For: Hog Roasts & Pulled Pork
Welcome to hog-heaven! Carolina barbecue is all about serving up dishes of pork that are shredded, pulled, chopped, or served whole! There's no end to the love Carolina-styled chefs have for their little oinking buddies, and a plethora of mustard, vinegar, and tomato-based sauces!
---
Perfect Pairings:

Looking for that sumptuous local sipper to pair with your favorite barbecue dishes? You've come to the right place!
Grilled Turkey – McCay Cellars, Grenache
Sweet Style Pulled Pork – Harney Lane Winery, Zinfandel
Hot Links – R-N-R Vineyards and Winery, Riesling
Grilled Chicken – Lange Twins Family Winery and Vineyards,  Rosé
Sweet Beef BBQ Ribs – Oak Farm Vineyards, Cabernet Sauvignon
Beef Brisket – Twisted Barrel Winery, Merlot
Steak – Durst Winery & Estate, Tempranillo