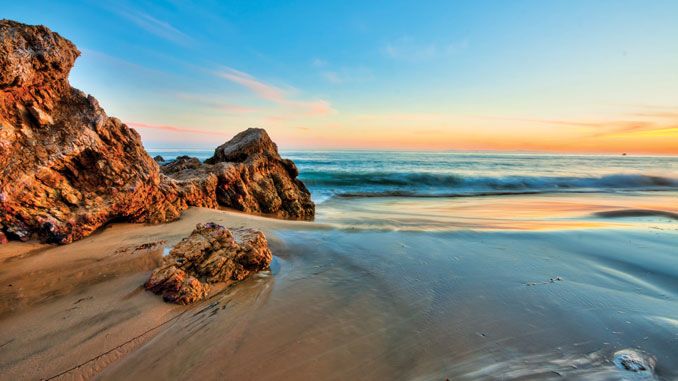 Summer calls for oceanfront vacations.
In California, adventurers don't have to go far to enjoy the water. Jump in your car and hit these coastal California escapes, each with waterfront waiting just outside the door. Whether it's a romantic getaway you crave or a high-end luxury stay, there's a beach for that nearby. Pamper yourself, get away from the grind, and find adventure on the California Coast.
Bodega Bay
R&R
Bodega Bay in Sonoma County offers a scenic place to rest and relax. Located outside the hustle and bustle of wine country (without lacking in wine tasting, beach hiking, and views to enjoy), the region is home to a collection of spas, wineries, and high-end restaurants.
Stay at the Bodega Bay Lodge—the hotel overlooks the rugged Sonoma County coastline, proferring views of the Pacific Ocean off of private, in-suite balconies, where you can enjoy room service catered breakfasts with only the sound of the ocean breaking the blissful coastal silence. Enjoy all the lodge has to offer by swimming laps in the outdoor pool, dining on Dungeness crab cakes and pan-roasted wild king salmon at on-site restaurant Drake's, riding borrowed bikes to the beach for beachcombing and sun-soaking, and indulging in treatments offered at the hotel's spa, such as the Cabernet grape seed scrub. BodegaBayLodge.com
Hours not spent at the hotel can be wasted wine tasting in the Russian River Region, taking in views from scenic cliffs and vantage points at Doran Park, and browsing local works at Bodega Bay's two premier art galleries—Bodega Bay Heritage Gallery and The Ren Brown Collection (which features the largest selection of modern Japanese prints in California).
Where to Taste:
Gourmet au Bay is the Sonoma Coast's only waterside deck and bar, and it exclusively pours Sonoma Coast wines, with over 200 award-winning varietals on the menu.
913 Highway One, Bodega Bay
Sonoma Coast Vineyards, or SCV, in Bodega Bay is the perfect blend of laid-back beach and luxury cabana. Step in for sips of highly acidic Pinot Noirs boasting mature flavor profiles. 555 CA-1, Bodega Bay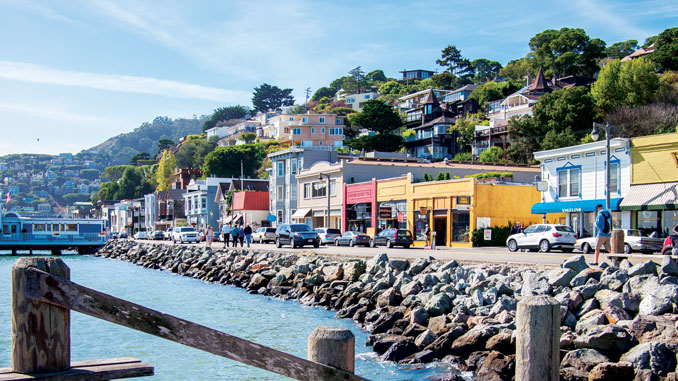 Sausalito
Couple's Retreat
Just over the Golden Gate Bridge from San Francisco, Sausalito is a favorite escape for urbanites looking to trade in the fast pace lifestyle of the city for a low-key weekend. Restaurants and coffee shops take advantage of the region's natural beauty as well as the man-made bridge that rules the area.
Find every opportunity you can to take in the views. Step onto the Sausalito Ferry. It's a 30-minute ride around the Bay that stops by Bridgeway Boulevard and Princess Street—a high-end Fisherman's Wharf for tourists. In these neighborhoods, Yee Tock Chee Park (named for a Chinese grocer) is a favorite spot for tourists and locals to hunker down. El Piccilo Café has earned a reputation not for its coffee but the scenic attached deck. The Trident Restaurant on Bridgeway is another worthy stop with a view, and the menu is stuffed with seafood favorites as well as other treasures including vegetarian strudel and grilled Scottish salmon.
Check in to the Inn Above Tide where panoramic San Francisco views are the hotel's staple. With 31 rooms and suites boasting bay views, the waterfront hotel is a luxury retreat, and every room boasts a furnished deck. Step out the door to hit galleries, restaurants, and shops in an area that is both connected to San Francisco and a million miles away.
Culinary Package
Everything you do on your couple's retreat should be done hand-in-hand, but you may have to untangle to enjoy the culinary package offered at the Inn. Award-winning chef, author, and cooking teacher Joanne Weir gives a personal touch to the night's accommodations offering all who book the Joanne Weird's Sausalito package a gift basket filled with her favorite local items, a signed copy of her cookbook, and a $75 credit to her Sausalito restaurant Copita Tequileria y Comida. InnAboveTide.com
Monterey
Adventure
Take a low-key destination like Monterey and turn it into the adventure-heavy trip you've been craving. Helicopter tours. Whale watching. Kayaking. Skydiving. Surfing. Racing. You can do all that—and more—in Monterey. The region best known for its scenic drives, high-end accommodations, and world-renowned aquarium is also home to a whole lot of heart-pumping activities for adrenaline junkies.
Fly high above the coast, seeing Monterey like never before with Specialized Helicopters. Those who want to taste Central Coast wines can take a tour to one of the area's wineries, hopping from the car to air to the winery and back all on a private ride for four (SpecializedHeli.com). When you get back on the ground, head to the sea; May falls into Monterey's second whale watching season (April-December) when humpback whales, blue whales, and dolphins are easiest to spot. Kayaking tours and surfing lessons are both offered on the beaches of Monterey, while back in the air travelers can enjoy tandem skydiving with impeccable ocean views. End your trip by letting someone else take on the danger. You can be a spectator at WeatherTech Raceway Laguna Seca.
Sea Otter Classic
April 19-22
The 27th Annual Sea Otter Classic is the world's largest cycling festival. Over four days, nearly 10,000 professional and amateur athletes entertain more than 70,000 fans with on- and off-track racing at Laguna Seca. WeatherTechRaceway.com
Oxnard
Get Away From it All
Sometimes the finest gems hide in the most unexpected places. Oxnard is a seaside city west of Los Angeles. It's home to the Carnegie Art Museum as well as the famed Heritage Square. Its best draw is its views of Channel Islands National Park and the Channel Islands National Marine Sanctuary, which can be glimpsed from the sandy shoreline and grassy lawns.
On the beach sits the Mandalay Beach Resort, a stately hotel overflowing with on-site amenities. If you stay here—there's really no reason to leave. Sit beneath palm trees on the 16,000 square feet of open beach, take a dip under the cascading waterfalls of the hotel's pool, get lost in the property's exotic gardens, and play a game of tennis before heading inside to take advantage of the on-site restaurants, spa, and spacious suites. Hilton.com
Venture off the 8.5-acre property, and head to the ocean where sunset dinner cruises to the Channel Islands offer romance and the links are the perfect place to enjoy the view for hours.
Pismo Beach
Family Fun
Ready for a family-friendly beach getaway? Pismo Beach offers more than fun in the sun for families escaping to the California coast for vacation. In addition to lounging ocean-side, families will enjoy its other outdoor attractions.
Make sure you hit these top family-friendly destinations when you aren't lounging on the beach.
    Dinosaur Cave Parks. Hiking trails atop a rugged bluff end at a playground and a long staircase takes families to the beach where hunting for sea glass and catching glimpses of sea life are the best activities. Take a picnic and stay awhile.
    Need for speed. Stop by Wheel Fun Rentals and choose from a variety of pedal-powered vehicles ranging from kids bikes to surreys that fit the whole family. WheelFunRentals.com
    Hit the dunes. One way to get around Pismo Beach is by dune buggy. Don't forget to pick up gear, too! Goggles and helmets are a must.
    Treat yourself (and the fam). Ice cream shops abound in Pismo Beach, and there is no sweeter treat to cool down with after a day exploring outdoors. Stubby's Ice Cream and The Scoop Ice Cream Parlor compete for customers.
    Learn to surf. The whole family can learn to ride a wave at Sandbar Surf School where instructors cater to all skill levels. Take advantage of its many surf camps if you want a few kid-less hours to explore the coast's more romantic amenities. SandbarSurf.com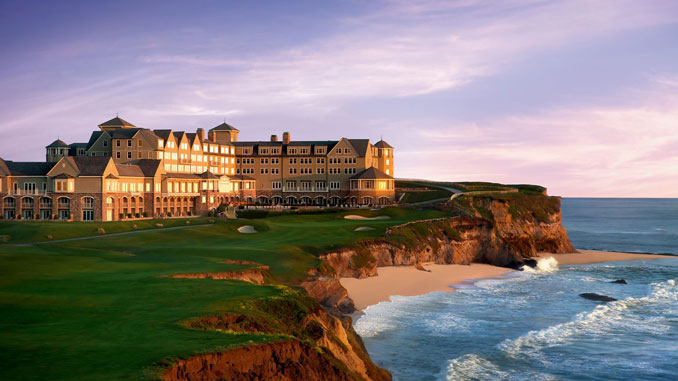 Half Moon Bay
Luxury Digs
Calling The Ritz Carlton in Half Moon Bay a luxury resort may even be an understatement. Set on a bluff overlooking the Pacific Ocean, the views from the property are unparalleled in the Central Coast town. The stately resort is secluded, tucked away from the rest of the city but close enough to enjoy at a moment's notice. Golf enthusiasts will not be disappointed by the two championship courses on-site, those looking to relax will be wowed by the hotel's well-appointed spa, and the food served at Navio will force your mouth to water.
Staying at a Ritz Carlton property invites guests to go over the top. The per night rate is steep, but the amenities make sure every guest gets their monies worth. Insiders know to ask the concierge about the spa's secret menu, an ever-changing lineup of extraordinary seasonal spa experiences that nod to the hotel's natural surroundings. And after you are well-fed, well-rested, and well-taken care of, guests can finish the evening with a cocktail at the Conservatory or around the beach fire pits steps from the hotel door. RitzCarlton.com
Santa Monica
Pamper Sesh
Take care of the whole body in Santa Monica. The Southern California beach town is home to celebrities and film industry moguls who choose the locale for its perfect blend of city amenities and luxe Oceanside spots. To truly relax and repair, focus on a pampering vacation filled with spa treatments, yoga experiences, and healthful farm-to-table meals.
Step foot into Tikkun Holistic Spa for the type of spiritual healing only found around Los Angeles. The wellness sanctuary blends traditional treatments such as therapeutic massage and custom wraps and scrubs with more holistic treatments aimed at repairing and renewing mind and body. A Tikkun healer provides acupuncture and flower essences therapy. TikkunSpa.com
Every corner has its own yoga center in Santa Monica where a healthy lifestyle is valued by health-conscious residents. Try something new with Naam Yoga, a nonprofit yoga studio boasting over 100 classes each week. Practices take place in sun-drenched studios so you can lose yourself in the practice of Naam, a yoga discipline that merges breath, sound, movement, and hand postures with yoga's practical applications to achieve total wellbeing and happiness.
For a place occupied by celebrities and their trainers, it's easy to find fresh food and interesting combinations within city limits. Step into kitschy Farmshop, a barn-like space serving California fare; Ingo's Tasty Diner, with a menu full of farm-to-fork American eats; or Rustic Canyon, featuring small plates of farm-to-table fare and accompanying wines.
Sea Ranch/Gualala
Wine Lover's Escape
If you love wine, you've likely already explored the wine paradises of Lodi, Livermore, Napa, and Sonoma. Located within Sonoma County, the less-explore wine region offers avid tasters a new region of vino to explore. The Sea Ranch has a population of just 1,305, covering a 10-mile stretch of Highway 101 in the county's northernmost region. Six miles north of The Sea Ranch sits Gualala, another wine destination inside Mendocino county. About half of the homes in Sea Ranch are vacation homes, easily rentable by those looking to explore the coastal wine country.
Sip wines from Jenner (30 minutes south of The Sea Ranch) to Gualala, stopping at Fort Ross Vineyard Tasting Room in Jenner, Flowers Vineyard & Winery and Wild Hog Vineyard in Cazadero, Annapolis Winery in Annapolis, and Mendovine in Gualala.
Pacifica
For Foodies
Pacifica's location on the Pacific coast, nestled in between Half Moon Bay and San Francisco, gives it a reputation as a destination in between destinations. Close to the ocean as well as big cities that boast culinary favorites, Pacifica enjoys its own lineup of delectable dishes from favorite restaurants on the coast—serving up everything from barbecue to fine dining.
Satisfy your taste buds with a sampler of oysters from across North America and other seafood specialties, such as ahi tuna tartare and beer-battered coconut prawns at Moonraker. For more casual fare, sink your teeth into the signature crab sandwich at Nick's Rockaway while live music plays (on weekends). Inside Pacifica's Beach Hotel, Peruvian food takes diners on a cultural trip. Even the take-out in Pacifica reigns supreme. Diners, Drive-Ins, and Dives paid homage to the Oceanside town's Gorilla Barbecue, which cooks smoked meet combos and cornbread inside of a converted railcar.
Sunday Brunch
Treat the women in your life to a Mother's Day Sunday Brunch at Moonraker on May 13. The final menu for this holiday feast is still under wraps, but Moonraker staff have provided hints to some of the fare that will be up for grabs at the soup, seafood, and salad stations. Dine on buttermilk pancakes, smoked salmon with capers and red onion, and butternut squash bisque before delving into dessert—chocolate fondue, cookies, breakfast pastries, and mini desserts. Brunch is served at 10 AM, 12 PM and 2:30 PM. MoonrakerPacifica.com