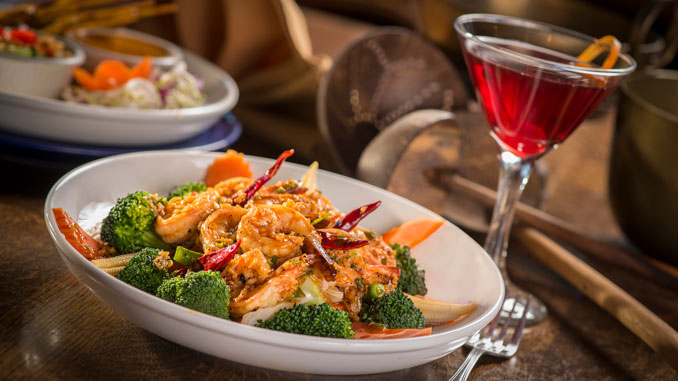 Boasting large portions and rich flavors, Tracy Thai has been serving the community of Tracy for eleven years and is still going strong.

Vibrant, wood-worn décor ushers guests inside, while outdoor seating invites others to enjoy the warm afternoon breeze. And with tastes that have evolved from  southeastern Asia, one dining experience is merely a herald to many more to come.
Gesaranee Wongphiboonrat knew, when opening her doors all those years ago, that downtown Tracy deserved a taste of authentic Thailand cuisine. A place where customers could go to try something outside of their own kitchens, and still feel all the comforts of home. "We focus on bringing a friendly and comfortable environment," explains Gesaranee.
The tried and true technique works, with patrons returning to the restaurant weekly. These guests often have their favorite staples such as the Seafood Curry, brimming with creatures of the deep, pineapple, bell pepper, and basil in red curry and coconut milk. But Gesaranee assures us that the rich confines of the menu have even the pickiest guests willing to crawl out of their shell to try new things. The Trout Rad Preg, for example, is a showstopper that, as Gesaranee explains, "…is a butterfly trout topped with homemade sweet chili-garlic sauce." Its popularity has made it a Tracy Thai centerpiece.
Other tried and true favorites include the Angel Wing, a dish that offers d-bone wings stuffed with ground chicken, carrots, and noodles. "This dish is very popular!" Gesaranee beams. "But it's so time consuming to make that not many Thai Restaurants have it anymore. A must-try!" The Grilled Pork, which features marinated slices of pork is a big Thailand street food staple that has made a home-sweet-home at Tracy Thai.
Can't make it for dinner? Not a problem! Many a guest prefer the fast, friendly, and familiar service Tracy Thai brings to the table during the lunch rush. Afternoon specials offer the perfect staples in both rewarding portions and prices. Have a seat along the patio and shoot the breeze with what will become familiar and friendly fellow Thai aficionados before receiving your plate. Outstanding dishes include Basil Fried Rice, filled with onions, peas and carrots, tomato and egg. And the Sweet & Sour, a well-rounded entrée of sautéed bell peppers, pineapple, onions, tomatoes, and cucumber in a rich tomato sauce is certainly mouth-watering.
In a flurry of basil and curries, chili-garlic and herbs aplenty, the plethora of delicacies is vast. But really, what can one expect from a business whose combined wealth in Thai cuisine extends over thirty years? For Gesaranee, it all boils down to the experience she can provide each and every one of her many patrons. "We want to make our customers feel like this is their home."
When you're on your way through the vibrant backroads of our Valley, or taking a trip to the bay, make sure to stop in and say hello to your friends at Tracy Thai. Who knows? You might just find yourself with a bowl of Pad Thai and a new Central Valley restaurant favorite!
Come Visit:
Tracy Thai
1035 Central Ave., Tracy
(209) 833-9703