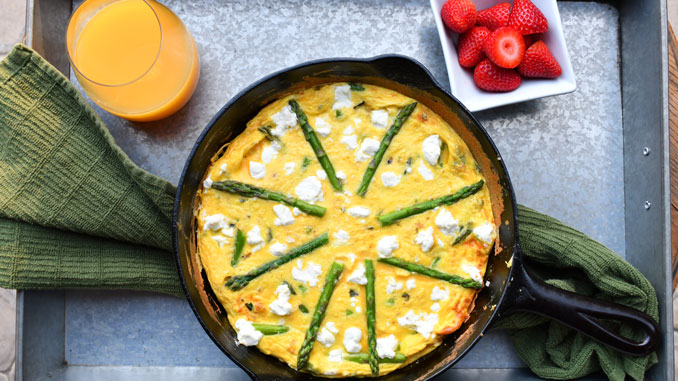 Have you ever stopped to think about how lucky we are to have access to fresh asparagus?
In some parts of the country you'd be lucky to find asparagus at all, but here in San Joaquin County, we can enjoy it fresh from the farm every Spring!
Asparagus is one of our most beloved crops, and while the acreage of asparagus has reduced dramatically over the past few years, our region embraces the hard work of our asparagus farmers to provide us with locally grown, fresh produce. I mean, we have a festival dedicated to all things asparagus, and for good reason. It is absolutely delicious! 
As if you need another reason to love living in the Golden State, did you know California is the nation's leading producer of fresh asparagus? With over 250 growers, California farms over 70 percent of the annual crop. But how did asparagus become a culinary staple, showing up on restaurant menus and cooked in homes across America? 
Believe it or not, asparagus is a perennial plant that is native to the Eastern Mediterranean and Asia. And while the Greeks loved asparagus, it was the Ancient Romans who were the first to cultivate the plant over 2,500 years ago. Luckily for us, the French and English loved asparagus so much that they brought it to America, spreading the savory spears with the colonists. So, when America expanded west, Asparagus came along for the ride. It's hard to believe the first recorded planting of asparagus in California dates to 1852.
The BEST news about asparagus is that there are only FOUR calories in each spear. Say what? The plump, green stalks are an excellent source of Vitamin B6, C, E and K. The spears contain healthy levels of calcium, magnesium, dietary fiber, folic acid, and niacin, among many other benefits. And, if you need more reasons to eat asparagus, check this out. According to the National Cancer Institute, asparagus contains a high amount of glutathione, one of the body's most potent cancer fighters.
Now let's talk flavor. These grassy, earthy, stalks hail from the Lily family, which also includes onions, garlic, and leeks. Which must be why asparagus pairs so well with the spring vegetable line-up of leeks, garlic, fennel, mushrooms, and citrus. Not to mention the nutty profiles of the spears complement cheeses like Pecorino, salty meats (think prosciutto), cream, eggs, and herbs.
All these things explain why we love asparagus! Its versatility makes it one of the easiest veggies to prepare. Asparagus can be sautéed, steamed, grill, boiled, baked and fried. With so many ways to prep the Food of Kings, I hope you will check out these recipes crafted specifically for Spring! They are simple, delicious and showcase one of our local favorite crops in San Joaquin County. 
Recipe 1
Asparagus Frittata
Ingredients
8 Eggs
½ C. Cream
2 Tbs. Butter
2 Oz. Goat Cheese, crumbled
14-16 Asparagus Spears, sliced into 1 ½ inch pieces, 8 spears sliced into 4-inch pieces for garnish
3 Green Onions, sliced thin
½ Tsp. Salt
½ Tsp. Pepper
Directions
Turn your oven to broil. Crack eight eggs into a medium sized bowl and add cream, salt and pepper. Whisk ingredients and set aside. Heat two tablespoons of butter in a cast iron or non-stick oven-proof pan. Add the asparagus and the green onion, sauté over medium heat for three minutes. Pour egg mixture into the pan with the asparagus and use a flat spatula to stir through the egg mixture for three minutes, or until it sets on the bottom. Add crumbled goat cheese and eight remaining asparagus spears in a starburst pattern. Place in the oven for two to three minutes until the eggs are cooked through. Let set and serve!
*Recipe courtesy of Fine Foodie Philanthropist
Recipe 2
Asparagus, Corn, and Potato Pizza
Ingredients
1 Package Refrigerated Pizza Dough
3 Tbs. Fresh Pesto
1 Purple Potato, sliced thin
8 to 10 Asparagus Spears, sliced into 1-inch pieces
½ C. Fire Roasted Corn Can (or fresh corn off the cob)
3 Tbs. Ricotta Cheese
½ C. Parmesan Cheese
¼ Tsp. Sea Salt, for garnish
1 Tbs. Olive Oil
Directions
Preheat oven to 400 degrees. Unwrap pizza dough and place on greased cookie sheet. Bake for 6 minutes and remove from the oven. Brush the pesto all over the pizza dough and arrange the asparagus, purple potato, roasted corn, ricotta and shaved parmesan. Bake for five additional minutes. Remove and slice. Sprinkle with sea salt and one tablespoon olive oil.
*Recipe Courtesy of Fine Foodie Philanthropist
Recipe 3
Prosciutto Wrapped Asparagus
Ingredients
I Bunch of Asparagus
1 Package Prosciutto
Balsamic Vinegar to drizzle, if desired
Directions
The simplest recipe for entertaining. Blanch asparagus in boiling water for two minutes. Remove asparagus and place into an ice bath (bowl filled with cold water and ice). Wrap prosciutto around each asparagus spear and serve.