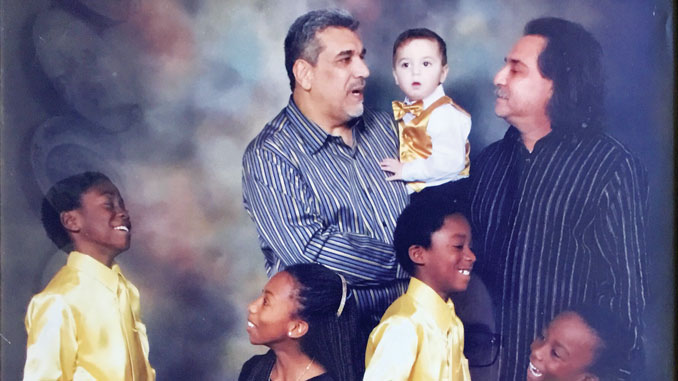 When Richard Cardenas' sister was having trouble with her son, he and partner Ted Hererra stepped in.
Struggling in school and experiencing behavioral problems, the boy moved in with Ted and Richard. With their intervention, the nephew returned home. It was a positive outcome, except Ted and Richard suddenly felt a void in their lives. "We kind of felt like empty nesters," Richard says.
To fill that void, Ted and Richard looked to adoption. They stumbled upon Koinonia, a statewide foster and foster-to-adopt agency with an office in Modesto, and started the process.
Over nine years, 18 kids have found a home with Ted and Richard. They've adopted a sibling set of four as well as another child and are hoping to add one or two more before calling it quits. Their oldest daughter would like a sister.
"Our limit was going to be one," Ted laughs. "Fostering kind of turned our lives upside down, but for the better."
The county allows for a family to adopt up to eight kids.
"When you get families with the right heart, train them well, and support them, the changes they can create for hurting children are amazing," says Jerry Johnson, associate executive director for Northern California Koinonia Family Service. 
Becoming a foster parent through Koinonia takes one year. Ted and Richard completed class hours, live scans, and endured interviews before they were approved. They still attend classes every other month, monthly meetings, and maintain CPR certifications.
While Ted and Richard never go into a situation where adoption is not an option, more times than not, adoption hasn't been the end result. "When you foster to adopt, you have to be tough," Richard says. The inability to adopt a child often comes from parents or family members gaining custody. Sometimes it's a poor fit for the existing family.
Once, Ted and Richard advocated for a familial home because they knew it was best for the child. One of the hardest situations included a baby they took home from the hospital and had for 72 days.
Families who foster with Koinonia often receive kids who have suffered abuse, neglect, or molestation. 
"We are looking for families who are willing to care for often challenging children so they can start to heal from their abuse," Jerry says. "We see kids transform from scared with lots of challenging behaviors to happy children with mostly normal types of challenging behaviors."
Over the last few years, Koinonia has assisted in hundreds of adoptions and served thousands of kids. Families often want to adopt young children but what's most needed are families willing to foster or foster-to-adopt older children, especially teens. 
"Koinonia is like a family," Ted says. "We go in there and we know everyone and they know us. It's not so business and sterile. Everybody wants to help everybody."
Join the Koinonia Family:
Koinonia Family Services
406 Motor City Ct., Modesto
(209) 577-3737