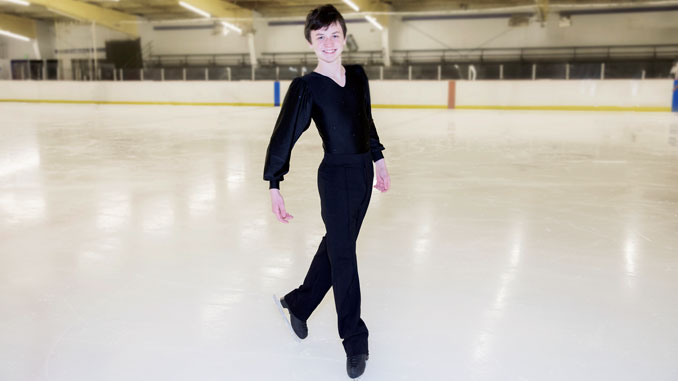 Ice Skating is in their blood
Evan Mullins' foray into figure skating started late. At 11 ½, most skaters already have a few competitions under their belt. But it wasn't until a pair of men's figure skates in his size just happened to be donated to his mother's ice rink in Sacramento that Evan started learning the sport. Before that the only time he spent on the ice was in hockey skates.
Evan took to figure skating quickly. His mom, an ice rink manager in Sacramento and a high-level figure skating coach at Oak Park Ice Arena in Stockton, taught him a few tricks and one month after lacing up his first pair of figure skates, Evan was at competition. He won and was asked to return. Even Evan knew it was a big deal.
Figure skating is in Evan's blood. Shannon Mullins, Evan's mom, competed in the 1990 US Nationals as a novice lady (two levels from the top) and calls watching her son compete in a sport she loves as "surreal." "Evan fell in love with skating all on his own, which is very important to me."
A master of double jumps and double-double combinations (when the skater lands two tricks back to back that each require two full in-air rotations) Evan is working on landing his first triple jump. He finished last season as an intermediate man, three levels from the top, and has his sights set on more. In the interim, he's focused on ice dancing, where he and his partner Juliana recently competed in Evan's first US Nationals in San Jose.
Realistic about the sport, Evan says Olympics are the dream, but that's a perfect scenario. Ultimately, he's letting figure skating take him as far as possible.
"My goal is to skate as hard as I can and go as far as I can," Evan says. "I want to keep going until I can't."
International travel appeals to the high school freshman, as well. Evan says he'd like to travel the world, competing and representing the USA.
January and February offer a bit of a reprieve between seasons but for the most part Evan is on the ice six or seven days each week. When he isn't, Evan enjoys drawing, working out, playing video games, hanging out with friends, and helping his mom at the rink.
"It can be a very hard world and takes so much work and commitment," Shannon says of the sport she loves. "When I had children I never planned to have a figure skater."