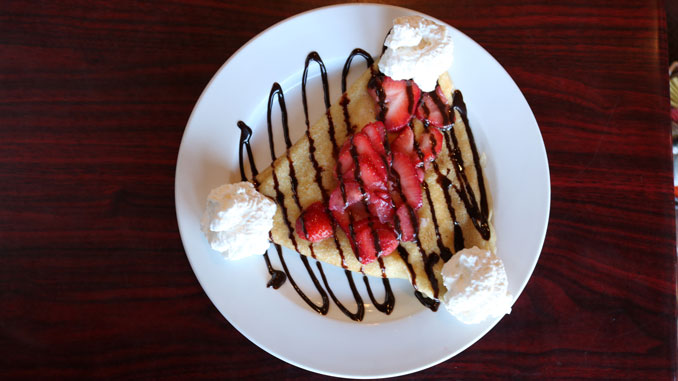 Midtown Creperie & Café brings a taste of Marti Gras to Stockton.
Hungry travelers can be thanked for the spread of many now well-known foods. Through time these traditional foods are adapted and come to incorporate the best flavors of their adopted culture, even becoming an icon of its new home. This is the case with New York style pizza, TexMex burritos, and New Orleans crepes.
Harkening back to France of the 1100s, the crepe served as an important food staple for the people of the rock-strewn region of Bretagne (Brittany in English). Carried across the sea, the crepe found a new home in the cultural melting pot of a budding New Orleans.
And now the crepe has found a home on the Miracle Mile in Stockton thanks to a pair of modern travelers. Midtown Creperie & Café owners Matthew and Melissa Grizzle have preserved many of the flavorful Cajun elements that the crepe picked up in New Orleans and added a flair of their own that has made their café a local favorite.
"We felt like the New Orleans feel would be a better fit for the area here in Stockton," Melissa says of their French Quarter inspired café. "We love the small hole in the wall places in New Orleans and desired to have the same feel here on the Miracle Mile."
Among the most popular items on the menu are the Rex, a savory smoked tri-tip and asparagus crepe topped with a basil pesto sauce, and the Dixieland, a sweet crepe with a crème filling, and topped with fresh strawberries and Ghirardelli chocolate sauce.
The Grizzles use locally grown ingredients whenever possible, ensuring that their New Orleans crepes incorporate the flavors of the Central Valley. And there's no better time to drop by for a crepe than during Marti Gras, when the café is decorated in purple, green, and gold; patrons are wreathed in plastic beads; and the air is abuzz with a Louisiana excitement.   
For More Information:
2319 Pacific Ave., Stockton
(209) 941-9070
MidtownCreperie.com