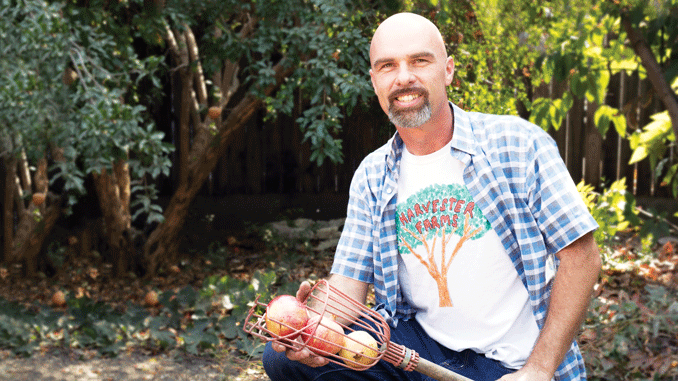 Local charity harvests unwanted fruit to feed the homeless
Imagine a scale in your living room. It's a large, bulky thing, with a huge bowl for measuring. You go to your fridge, pull out two one-gallon jugs of milk, and drop them into the scale. 16.6 pounds. You head to the kitchen again, this time adding your pantry's contents. Cans and boxes, dry goods and snacks. Maybe you reach 40 pounds. It's back to the fridge, then, and steak and chicken, frozen foods and leftovers are tossed right in. Congratulations. You've managed to clear out your entire kitchen and have reached 100 pounds. Maybe 200?
That doesn't come close to the hulking 400 pounds that Elzo Williams of Harvester Farms—a man whose only goal is to gather fruit from unpicked trees across San Joaquin for donation to local food banks and charities—collected from a single orange tree alone. A tree that, without his skillful hand and volunteered time, would have been left to rot. This is the fate for many fruit and nut trees across San Joaquin's communities, whose owners are far too busy to collect the literal fruits of the tree's labor. But for Elzo, that fruit is worth hours of toil, with pounds and pounds donated directly to nonprofits across the Central Valley.
Elzo first discovered this community need—and solution—through his work with Comcast that took him to countless homes in the region. "[I'd take] an inventory of trees that I could pick for food to donate."
Knocking on people's doors who'd have a singular fruit tree in their front yard would sometimes yield a visit to the back, where three more fruit-laden trees stood. Two years later, and Elzo has built a strong following, with a phone number that the community can dial to request a tree sweep.
"We have had the pleasure of dropping off to several food pantries," Elzo notes. From Helping Hands and the Emergency Food Bank, to Delta College's Food Pantry and more, all have been recipients of Elzo's work. "209 Cares was really excited," says Elzo. "We handed out apples and pomegranates. And the homeless folks were very appreciative."
But what started as a dream has unfolded into a flourishing nonprofit that Elzo would like to bring full circle. His goal? Transforming his four acres of land into an educational farm, where students can venture out to on class trips or with their families to learn about the agricultural abundance of our region. And with ducks and pigs, goats and even bees calling Harvester Farms home sweet home already, Elzo's vision isn't far from reality.
Clean your tree and feed those in need:
Harvester Farms, Inc.
(209) 808-3375
HarvesterFarms.org