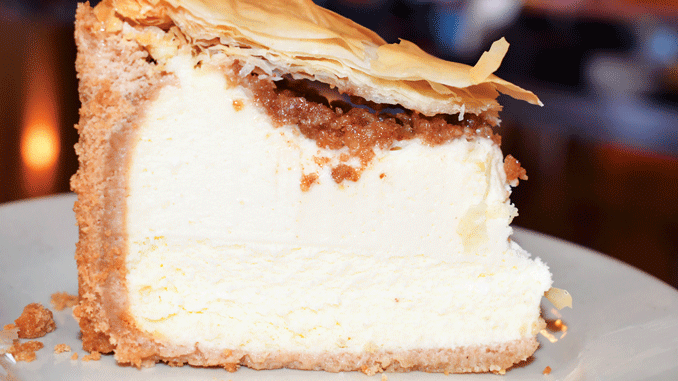 Baklava Cheesecake at Papapavlo's
There are few desserts as satisfying as the Baklava Cheesecake that hails from the kitchen at Papapavlo's Bistro and Bar. This delectable dessert was the brainchild of owner Andy Pappas, who grew up making and enjoying Baklava throughout his childhood.
While most people have tried a cheesecake or two, what sets this dessert apart is the brilliant topping of Baklava—traditionally a mixture of nuts, butter, and cinnamon between layers of flaky phyllo dough. The choice of nut often varies by culture. In combining two popular desserts, Baklava and Cheesecake, Papapavlo's transcends the basic into an over the top culinary concoction.
Papapavlo's velvety cheesecake is crafted with a cream cheese base, sugar cookie crust, and topped with several layers of the decadent Baklava. The in-house Baklava is constructed using layers of phyllo dough, cinnamon-spiced walnuts, almonds, butter, and honey. The cheesecake is rich, decadent, and will ease you into the holiday spirit
You can even purchase an entire Baklava Cheesecake for your next dinner party or family feast. Just be sure to call ahead to order it. Otherwise, you can always cap off your next meal at Papapavlo's with their signature dessert!
Where to Taste:
Papapavlo's Bistro and Bar
501 Lincoln Cntr., Stockton
(209) 477-6133
Papapavlos.com