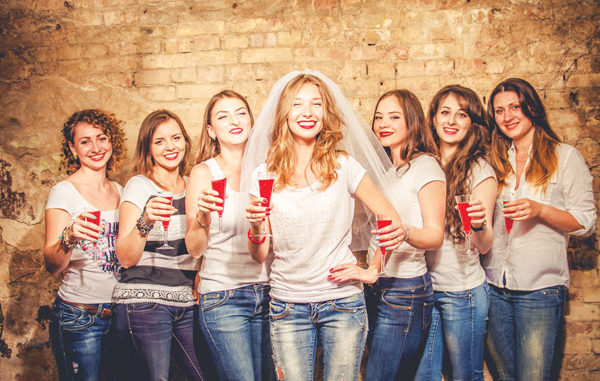 From start to finish, the wedding process is becoming more customized.
Every step of the way, details speak volumes about the bride and groom's personal style, opposed to cookie cutter affairs of the past. Why not infuse a little of that personality into stag night? Vegas is fun but you'll be hard pressed to find a bride who doesn't agree it's overplayed. Before booking your tickets to Sin City, check out these creative ideas for fun-filled bachelor/bachelorette parties.
Glamping
Ditch the expensive hotel rooms and played out big city getaways for an upscale take on outdoor fun. From the Mendocino Coast to Yosemite Valley, glamping is one way to get away from it all with your favorite people.
Don't forget: The champagne! Toast around a bonfire to the new Mrs.!
Who it's best for: The outdoorsy bride or groom who still wants a little sparkle for the occasion.
Combination Parties
Who says brides and grooms have to celebrate separately? Sure, a weekend away with the boys or a night in the city with your best girlfriends is the traditional way to sail into married life (and it's still a popular choice) but co-ed parties are becoming more fashionable!
Don't Forget: To invite the singles, too. Just because you're going co-ed doesn't mean the bash has to be couples only.
Who it's best for: Brides and grooms with a tight-knit group of friends.
Hunt for It
No matter where you go, scavenger hunts are a fun way to break the ice. Team up with a checklist of dares you have to complete or silly items you must find and use a smart phone to snap proof. Losers buy the winners' drinks!
Don't forget to: Plan ahead!
Who it's best for: The bachelorette with friends who don't know each other. There's no faster way to build camaraderie than through competition!
Make GNO (Girl's Night Out) SNF (Sunday Night Football)
Bachelorette and bachelor parties don't have to last all weekend. Instead, book a one-night event. Grab a pack of tickets to a sporting event and have fun! Is your favorite sport out of season? Opt for an Olympic-style bar games event at a local establishment with a party room.
Don't forget to: Look local. Between the Stockton Ports and the Stockton Heat, there's always a home team to root for!
Who it's best for: Sports nuts