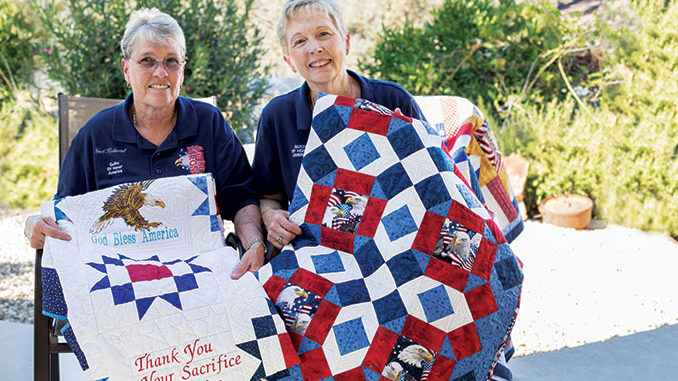 "If you tell them that you want to honor them they'll say they don't deserve it, that they don't want it, that they don't need it," explains Gail Belmont. "But—as a surprise gesture—the quilt and all it represents brings recipients to tears. You'd be shocked to hear that many have never been thanked for their service, yet we hear it all the time."
When Gail—of the 14th Women's Army Corps Band, and founder of the nonprofit Quilts of Honor—stitched one of her very first quilts together, she'd no idea how much her efforts would come to mean to the many men and women who serve in our military. But a quilt is a thing of beauty, a showcasing of commitment and fortitude, security and understanding. An instant heirloom upon completion, it's passed down from generation to generation, rich in both color and pattern, with love sewn into every seam.
Quilts of Honor first became a nonprofit in April 2010, but its threads of influence began five years prior. Gail hoped to provide her fellow veterans with tangible evidence that their service had not gone unnoticed. And so, Gail worked alongside an organization to provide quilts to men and women who had served. "I decided to do the quilts because I played taps when I was in the army. I was a bugler," says Gail. "At 18 years of age, it changed my life. It was a way for me to give back to my brothers and sisters who suffered."
Today, Quilts of Honor has donated over 6,000 quilts and established seven chapters across the United States. But no matter how many they've bestowed upon veterans young and old across our nation, their work is never done. "We have a whole generation of men and women who are coming home. And we pray Quilts of Honor will continue when we're gone," says Flora Brooks, a long-time quilter with the organization, and wife of late Vietnam veteran, Johnny Brooks.
It's a simple, and yet incredibly complex token of thanks that the men and women behind Quilts of Honor wish to bestow upon those who've served, honoring their courage and years of duty. And it's a gift not lost on a single one. "We hear, over and over, that no one has ever thanked them for their service," explains Flora. "I've presented hundreds of quilts—many to Vietnam guys in their 60's and early 70's, and their mouth will quiver. It touches them in their hearts that someone is saying thank you."