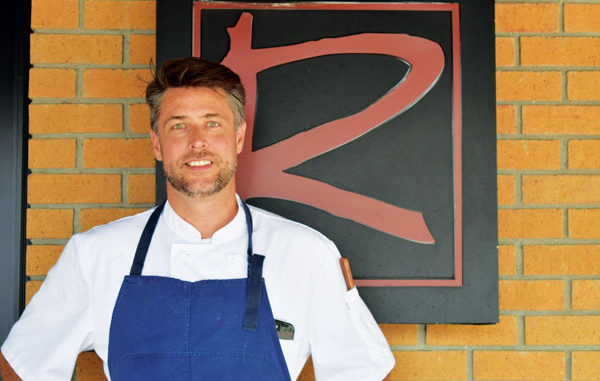 If it's been awhile since your last dinner at Rosewood Bar & Grill, now is the time to visit.
With moves to elevate Lodi Wine Country's cuisine, the community is buzzing as Rosewood welcomes a new, incredibly talented chef—Ian Bens.
With a resume boasting roles at famed establishments like The Claremont in Berkley, Banff Springs Hotel, and the Fairmont Georgetown in Washington D.C.—one may wonder what draws a chef of this caliber to San Joaquin. A fleeting bounty of regional produce at your fingertips, of course. "I purposely came to Lodi for access to local farmers, ranchers, and vintners of this region," Ian explains. "The quality of our region's produce is exhilarating, and gives me the energy to be the best chef I possibly can."
Since joining the Rosewood team this May, Chef Bens has cultivated strong relationships with local famers to fill Rosewood's coffers with amazing products. The result? A plethora of fresh dishes fueled by local produce from Golden Bear Ranches, R and G Farms, and others.
A recent discovery and partnership with Nakagawa Ranch—a local Wagyu Beef producer from Valley Springs—inspired Chef to excitedly add a home-style meatloaf to the menu. "The ranch tends to no more than 40 cattle at a time," he explains. "And I hope to add a Kobe Burger to the menu soon."
While Chef Bens was formally trained by both French and German chefs, he prides himself on pulling from a multitude of culinary influences to bring a true farm-to-fork experience to Lodi. Chefs Albert Adria and Renee Redzepi, both of Denmark, influenced Bens to source local products and use them in a meaningful way. Upon his arrival in California, Chef Alice Waters also played a significant role in encouraging him to build relationships with local farmers, fisherman—and the value of hyper-local food sourcing.
Admittedly, Chef's true passion is in fermentology. "For years, I watched pounds of local produce go to waste because everything ripened at the same time," Bens explains. So, he began preserving the produce through a simple process using salt, pepper, and time (patience), AKA, fermentation. Several of Rosewood's dishes utilize different elements of fermentation, allowing diners to feast on Pulled Pork with a Cherry Conserva, available at the peak of cherry season.
Try His Taste:
Rosewood Bar & Grill
28 S. School St., Lodi
(209) 369-0470